Dave Gorman, Touring - comic in skittish mood |

reviews, news & interviews
Dave Gorman, Touring - comic in skittish mood
Dave Gorman, Touring - comic in skittish mood
Master of PowerPoint back with his clicker
Thursday, 20 October 2022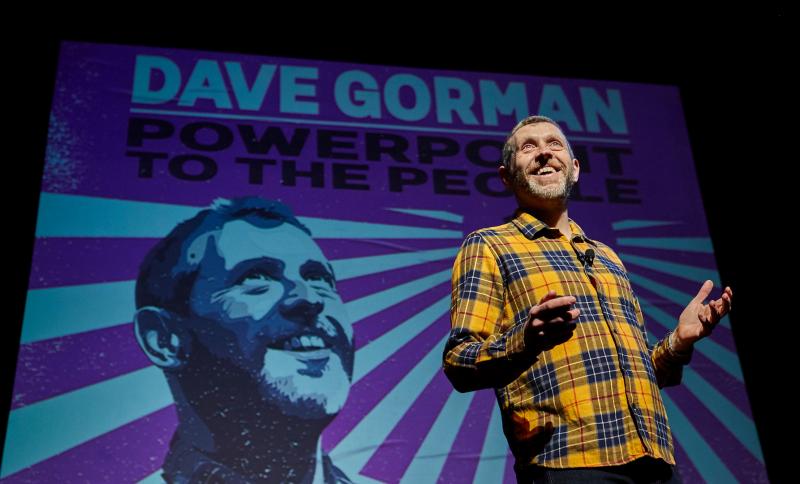 Dave Gorman has set up a devilishly good long-form joke with his audiences
Although PowerPoint has been around since 1987, and several comics have incorporated it into their shows, it's Dave Gorman who remains king of the form.
And here he is again in
PowerPoint to the People
, an amiable evening in which he, as ever, delves into the nooks and crannies of modern life that the rest of us might overlook, and charts a delicious long-form joke for the audience to enjoy long after they have seen the show.
He starts by telling about his lockdown which, two years on, could seem lazy; but not with Gorman, who constructs wonderfully elaborate stories that are never hack and sometimes reach absurdist heights. His pandemic, we learn, was filled with weighing crisps, developing a new alphabet as part of his attempts at homeschooling his son and, most notably, becoming a cryptic crossword setter (what better job for his hive-like mind). The tales, with lots of breakouts and explanatory information on the large onstage screen, are told with panache.
A lot of the first half of the show details one of Gorman's mild obsessions – a show called Inside the Factory. We also learn why Gorman is not a fan of Tom Hanks, how the Hollywood Walk of Fame system works (a genuine revelation to me) and that Gorman – nice guy that he is – discovered during lockdown that he has an arch nemesis. And to think that most people just developed a Deliveroo habit...
In the second half of the two-and-half-hour show, which I saw at the Hackney Empire, Gorman gleefully describes a bit of scampery about a hotel, the details of which I can't divulge as it would spoil the joke for countless others. There are lots of clever callbacks and Gorman also recounts one of his trademark "found poems" about billionaires in their very own private race to space. It's a highlight of a very entertaining show, in which the visuals illustrating a gag often double the fun.
We learn why Gorman is not a fan of Tom Hanks
rating
Explore topics
Share this article