Edinburgh Fringe 2016: Zoë Coombs Marr/ Randy/ Sarah Callaghan |

reviews, news & interviews
Edinburgh Fringe 2016: Zoë Coombs Marr/ Randy/ Sarah Callaghan
Edinburgh Fringe 2016: Zoë Coombs Marr/ Randy/ Sarah Callaghan
Latest instalment of comedy from the world's biggest and best arts festival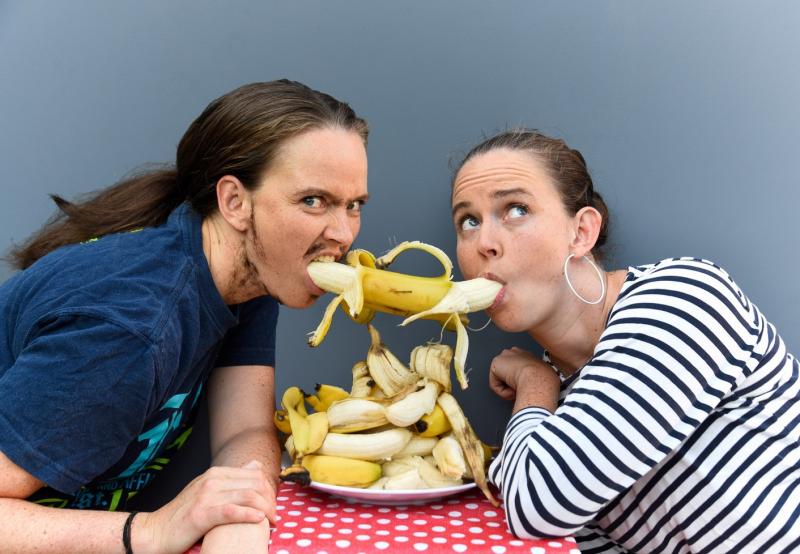 Zoë Coombs Marr's alter ego Dave is a misogynistic stand-up out of his depth
Zoë Coombs Marr, Underbelly Cowgate ★★★
Zoë Coombs Marr's debut show last year, Dave, gained a lot of attention, and rightly so. Dave is an old-school male comic whose line in misogyny doesn't sit well in modern comedy – even if his material might find an audience in the wider world.
For this year's show, Trigger Warning, which won the Barry Award at the Melbourne Comedy Festival in April, Coombs Marr has broadened out the gag, here placing Dave in a situation in which he is hilariously out of place. To combat his critics, he tells us, he has stopped delivering any gags at all and will perform the show in silence, as a mime artist – "comedy for babies" - but finds his inner clown is a "cranky lesbian in nher thirties called Zoë".
Dave is, of course, hopeless at clowning – knowing only about three memes and even fewer things that a banana might represent, and he just can't help himself, breaking into gags about women and their parts. As his sweaty incompetence grows, so does his panic and – ultimately – his vulnerability on stage, which neatly turns the joke about his bullying demeanour on its head.
When comedy is this meta – and Coombs Marr brings it to a whole new level – the joke has to be established really quickly, and she really doesn't do that. Many people in the audience the night I saw it were visibly confused, to the point that Coombs Marr stopped the show, stepped out of character and explained it was a spoof. That is a failure on her part rather than theirs.
But when it works, it works terrifically well and Coombs Marr has some insightful points to make about her craft and the comedy industry. And anyone who points out the lack of originality in much of clowning has my vote.
Until 28 August
Randy, Underbelly Potterrow ★★★
Randy Feltface is a purple felt puppet operated and voiced by Australian comic Heath McIvor, but such is the artistry that for most of this show we don't think about the human underneath the table. Randy prepares to read from his book in Randy Writes a Novel (a solipsistic-sounding affair about a man who walks from the Scottish border to the Isle of Skye) but never quite manages to as he gets distracted by a series of thoughts and some bile-filled rants about life. Among the many subjects he gives his opinion on are the life of Ernest Hemingway, Buddhists and veganism.
But then McIvor starts an anecdote about buying a bookcase on Gumtree that overstays its welcome, followed by a treatise on the nature of creativity and whether its worth is diminished if no one ever sees it or reads it. It's a strange ending to a show that keeps one's attention for most of the time, and the not terribly insightful philosophising sounds preachy – and sits uneasily in what is otherwise a clever hour of comedy.
Until 29 August
Sarah Callaghan, Pleasance Dome ★★
When Londoner Sarah Callaghan made her Fringe debut last year, a bright future was predicted for her. She has a breezy confidence and is a very likeable presence on stage, and her version of personal comedy always keeps things light.
Sad to report then that 24, her follow-up show, is a real disappointment. It's essentially one long story about her relationship with her boyfriend and how they took a trip to Paris, wrapped around the construct of her wanting to reboot her life within 24 hours by following a self-help guide. There are some neat callbacks and some groaning puns, and she can certainly write a sharp line or two, but the hour drags, particularly when laugh-out-loud gags are so few in number.
Until 28 August
Coombs Marr has some insightful points to make about her craft and the comedy industry
Explore topics
Share this article