Edinburgh Fringe 2022 reviews: Colin Hoult / Nick Helm / Susie McCabe |

reviews, news & interviews
Edinburgh Fringe 2022 reviews: Colin Hoult / Nick Helm / Susie McCabe
Edinburgh Fringe 2022 reviews: Colin Hoult / Nick Helm / Susie McCabe
A sad adieu, a pandemic experience and the awfulness of hen dos
Wednesday, 10 August 2022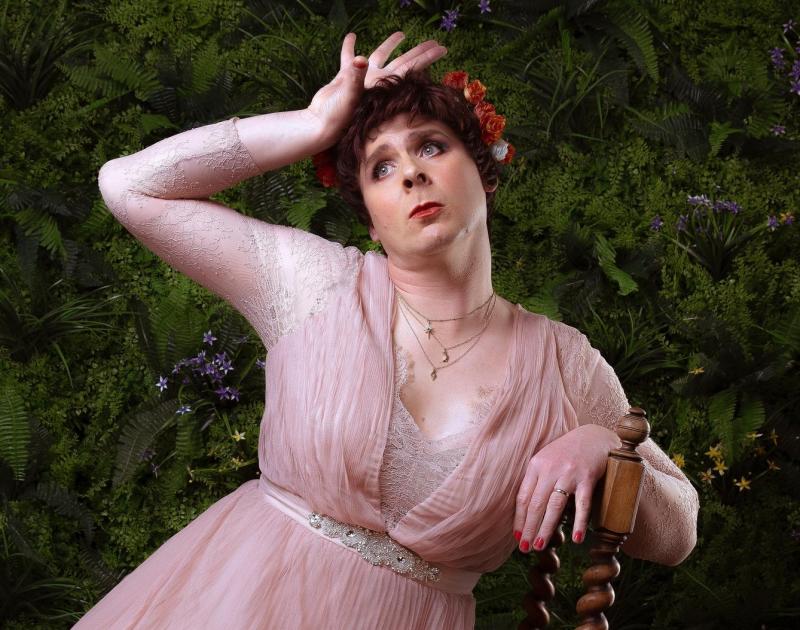 Colin Hoult's creation Anna Mann - an actress, singer, welder
Colin Hoult: The Death of Anna Mann, Pleasance Courtyard ★★★★★
Anna Mann – actress, singer, welder (you've got to have a back-up in this business, darling) – is the monstrous creation of Colin Hoult.
She was last seen at the Fringe five years ago and now returns, but with sad news; she's dying, her heart being "just too full". As she nears the end, Anna gives us a potted biography – she describes her poor upbringing in Nottingham where her only toy was a stick, her many marriages and affairs with ridiculously named suitors, her daughter Mahogany and her, er, stellar acting career, the high points of which she is constantly surprised that we cannot remember, such as her world tour of Swansea.
Hoult uses his creation not just to affectionately guy those in the performing arts, or those with an over-inflated sense of their achievements, but also to examine more serious themes, such as loss and mental health. But even then a joke is never far away; "I've got ADHD," Anna says. "But then so does every other fucker at the Fringe."
Not a gesture, line or expression is wasted in creating this hilarious character and the world she inhabits. This is a superb show that I wanted to watch again straight away – and if it really is Anna's swansong, we'll miss her.
Nick Helm, Pleasance Dome ★★★★

In his previous Edinburgh outing in 2019, Nick Helm provided a big entertainment show as he addressed, among other things, his failed relationships and mental health.
Now comes What Have We Become?, a pared-down hour of comedy, poetry (and occasional song), in which he describes his pandemic experience – "because that's how narcissism works". He can't move on, he says, until he has addressed it.
Much of it is universal – home-cooked meals, learning a new skill, using Zoom – and he had to decide at the beginning of lockdown if he should move back in with his parents "and teach people in their 70s how to use the TV remote".
There are breakouts when he stands on a low stool and performs poetry, but most of it is Helm back to his angry self, managing to be funny even about the anti-depressants he has to take and the effects they have on him.
A section about his addiction to a cola drink goes on too long, but Helm is, as ever, an engrossing watch as he goes from 0-60 about the Prime Minister, Covid deaths and his anger at not being able to see the first two years of his niece's life. Despite the subject matter there are some big laughs.
Susie McCabe, Assembly George Square ★★★
The Glaswegian comic tells us that she had a milestone birthday recently and was worried that she might suddenly discover a fondness for commemorative coins. Instead she decided she wanted to become a better person. After all, her girlfriend is a lovely human being – always rescuing animals and such like – so she has someone to learn from.
McCabe is an observational comic who works a lot in England, where she notices they serve a drink not available in Scotland – "a half pint" – and in Born Believer she also mentions her Catholic upbringing and how she looked out for her elderly parents during lockdown.
But a substantial part of the show is about her dislike of hen dos, and she describes the types on every one – the one who's always in tears, the puker – and the cheesy nightclub that they always end up in, complete with a one-man Westlife tribute act.
The themes seem bolted together rather than having a seamless connection and there's some speechifying towards the end, but there are lots of decent laughs in the hour.
Not a gesture, line or expression is wasted in creating this hilarious character
Explore topics
Share this article