Edinburgh Fringe 2022 reviews: Randy Feltface / Sarah Keyworth / Andrew Maxwell |

reviews, news & interviews
Edinburgh Fringe 2022 reviews: Randy Feltface / Sarah Keyworth / Andrew Maxwell
Edinburgh Fringe 2022 reviews: Randy Feltface / Sarah Keyworth / Andrew Maxwell
A puppet tells it like it is, an outbreak of silliness and political gags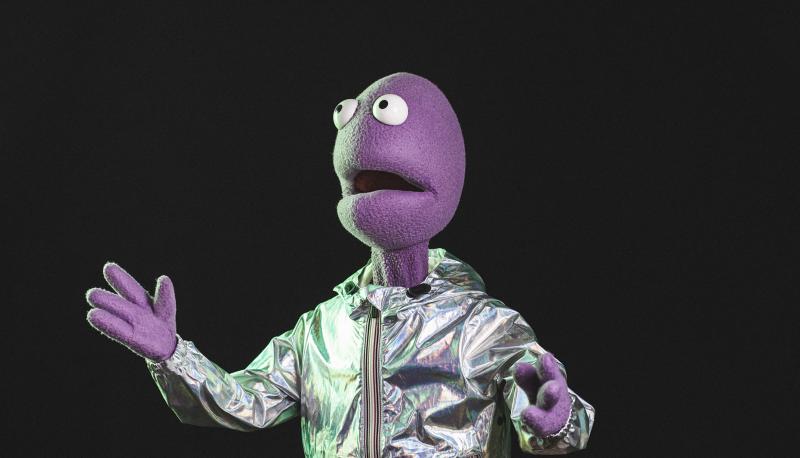 Randy Feltface, usually seen in the company of Heath McIvor
Randy Feltface, Assembly George Square ★★★★

Despite being made of felt, with a gash for a mouth and two googly eyes, Randy Feltface (always seen in the vicinity of Heath McIvor) can, astonishingly, appear to emote. Of course, he can't – we are feeling the emotions – but in response to what Randy is saying, whether it's serious or silly. It's an astonishing trick to pull off, and McIvor does it brilliantly.
Randy's latest outing, Alien of Extraordinary Ability, tackles some big subjects, not least what humans are doing to our planet, and how we have wasted the chance to reset that the Covid pandemic offered us. It starts with some bombast, as Randy takes us from the origin of life on Earth (complete with cute puppets of early lifeforms) to now, when some species are endangered. Then he drops the teaser – "Like the art of keeping your opinions to yourself" – he says, he too is an endangered species.
Could Randy be going the way of all flesh? I hope not, because this show is clever, inventive and thought-provoking as well as being snortingly funny about all manner of things, including freezing sperm, a 1950s polio outbreak, the legend of Gilgamesh and the calming effects of a Neil Diamond song on a bunch of macho miners in the Australian desert. It's razor-sharp social commentary, peppered with big laughs.
Randy Feltface was last at the Fringe in 2016. Let's hope he doesn't leave it too long before he returns.
Sarah Keyworth, Pleasance Courtyard ★★★
Sarah Keyworth is not alone in having had a couple of bad years. During the pandemic she split with her girlfriend and then, earlier this year, Paul Byrne, who directed her first two shows, died at the age of 44. So with Lost Boy, she says, she's going to just try being silly and see if that shifts her mood.
The show is certainly less "themed" than her previous ones that dealt – occasionally earnestly – with her sexuality and identity. But that earnestness was always leavened with playfulness, and there's more of that here as Keyworth talks about being in therapy, couples who talk in baby language and her new relationship with somebody she has known for 10 years. Her girlfriend was 16 (and she 19) when they first met and Keyworth wittily explores the possible implications in some people's minds. "If I had been grooming her, I would have been the worst paedophile in the world," she says drily.
Keyworth rounds off the show in ultra-silly style – and in the manner that would have made Paul Byrne laugh out loud.
Andrew Maxwell, Gilded Balloon ★★★
Andrew Maxwell's set for Krakatoa has a huge screen with a volcano on it. Every time he says "Krakatoa!" the audience responds with the same word and the volcano puffs out smoke. "Why the fuck not?" he says. Krakatoa was the first global catastrophe of the modern age, he says, and now we're in the middle of another – Brexit, Covid, who knows what next?
The past two years have been awful for everyone and, in addition, Maxwell has recently lost his dad, who would always travel to see him perform at the Fringe, and have a pint of heavy – or "Scottish napalm". Maxwell recounts various pandemic tales and of Zoom gigs (which really are nearing their tell-by date), but there's a standout one about anti-maskers in his native Dublin.
Maxwell is an astute political comic and there are decent gags about Liz Truss, Vladimir Putin and Ireland's leading conspiracy theorist Jim Corr, and he muses on the Richard Scarry rule but, entertaining as it is, it's not a vintage hour.
It's razor-sharp social commentary, peppered with big laughs
Explore topics
Share this article