The League of Gentlemen Live Again!, Sunderland Empire review - going local for local people |

reviews, news & interviews
The League of Gentlemen Live Again!, Sunderland Empire review - going local for local people
The League of Gentlemen Live Again!, Sunderland Empire review - going local for local people
Sketch group back on the road for the first time since 2005
Jeremy Dyson, Mark Gatiss, Reece Shearsmith and Steve Pemberton
When the League of Gentlemen – Mark Gatiss, Reece Shearsmith and Steve Pemberton, plus non-performing writer Jeremy Dyson – reformed for an excellent series to update us on events in Royston Vasey ("portal to another world, or just a shit hole?") for the BBC last year, they enjoyed it so much that they announced a tour for 2018, their first live show since late 2005.
There is more than a whiff of nostalgia in the first half as the trio – dressed incongruously in dinner suits for their black comedy as they were when they started out in the mid-1990s – perform some old favourites. The audience whoop as they recognise each of the characters, and anticipation of what is to come certainly adds to the fun.
Three people sat around a card table? Why, there must be some Go Johnny A Go Go Go Go, the card game with incomprehensible rules, to follow. Three chairs on an empty stage? Theatre company Legz Akimbo must be about to strut their ridiculously PC nonsense through the medium of rap. Old favourites they may be, but there are some updates here too; Legz Akimbo's paedophile alert (or "perve swerve") is updated with a mention of one or two Hollywood names in the news of late.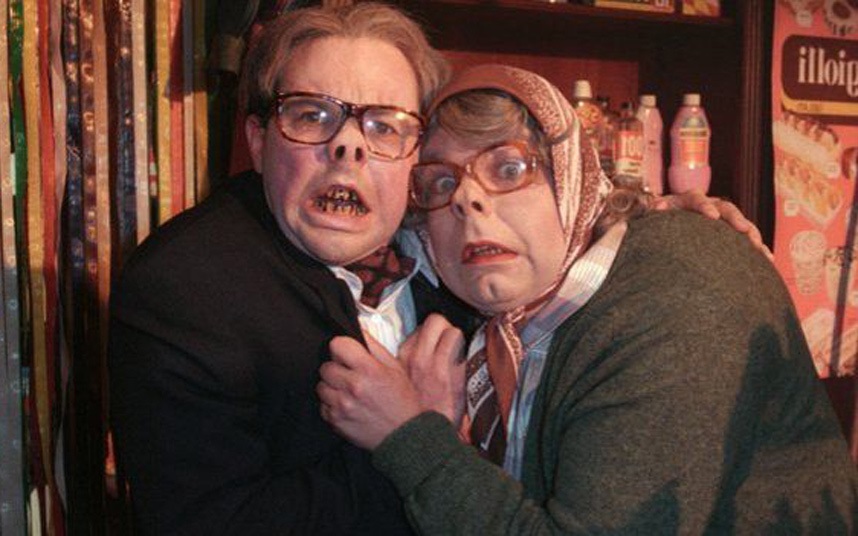 The threesome use just a hat or a prop or an accent to delineate characters, and run through a heap of sketches: Shearsmith's crass dating agency owner; Gatiss's mournful tour guide Mick McNamara; Ollie Plimsoll's impassioned self-delusion (with dance accompaniment from his colleagues) on why Legz Akimbo is "issue-based"; Pemberton's Herr Lipp wonderfully filthy innuendo-filled German lesson, with help from two members of the audience; and Shearsmith's minister Reverend Bernice, dispensing deeply unChristian advice.
The second half of the show is set in Royston Vasey, following on from 2017's TV series. There are sets and costumes, and a kind of narrative follows. There's a sprightly musical number to set the scene – Tubbs is still imprisoned in Papa Lazarou's "wife mine", and husband/brother Edward is trying to rescue her (pictured above).
Royston Vasey Plastics, too, is still peopled by Geoff (Shearsmith), giving another awful, bile-filled best man's speech as Mike (Pemberton) renews his vows; the Dentons make a welcome appearance in a sketch filled with bodily excretions; pens-obsessed JobCentre harridan Pauline makes an appearance at her own funeral; while Gatiss's incompetent vet Mr Chinnery manages to decapitate a panda while performing eye-laser treatment. It's as gleefully mad and surreal as we expect of events in Royston Vasey.
Most of this is terrific; fast-paced, wonderfully written and performed, with only the occasional misfire. The musical segment performed by Gatiss as Les McQueen is overlong and feels shoehorned in, perhaps to cover costume changes, while Shearsmith in a sketch as Papa Lazarou is underpowered.
But the rest is fab, and it's good to have The League of Gentlemen back on the road, showing that quality never dims.
The audience whoop as they recognise each of the characters, and anticipation of what is to come certainly adds to the fun
rating
Explore topics
Share this article