Leicester Comedy Festival Gala Preview Show review - an entertaining mixed bag |

reviews, news & interviews
Leicester Comedy Festival Gala Preview Show review - an entertaining mixed bag
Leicester Comedy Festival Gala Preview Show review - an entertaining mixed bag
Curtain-raiser to next month's offerings
Suzi Ruffell co-presented with her podcast partner Tom Allen (pictured below)
Suited and booted, Tom Allen and Suzi Ruffell presented this gala preview to the Leicester Comedy Festival, which is now in its 26th year and starts next month. The comics, who do an occasional podcast together called Like Minded, make an engaging double act – although their solo shows couldn't be more different.
Ruffell is loud, energetic and talks a mile a minute. Allen is urbane, laidback and slyly caustic. But in matching DJs they teamed up for presenting duties and showed why the podcast is so successful; they bounce off each other brilliantly and nattered away like an old couple between acts.
Catherine Bohart, a really talented newcomer, kicked off proceedings and showed why comics don't like being first on on mixed bills; the audience often isn't quite warmed up. She scored some gentle laughs, though, when describing her bisexuality. "We're confusing – the terms and conditions are not clear." Gaining even less traction was Alex Hylton, whose shaggy dog story mostly concerned, well, dogging – which managed not to be the dodgiest material of his set.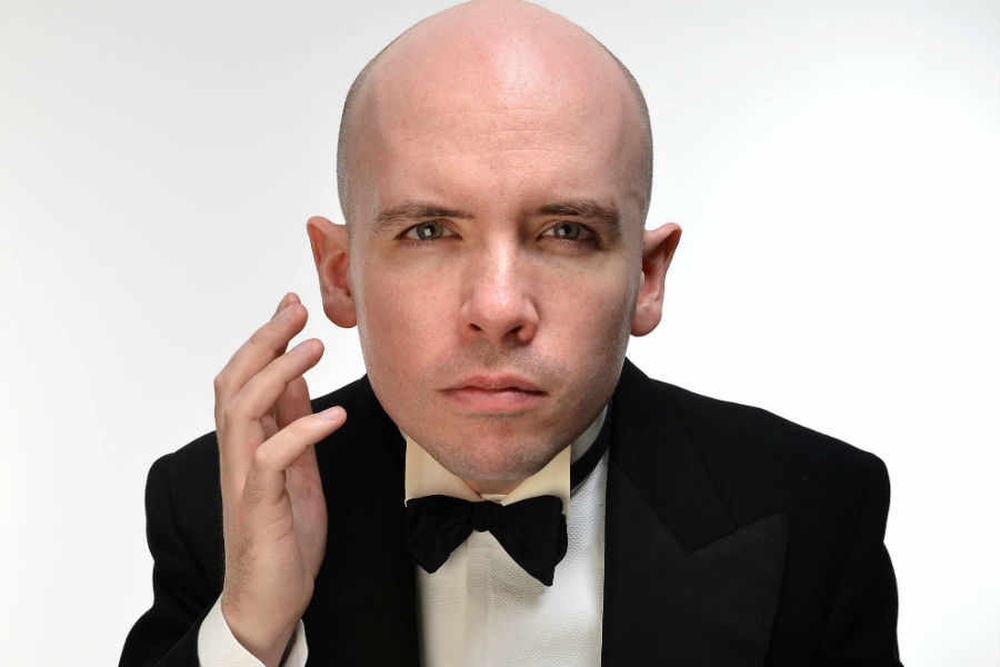 But then Jack Gleadow pepped things up with some wonderfully surreal visual and physical comedy, using just a few props – a child's scooter and a long scarf – and two willing participants from the audience. The set piece he performed with them was mostly wordless but contained a large number of gags as the rapidly changing music track provided the payoffs. He finished his set with some gloriously painful puns, telling us that he used to work in a shoe shop, teaching the other employees: "I was a trainer."
The first half ended with Myra Dubois, a drag act created by Gareth Joyner, whom some may know from her appearances on Big Brother's Bit on the Side. For my taste drag can be, well, a bit of a drag, but Dubois quickly won me over by a) not being cruel about women and b) by being bloody funny. Her mix of sarcasm, dreadful puns and a great Elaine Paige gag made for a very pleasant 15 minutes.
The biggest name on the bill was Darren Harriott, and his material was the most punchy of the night. He softened us up with some memories of being a bouncer; his years being on the door means he now hates students with a vengeance and so has some advice for the Government: "Keep raising the fees." In his all too brief stay on stage he covered a wealth of material, referencing racism, cultural appropriation and the limits of fandom, while dropping in any number of names – from Bruno Mars and Raheem Sterling to Stevie Wonder and Kanye West – to make his points. He's a class act.
Rosie Jones deals with another serious subject – disability – but she has some fun at the audience's expense while doing so. She has cerebral palsy which, she says, has a lot of syllables for an illness whose sufferers have speech impediments. "Why can't it be one syllable like deaf or blind?" Without labouring the point, for a performer who perforce takes a while telling a gag she has immaculate timing.
Stephen Bailey could divide the room; he's as camp as you like, which is not to everyone's taste, but he's a performer whose sheer force of personality wins you over. He's a chatterer, talking about nothing terribly consequential, but he painted a vivid picture of his life and I liked that he was the only comic on the bill who tilted at the locals. "Us stand-ups get to go to a lot of shit holes.... Don't worry, Leicester isn't the worst." For the record, Leicester is a lovely town, and Bailey seems like a lovely bloke.
Last up was Dan Nightingale and he had a strong set, delivered with great charm and energy, to send the audience home happy. He used to be a clubber, but at 37 and with a wife and child, he's past that now. But going on a stag do to Spain with his wife's brother brought it all back, and his long-form gag about their accidental visit to a strip club, packed with smart asides and callbacks, was a treat.
All these acts are appearing at the festival next month; dive in, as there's a lot on offer.
The hosts bounce off each other brilliantly and nattered away like an old couple between acts
rating
Explore topics
Share this article