Batsheva Ensemble, Sadler's Wells |

reviews, news & interviews
Batsheva Ensemble, Sadler's Wells
Batsheva Ensemble, Sadler's Wells
Young dancers from Israel - and elsewhere - entertain against a backdrop of mild commotion
Tuesday, 20 November 2012
Shimmering, lithe Israeli dance from the young Batsheva Ensemble
Batsheva Dance Company is reaching its half-century, which makes it, as one of the world's leading dance brands, not quite as old – or as young – as Israel, but Martha Graham helped launch it several years before the 1967 Six Day War. An international mix, it is in fact two companies, the senior one and the Ensemble, currently touring Britain and made up of youngsters who might or might not graduate to the main, Tel Aviv-based troupe.
Ohad Naharin has been in charge since 1990, which was also when the junior fraction was created.
Naharin's choreography is inventive, funny, self-interrogative, extrovert: like his country. He is neither especially political nor especially experimental. His dance is lithe and shimmering, always easy to watch, rarely teleological. He works with a language called "gaga", which is a little unfortunate because of the (much more recent) pop-star's name and offensive, if now slightly secondary, associations with an elderly person who makes no sense. Severe critics might claim that the latter is precisely analogous to what goes on on a Naharin-spattered stage, but I think that's extreme. One of his more interesting rules is that dancers don't rehearse, ever, with mirrors. They look inside themselves, a lot. They improvise. They guess. That's gaga, partly.
Security checks at the start meant the show went up half an hour late
Deca Dance, which is what we're being offered in London and which has already stormed Edinburgh, Salford, Bradford and one or two other points north and south, is a pot-pourri of excerpts celebrating Naharin since he took over Batsheva. A crowd-pleasing clown male soloist before lights down expands - in due time (on press night) - in to the full troupe stretching and zinging in alphabet shapes. The girls march around athletically testing their bendiness. Five barechested boys in skirts conduct a biblical, homoerotic parable with a bucket of mud.
"Hateful rubbish," scoffed a famous ballet critic, behind me, at the end of the interval. Strange: he's known to love hip hop. There are more than strains of that idiom's galvanic abandon and self-expression in what Naharin gets his dancers to do. Lots of it is sex and rock and roll. But at least this man was talking about the performance. "Free Palestine!" Sorry, did I say Israel? I did. There were two interruptions in the first half, one in the second, all from somewhere high up in the auditorium. House lights up; mild commotion; applause from the audience - in support I sensed first time round, then, latterly, ironically. The dancers are used to it. They are not warriors. They are easy targets, though for nothing more than words of expected anti-Israel anger: security checks at the start for anything more harmful meant the show went up half an hour late.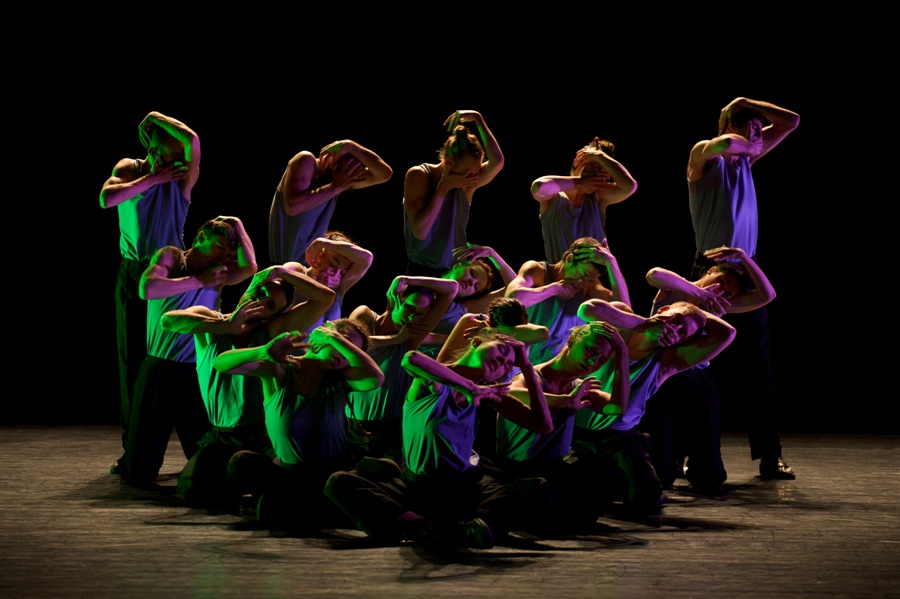 With all the protest, pro and con, outside Sadler's Wells and the stage action inside, it was quite an evening. The best part of it was - and this is a punchline irony (and a bit of a spoiler, so I'll skip the detail) - the most Jewish: the ensemble dressed, parodically, in Hasidic uniform, engaging, putting it very mildly, with the audience.
The episode won't have calmed the protesters. Most of them had probably left by then; and there are, anyway, more pressing, shocking things currently to be angry about and shout about in the Israel-Palestine catastrophe. Batsheva is just a dance company. In this reaching-out gesture, as in others, it knows how to woo, and move, and entertain, like the best of them.
Galvanic abandon and self-expression is what Naharin gets his dancers to do - lots of sex and rock and roll
Explore topics
Share this article