theartsdesk in Lille: Flemish Landscape Fables - Bosch, Bles, Brueghel and Bril |

reviews, news & interviews
theartsdesk in Lille: Flemish Landscape Fables - Bosch, Bles, Brueghel and Bril
theartsdesk in Lille: Flemish Landscape Fables - Bosch, Bles, Brueghel and Bril
A labyrinthine exhibition of the fantastical and bizarre takes us to on a journey to paradise (and hell)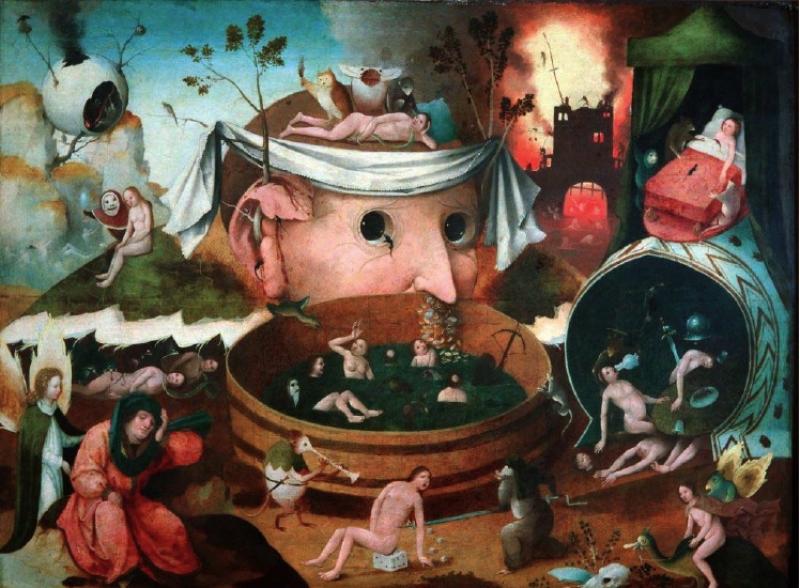 The Vision of Tondal, a follower of Hieronymus Bosch
If hell doesn't exist for us in the 21st century, at least not in the literal rather than the Sartrean sense, than how should we read the fabulous visions of 16th-century Flemish artists such as Hieronymus Bosch? As proto-Surrealism? As the outpourings of a mind unique in its insights into the torments of the soul and seeking expression in the inexpressible?
Christian iconography may not mean that much to as many people today, but from hatching eggs from which miniature humans emerge to hybrids of creature, man and archaic machine, Bosch's vision of a world turned upside-down has few connections with traditional biblical imagery, nor really any precedence in myth. As we find in this fascinating and labyrinthine exhibition featuring over 100 paintings at the Palais des Beaux-Art de Lille (on loan from major public and collections in France and Belgium), it's a world of its own invention and one that saw many contemporary imitators.
Bosch's paradise and those of his imitators appears just as weird as anything encountered in hell
Bursting with the fantastic, the grotesque or the merely fanciful or mythological, it includes well-known artists as well as plenty you may never have heard of. The Brueghel of the title, incidentally, refers to Jan the Elder, but his brother Pieter Brueghel the Younger also makes an appearance. There's a very welcome appearance, too, by head of that clan, Pieter Bruegel the Elder (he dropped the h of his surname, though his sons continued to use it) with that seductive but nonchalantly cruel painting, The Fall of Icarus, c 1560s (pictured below) about which Auden observed "how everything turns away / Quite leisurely from disaster."
The painting takes the story of the boy who flew too close to the sun and turns his demise into a marginal incident, barely noticed: the ploughman continues to plough, ignoring the figure plummeting into the sea and deaf to the frantic splashing of tiny legs. Further on, a man with his dog observes a peculiar spectacle in the sky but watches it with detached curiosity rather than fear and dread. If we didn't know the title we might miss the fate of the doomed boy, too, such must be the true impact each of us make on earth.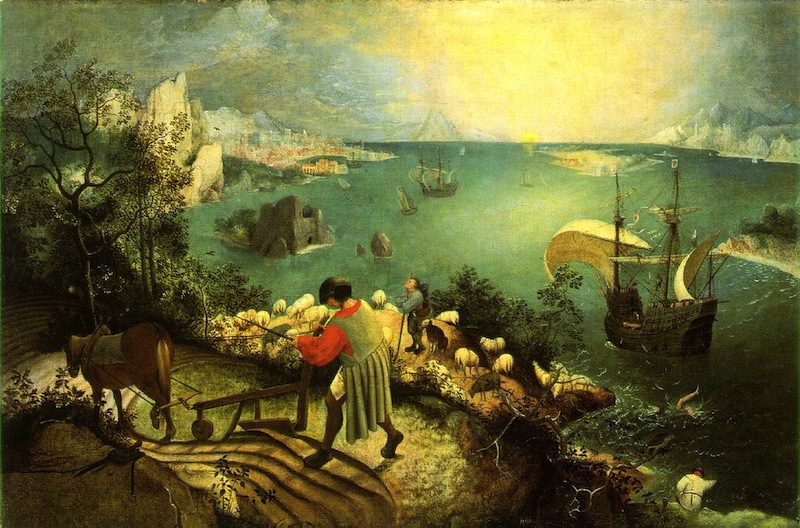 The exhibition opens with images of hell and heaven, though, in fact, both are unsettling in their own ways. To a believer, Thierry Bouts' The Fall of the Damned might be truly terrifying. Demons are unleashed upon the writhing bodies of sinners, biting off heads, gnawing limbs and seeking sexual congress with the female damned while raising a knowing, demonic grin at the viewer. Bouts hasn't been afraid to crank up the horror, though it's difficult to say how much humour a modern audience are free to read into such images.
Meanwhile, Bosch's paradise and those of his imitators appears just as weird as anything encountered in hell. One arresting painting, by a follower, The Vision of Tondal (main picture), depicts Tondal, the Irish knight of medieval manuscripts as the rotund knight takes a knap after a feast and embarks upon an epic dream-journey that leads him through hell, heaven and purgatory, after which he gives himself to God.
Then there's Hans Memling's equally unsettling Allegory of Chastity, 1470, which sees a young woman in Burgundian dress encased in a gigantic jagged rock, guarded by two lions. Horror dressed up as virtue.
This essentially medieval world of the Flemish primitives prevails well into the following century. How different from the idealised realism of the Italians. Yet here we see the dramatic magnificence of that joint father of the landscape genre, Joachim Patinir (Bruegel being the other) especially in his brooding Landscape with Saint Jerome, 1524, in which the elderly saint, sitting in his humble shelter, is dwarfed by towering rocks which are painted with exquisite detail. This is a painting of the sublime before that concept was even noted.
A procession of Saint Jeromes, Saint Christophers, Babel Towers, writhing sinners and hatching humans may greet you at every turn, but if there's any danger of repetitivenes the intriguing subject matter nonetheless remains captivating. The exhibition is accompanied by Babel, an equally absorbing show of diverse contemporary responses to the building of the biblical tower.
It's a world of its own invention and one that saw many contemporary imitators
Explore topics
Share this article
Subscribe to theartsdesk.com
Thank you for continuing to read our work on theartsdesk.com. For unlimited access to every article in its entirety, including our archive of more than 10,000 pieces, we're asking for £3.95 per month or £30 per year. We feel it's a very good deal, and hope you do too.
To take an annual subscription now simply click here.
And if you're looking for that extra gift for a friend or family member, why not treat them to a theartsdesk.com gift subscription?