Snoop Dogg, O2 Arena |

reviews, news & interviews
Snoop Dogg, O2 Arena
Snoop Dogg, O2 Arena
Doggumentin' in Docklands
Saturday, 08 October 2011
'Say what?' Snoop Dogg: don't call him Calvin Cordozar Broadus, Jr
In the 19 years of his million-selling gangsta-bragging pimp-shizzling hip-hop-rapping career, the man born Calvin Cordozar Broadus, Jr has gone to some lengths to inform us that his name is, in fact, Snoop Dogg.
He has appeared as himself - or a transparent
alter ego
- in several films, "starred" in a raft of low-grade at-home-with-Snoop TV shows, referred to himself endlessly during interviews in the third person (and in his own weird third tense), and has about a thousand lyrics, songs and album titles with all or part of his moniker embedded in them. Bit strange, then, that most of the time, he can't remember it.
Perhaps, at last night's O2 gig - titled (you guessed it) "Snoop Dogg" - the Doggfather was just having an off day; but it was hard to see what all the fuss is about. His warm-up bods did him no favours, either, playing extracts (?) from Bob Marley, Biggie Smalls and Beyoncé's classic feminist anthem "All the Dinner Ladies", in an effort to whip up a crowd more white and in denial than the guests at Mandela's last birthday.
Snoop took the stage at what could only be described as an indifferent gangsta hobble
Mistajam gave some power-to-the-people shout-outs to the brethren, in particular telling the folks in the gods – ie, me – that we shouldn't have been so cheap (still, always nice to see the rich peeps reprazentin' in their corporate boxes), and then there was some cunningly coded banter about "smokin' – and I'm NOT talking about cigarettes" (it was coded on an anvil), followed by everyone in the crowd aksing each other for Rizlas, bruv. (Nobody aksed me. I wonder why.) And then Snoop took the stage - at what could only be described as an indifferent gangsta hobble.
He seemed a little under-dressed. I mean, I was at least expecting a green hat. Perhaps with a feather. Set at a pimpin' angle. But all Snoop was sporting was a black doo rag [that's gangsta for "shit bandana"], and a bit of bling on his microphone hand. As for performance charisma, or indeed any kind of live-show value-added, it didn't really look like he was working up much of a sweat.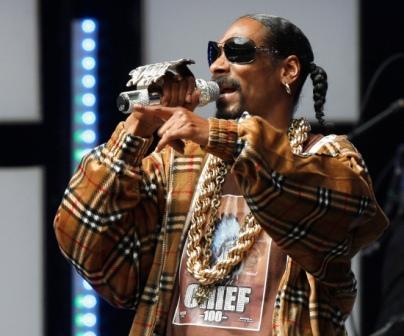 For effort, the points go to his dawgs and his bitches. Snoop had the inevitable posse of yo-yo guys (literally, guys in football shirts [US] who walk along the stage saying "yo" in the commas). He also had an actual dog - at any rate, a guy wearing a dog head, who spent all his time dry-humping the air (an actual dog would at least have had the wit to bring his own table leg) and, when that didn't fire up the mob, got out his big doggy dick. It didn't do that lipstick thing the bitches seem to love so much, but you could see it from row Q, which is something.
There was also a hot-panted trio from the Women's Liberation Army grinding it up on stage. Box-checked for one white, one black, and one Latino, this porno UN delegation was the only reason for wanting to be closer to the action. For the most part, they performed what could only be called single-party coitus – and they were getting the moves wrong, too. The white one was wearing a knee brace, so that was sexy.
It was like a serial composition by a novelty gangsta Ansaphone
I didn't have a playlist to hand, but trust me when I say that Snoop did all the songs that start with "Yeahhh..." and "Ow!" He said "Hey ho." He said "Sing it now" and he said "Say what?" He said "Make some muthafuckin' nooooiiiiiise." It was like a serial composition by a novelty gangsta Ansaphone. But most of the time he just said his name.
Actually, he got the audience to say it (and if I'd paid for my ticket I'd have been pretty pissed at the proportion of the work I was expected to do myself). At one point, there was an entire song dedicated to the issue. "What's my name?" Conservatively, I estimate about 20 per cent of the gig was devoted to iterating the requisite two words, and I began to wonder if he'd misplaced his script. Now, I ain't the Surgeon General, or nuthin', but if Snoop can't remember his muthafuckin' name perhaps he should lay off the jokes about smokin' - and I'm NOT talking about cigarettes, YOUKNOWWHATI'MSAYIN'?
Most of the time, alas, I just didn't know what he was sayin'. The nearest I got to revelation was when, halfway through "Gin & Juice", Miss October said, "I know an excellent cover of this. It's by a hillbilly band." At one point I went for a piss, and through the urinal, the concrete wall, and several thousand fleshy, velour-shrouded bodies, I was honestly none the unwiser. The few words I could make out ["lyrics" would imply a connection to, say, melody of some kind] implied a classic brand of 21st-century popstar outlook, and it strikes me the Little Book of Snoop Philosophy would be a) a very little book indeed, and b) a bestseller. Money is bad, but having it is good; Snoop hisself is Robin Hood ("Robbin'", no doubt), but no one paying 50 quid for a ticket is gonna see a rebate; women are hoes, but you cain't do no gardening without 'em, if you catch my meaning.
Someone like Snoop treats his bitches right
If I understand Mr Dogg's position on women [don't say it], it's that, if they're incredibly lucky and find themselves a good man (someone like Snoop, for instance, who treats his bitches right), then they might, just, if they ask nicely, get theirs before I get mine. On their birthday, maybe. He certainly didn't make it sound like it was an enshrined right. I can't speak for the women in the audience (or for why they were even there), but while he was singing about "Sensual Seduction", and using that gay voice-distort that men have to use when singing about matters of the soul, and he was saying "yeah... for the ladies", and the lights were all purple, and the go-go dancers were dancing real slowww... I felt like I was being molested by Glen Quagmire.
For counterbalance (presumably), Snoop threw in "Money" - for the white kids who've only seen him in Old School - and a couple of wannabe club hitz. You could tell, because the literature went into minimalist hyperdrive – the word "jump" featured prominently – and there were Big Lights.
There ought to be some kind of gigging law regarding the inverse ratio of "good time" being had to the number of occasions on which the performer has to ask. Last night I counted at least a dozen, and it didn't seem to be doing the trick. Only 60 minutes after he'd come on, and with serious numbers already making a bid for the Tube, Snoop made one last play: "London, England [good], I'll come back any time you want."
Yeah... Say what? And - sorry, yo - what was your name again?
What's his name? Conservatively, I estimate about 20 per cent of the gig was devoted to iterating the requisite two words
rating
Share this article