Bear's Wild Weekend with Ben Stiller, Channel 4 |

reviews, news & interviews
Bear's Wild Weekend with Ben Stiller, Channel 4
Bear's Wild Weekend with Ben Stiller, Channel 4
Garish and daft, but a brilliant alfresco chat show
Thursday, 11 December 2014
The caterpillar we're having for lunch is this big!
It's only a few years since TV companies wouldn't let Bear Grylls talk to anything more important than small, edible fauna. So he's done well to progress so quickly to genuine A-Listers like Ben Stiller and Stephen Fry. By most objective criteria, talking isn't something Grylls does terribly well, relying on a mashup of puns, clichés and semi-scripted pep talks, like a PE teacher at parents' evening.
But by the time Ben Stiller climbed aboard the seaplane that "extracted" him, in Grylls' awful military jargon, from his Isle of Skye ordeal, I felt I'd got to know him rather well, in a way I never would have done had he been sat talking on a sofa.
The credits present Ben Stiller's planned adventure in a crassly futuristic, game-y way, yet as soon as Grylls takes over, we're reversed abruptly into a 1950s world of Enid Blyton adventure. Aesthetically, this programme is all over the place. As always with a Grylls programme, there's a certain amount of survival porn. Grylls was made Chief Scout five years ago, and his demonstration of how to tie a bowline (the knot with the anecdote about the rabbit, the hole, and the tree) is delivered completely straight.
The survival stuff doesn't feel very genuine, however. The pace is so hectic that there's no time to feel the emptiness or peril of the location, and much of the incident feels staged. Bear's use of a set of antlers they just happen to find en route to anchor his climbing rope surely owes a greater debt to the props department than the wildlife of Skye. And the adventurers appeared to eat only an apple and two scavenged limpets in the course of an extremely strenuous weekend's action. Was that, perhaps, a lesser-spotted Channel 4 catering van just out of the shot?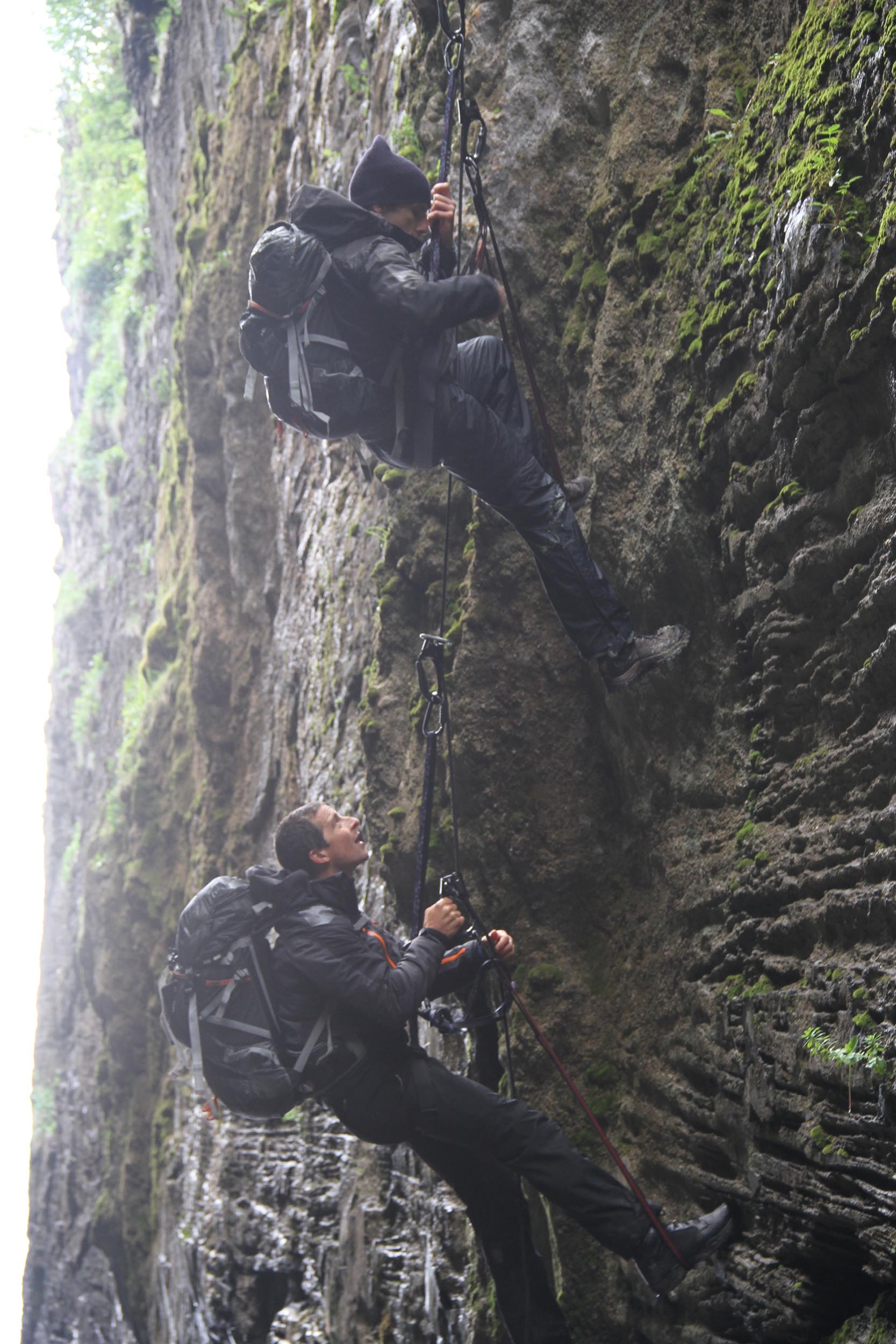 The pairing of the straight-ahead, all-action Grylls with a wry, ironic New York comedian was a stroke of genius, however. They had nothing at all in common except being of a similar age, and having youngish children. The small moments of reflection, late at night deep in a cave, or after a sheer ascent that was gripping to watch but rather slithery for the participants, felt much more authentic than the limpet-bothering.
There was a sense that Bear Grylls' conversation wouldn't stretch all that far into Stiller's world of New York comedy. But that wasn't really the point. The rather lovely feature of this programme was the way in which the sense of being stretched beyond the limits of Stiller's (pictured left, above) physical endurance cut the conversation to the emotional quick, and revealed a tenderness previously concealed by the armour of wit, while for Grylls (pictured left, below), the act of guiding the increasingly distressed Stiller to safety brought out a sensitivity much more appealing than the Tiggerishly domineering persona we'd met before.
The timescales are very compressed, the weekend compacted into barely forty minutes of action. Take away the garish credits and Bear's pitiful attempts to avoid repeating clichés by saying "it's almost a cliché" before each one, and that's barely half an hour's footage. Not much for a big boys' adventure, but when you're really making Wogan set on a chilly hillside, it's just right.