Nina Conti Clowning Around, BBC Four |

reviews, news & interviews
Nina Conti Clowning Around, BBC Four
Nina Conti Clowning Around, BBC Four
Ventriloquist fails to 'find' her clown, reduced to 'tears of...'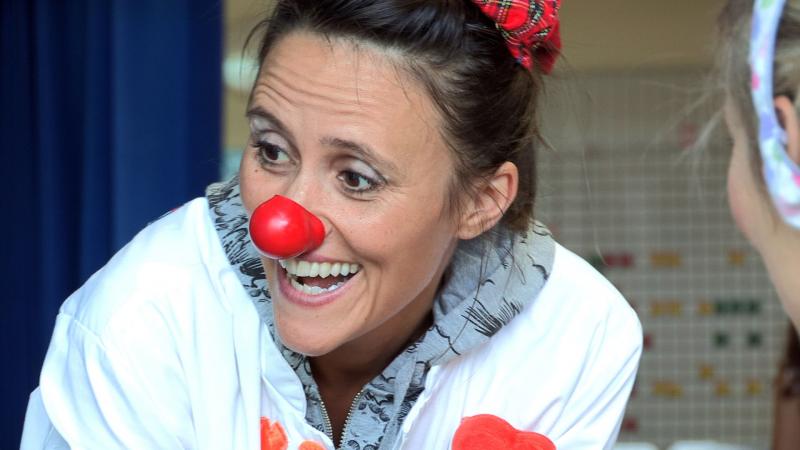 Red nose days: Nina Conti clowns on the hospital wards
Ventriloquist Nina Conti, along with her wisecracking sidekick Monkey, has emerged as one of the sharper comedy acts of the past few years but Nina Conti Clowning Around was an uneasy, far from comic film.
Embarking on a new direction, away from "entertaining drunk adults" as Monkey put it so winningly, Conti set herself to trying to entertain sick children as a hospital clown, or "giggle doctor" to give them their title at the Theodora Children's Charity which was her starting point.
It followed two years of her life, and this certainly wasn't one of those triumphing-against-the-odds narratives. In fact it left Conti admitting at the end that she'd failed to "find" her clown – though a Scottish accent had looked a promising start at one point – and reflecting with a degree of melancholy on the experience. Despite the encouragement of everyone she came across and access to the inner sanctum of France's clowning guru Philippe Gaulier, she just couldn't reach the apparently effortless note that her fellow giggle doctors had achieved. She was the first to admit, and when she didn't Monkey was the first to remind her, that her causing extra distress to kids who weren't in a good place anyway was doing no good to anyone. She was stymied, too, when forbidden to work with Monkey – any object brought into hospital has to be able to go through a machine hot wash – and even when one of the lovable animal's understudies did get that treatment (very funnily) and join the act, it somehow didn't bring any appreciable assistance.
There was the risk of allowing yourself to be caught up too closely in the pain of the children
Not that she didn't get the occasional appearance right, with the resulting sense that she had indeed brightened up someone's day, but the more experience she gained the more Conti was retreating into solitary corners to muse on her failings; even Monkey's repartees lost a bit of their usual acerbity. There was plenty else to think about too, and Clowning Around caught some of the issues surrounding the business. In the widest sense it tried to understand and convey something of the essence of the clown, the "low status of the lovable idiot who remains optimistic even when he's in the shit", as one teacher put it. Then there was the risk of allowing yourself to be caught up too closely in the pain of the children you were visiting, and start involuntarily thinking of your own kids (we saw a fair bit of Conti's home life and family). And the paradoxical result that while the clowning training she was receiving didn't appear to be coming through in the direction intended, it was improving her evening job, the ventriloquist act.
There was even an excursion to Italy which showed distinct national differences of approach, as we met Milan's Dr Stetoscopio: the names the UK clowns had chosen for themselves were a delight all round, like Dr Dovetail, Dr Loo Loo, Dr Ding Dong, much nicer anyway than Monkey's suggestion for his mistress, Dr Loser. Hospital clowns in Britain, unlike their Italian counterparts, aren't told the illnesses of the children they encounter, and we didn't get (in the film, at least) any sense that longterm bonds were established between the clowns and the parents and children. In Italy, Stetoscopio recalled how he and a fellow clown had been invited by some parents to see their dead child, whom they had clearly known for a while, in the mortuary, and how improvised humour had helped even at that bleakest moment.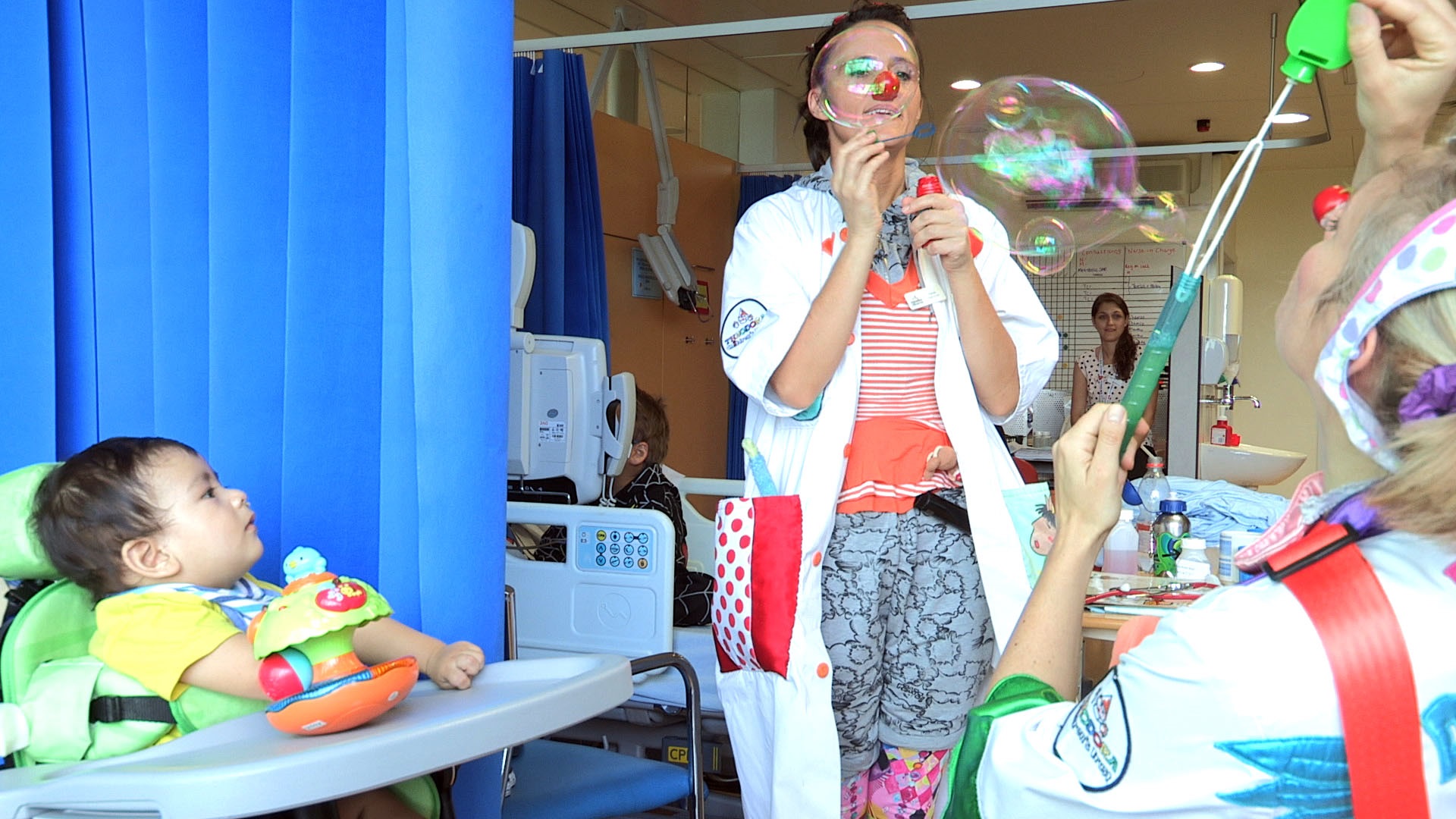 That was perhaps a reflection on how more integral and wider the concept of clowning, with its deeper cultural roots, is in Italy than in Britain, where its associations are with circus. And, in a diversion from Conti's own story, we saw how the concept of the clown, at least in the environment of the hospital, was suffering its own identity crisis. The Theodora outfit had been conducting its own bureaucratic feed-back surveys, reaching the decision that a change of image was essential. Clowns were no longer clowns, with their red noses, huge floppy shoes, make-up and brightly coloured costumes, but were to be rebranded in jargonese as "professional performers trained to boost morale". The future giggle doctors, of whom Conti was not going to be one, were going to have to get by without all the appurtenances of their profession (pictured above). The diktat reduced some of them, literally, to tears.
Nina Conti Clowning Around was interesting as observational documentary, though it left one question unaddressed, namely whether when you're concerned about the impact of outsiders on children, some of whom were clearly vulnerable because of their illnesses, a trailing television crew, however small, was an interruption too far. It also left me wondering whether the story might have been better told by an external director rather than by Conti directing herself. The timing, somehow, didn't always seem quite right.