Inside Men, BBC One |

reviews, news & interviews
Inside Men, BBC One
Inside Men, BBC One
Compelling opening episode of the BBC's heist drama with a twist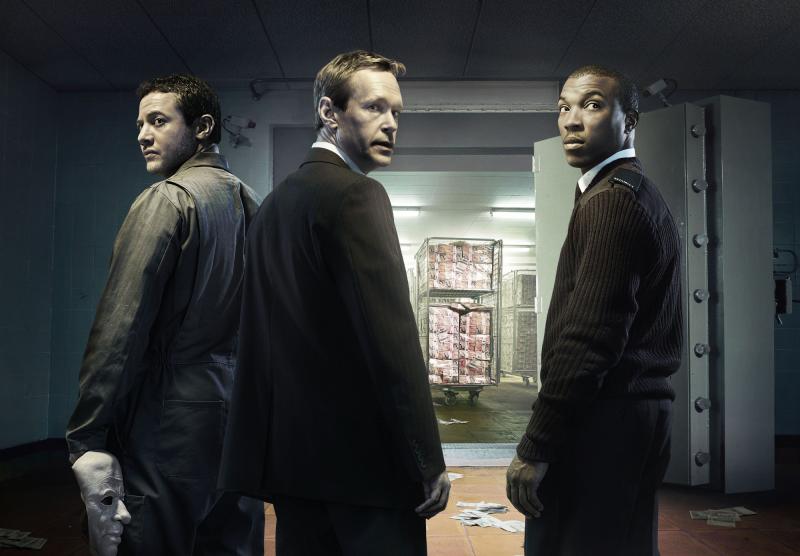 Marcus (Warren Brown), John (Steven Mackintosh) and Chris (Ashley Walters) as the 'Inside Men'
It certainly started with a bang. The whirlwind opening sequence of the BBC's new four-part drama depicted a cash depot heist by a masked gang unfolding in something close to real time, and thrummed with blood and nervous tension. Security guard Chris was shot in the leg. His boss, John Coniston, was roughed up. Back at home, his family were being held hostage at gunpoint. Both men, it transpired, were in on the job, while warehouse worker Marcus was one of the armed gang.
Inside Men
, clearly, was going to be why- rather than a whodunnit.
The heist took place in September. The remainder of this first episode scrolled back to the previous January, and we gradually came to learn a little about how and why these three very different men decided to rob their own workplace. After the panic and adrenalin of the opening 10 minutes, a calm sense of routine descended. We learned that John (Steven Mackintosh) had been at the security depot nearly seven years, all of them uneventful. "Not even criminals want cash these days," he said. "Online, that's where you'll find them." He and his wife (a convincing essay in quiet despair from Nicola Walker), desperate to adopt, finally had a child to look after, but disappointment and disillusion clung to them like mildew. He was Mr Dependable, the man who always made the numbers add up, but you could tell just by looking that he was crushed.
John's quicksilver transformation from by-the-book gamekeeper to poacher seemed a trifle abrupt
Inside Men was commendably low on flash, which made the violence when it came – and graphic, bloody and unglamorously realistic it was, too – all the more abrasive. The depot was depicted as just another factory, dealing with money rather than beans or biscuits. There was a story sitting behind each bundle of notes, and it was these ordinary human lives – three of them, to be precise – which most interested writer Tony Basgallop. The principals weren't geezers or gangsters, just harassed working men looking to make an extra buck, gradually yielding to the temptation that surrounded them every day.
Chris (Ashley Walters, pictured below right), was tired of dealing with his alcoholic mother. He fell in with 17-year old Polish girl Dita (Leila Mimmack) after throwing her out of the depot for stealing, which wasn't terribly romantic but had the authentic ring of the opening skirmishes of a modern relationship. They quickly became an item. An enthusiastic kleptomaniac, Dita stole clothes for him from her new job, while he wanted more money to get them on their feet. He asked his boss for a pay rise; then he stumbled on another solution courtesy of his colleague Marcus (Warren Brown) who, having borrowed heavily to invest in a hairdressing salon, had been sunk by the recession.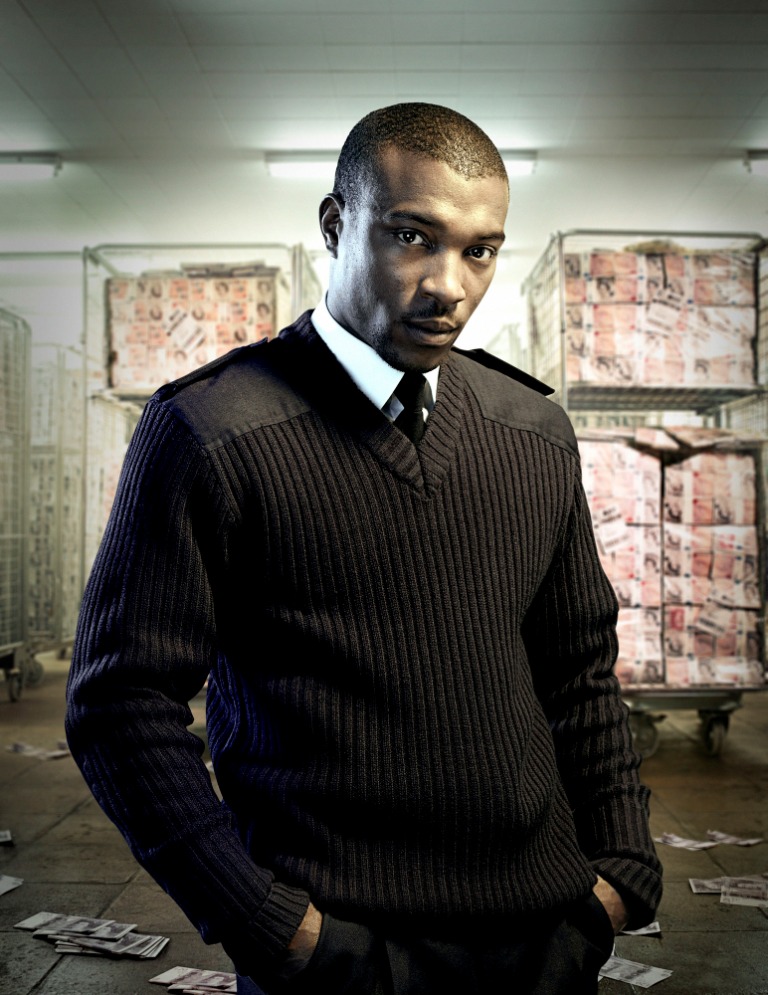 The notion of the workplace as an escape route from dead end street began with Marcus's modest idea to sell the floor plan to the depot to some of his brother-in-law's dodgy mates. That came to nothing, but once the seed was sown, there was no turning back. Soon he and Chris hatched a plan to smuggle out "a couple of grand a week" - enough to make a difference, but not enough to start a massive fuss.
Soon £51,000 had gone astray, and they started splashing the cash. Kind of. Marcus presented a fancy new chip fryer - ta da! - to wife Gina (Kierston Wareing), while John's suspicions were aroused when he saw Chris taking delivery of a new sofa bed. He confronted the pair of employees - and that's when the game changed. "All that risk, for this?" he asked them. "If you're going to do it, if you're going to cross that line, it has to be worth it, doesn't it?" A pause, not long but long enough to change a life. "What if we took the lot?"
The title of Inside Men worked on two levels. This was a thoughtful exploration of simmering inner lives, of small decisions which duly lead to big problems. The performances plausibly conveyed why each of the three might be willing to take such an almighty risk. Walters, so powerful in Top Boy, was once again mightily impressive portraying a man with deeply conflicting emotions churning away beneath the surface.
Mackintosh, too, was excellent as a cowed, unimpressive husk so driven to distraction by his circumstances that he would rather break the law than lose face at work, the one place he seemed to excel. That said, his quicksilver transformation from by-the-book gamekeeper to poacher seemed a trifle abrupt. But isn't that how reality works? Inside Men may delve more deeply into his motives next week, as well as shed light on the other compelling questions thrown out by episode one: how much of the heist went to plan and how much went wrong? Why was Chris shot? Who were the other masked men? And, of course, further down the line, will they get away with it? Perhaps most pertinently of all, will their consciences allow them to?