Killing Joke, Roundhouse |

reviews, news & interviews
Killing Joke, Roundhouse
Killing Joke, Roundhouse
Respect, more than ever, is due to these doomsaying punk veterans
Jaz Coleman: still a reliably incandescent front man
With the Queen's Diamond Jubilee and the Nostradamus-predicted apocalypse both imminent (possibly), now is clearly an auspicious time for a doomsaying veteran punk combo such as Killing Joke to return to our midst.
Unlike most of their late-Seventies peers, Jaz Coleman's crew have always been around in some shape or form, hitting the pop charts in the mid–Eighties, and subsequently striking on numerous phases of cred, circa thrash metal, grunge, even trance (with the
Pandemonium
album in 1994, largely thanks to bassist Youth's sideline as a house-y producer).
In the early Noughties Dave Grohl drummed on an album and KJ toured with Motley Crüe – quite a pairing! – but it was after the original quartet, completed by mainstay guitarist Geordie Walker and drummer 'Big' Paul Ferguson, reconvened circa 2008 to perform their first two albums live that things started really hotting up. The ensuing two records – 2010's gnarly yet stadium-catchy Absolute Dissent, and the imminent, bone-crunchingly heavy MMXII – are amongst their best to date, right up there with those first two.
Given their unique underground resonance right across the anarcho-crusty-rave-industrial-metal-doom-postpunk spectrum, Killing Joke shows are always lively affairs, ceremonial invocations maître-d'ed by the clown-painted, palpitatingly furious Coleman.
Things only got darker and heavier, and it was tempting to conclude that Killing Joke had invented all music of a dark/heavy stripe
At a packed Roundhouse, the sense of subcultural deviance was established early on by Californian support act, The Icarus Line, whose unsung 2011 album, Wildlife, trowelled on the LA narcotic nihilism in the thickest (and funkiest) swathes since Iggy Pop and James Williamson's "Kill City". Stripped to the waist to reveal his scrawny sun-dodger's pallor, singer Joe Cardamone yowled and serially insulted the static front rows, while his ferally malnourished trio bashed out a comparably antagonistic row – a welcome break from the feelgood/hardsell stagecraft of most post-millennial rock.
Killing Joke, come the time, did all their damage with a sonic brutalism, which you felt as a physical force. Having dispensed a pretty much unbeatable "heritage" set four years ago, tonight's rang in the new at cripplingly high volume. Opener "European Super State", off Absolute Dissent, was an ear-splitting amalgam of Orwellian political imagining and pop anthemics, while "Fema Camp" and "Rapture", both from MMXII, each summoned a volcanic cacophony.
Ferguson and Youth, playing longer together lately than they did 'back in the day', locked into their battering rhythms with telepathic assurance, while Geordie, patrolling off to the left, calmly stroked out some of the biggest noises in the history of rock guitar, some savagly riffy, others grinding, moronic, lethal.
Up front, in a black boiler suit, Coleman was reliably incandescent. After an infernal "Unspeakable", with intercut screen images of torched infantrymen and the Twin Towers crumbling, he grabbed a fistful of his extravagant mane, and fretted, "We don't know if we're all gonna be here next year, we really don't." Then he grinned, semingly relishing the prospect, and added: "So let's celebrate!"
For MMXII's epic, varispeed "Pole Shift", the Tintin-quiffed keyboardist back to the right, found space to add further brutalizing texture – many in the last few years have claimed to be pioneering in the integration of synths into rock; this lot have been nailing it for 30+ years. Things only got darker and heavier, and it was tempting to conclude that Killing Joke had invented all music of a dark/heavy stripe, from Slayer and Sunn o))), to Nine Inch Nails and Slipknot. Then, on high-speed tunes like "Asteroid" and "Corporate Elect" –did they invent Motorhead too?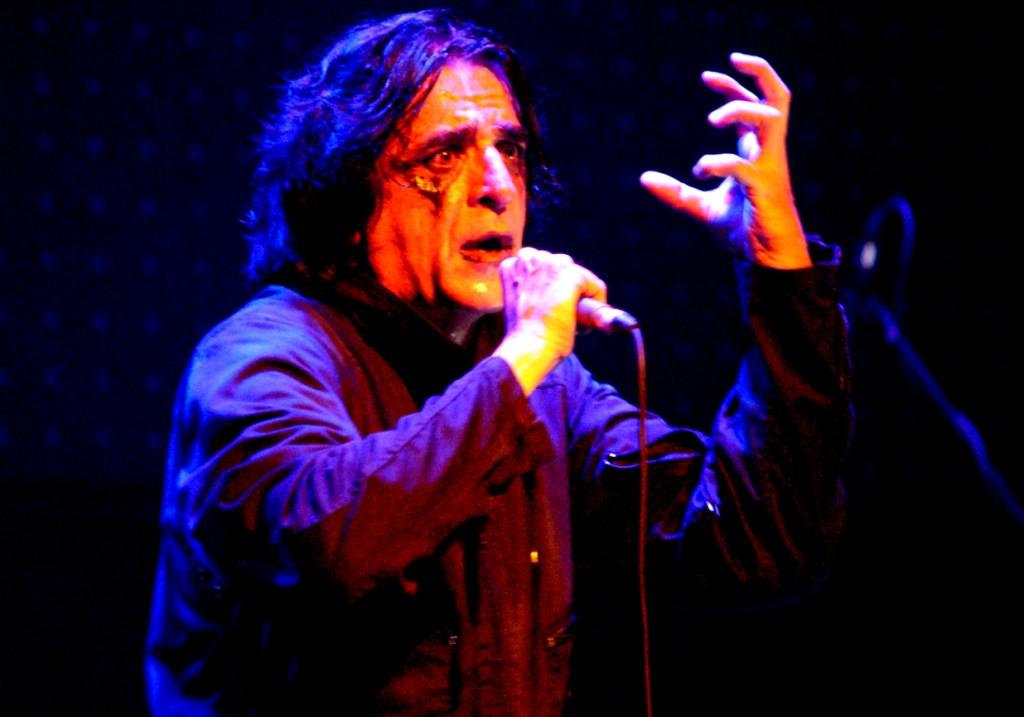 Finally, there came some classics – an expansive "The Wait", "Pssyche" with its funky up-and-down bass figure, and, to huge appreciation, "Requiem" and "Wardance". In the shadow of punk's first wave, these two inspirational numbers proved that there was still scope for upping the intensity, staring deeper into the abyss than The Sex Pistols and The Clash had been able to. Today, when the belief is rife that rock has reached the end of its narrative, that oldster groups are just out to cash in on their legend, that nothing can be shocking any more, this remarkable band truly challenge all those notions.
Ceremony apparently over, the house lights went up, and many stood around open-mouthed, awestruck. Killing Joke returned, though, and delivered one of their moody mid-Eighties hits, "Love Like Blood", as if, by that contrast, to reinforce just how hardcore their 2012 incarnation is. Respect, more than ever, is due.
They did all their damage with a sonic brutalism, which you felt as a physical force
rating
Share this article