Ether: Killing Joke, Royal Festival Hall
Ether: Killing Joke, Royal Festival Hall
Jaz Coleman's post-punk apocalypse continues on the South Bank
Killing Joke's Jaz Coleman: Unashamedly preposterous
Often at gigs by bands of a certain vintage, the fans can look like they're on a special awayday: like they've dug their T-shirts out of the back of the drawer and geared themselves up for one last canter round the paddock. Not so for Killing Joke. At the Royal Festival Hall last night, a very large section of the crowd had the look of still actively living very rock'n'roll lives, and of having done so for at least the last 30 years.
"How many times have you seen them?" asked a shaven-headed gent in the seat next to me. "This'll be my 46th Joke gig," he continued with obvious pride. This is not a band to be trifled with.
The support band, Swimming (pictured right), all looked well under half the median age of the crowd. They gamely played their hearts out despite a sparsely populated auditorium, working up quite a sweat on stage and getting some warm applause by the end. Their synth-driven indie/prog rock was crisply arranged and frequently wandered into the territory occupied by Klaxons and even Muse; if Swimming don't have the distinctive character of either of these, their fresh faces show they've got plenty of time to develop.
It must have been daunting for them, because trying to get noticed next to the spectacle of Killing Joke was never going to be easy. Even the intro tape for the headliners put them in the shade: a video of a giant cross surrounded by totalitarian-looking tannoy speakers with a background of endlessly churning collaged explosions, soundtracked by Vangelis's Blade Runner music segueing into what sounds like a Russian Orthodox basso profundo chant. And if that sounds ridiculous to you, you'd be right and then some. It was one of the silliest things I've ever seen – but also slyly awe-inspiring.
And that is Killing Joke all over. They are the act for whom the word "preposterous" could have been invented, an LSD-drenched mess of lunacy and contradiction, but they also present a frankly irresistible spectacle. On stage, led by Jaz Coleman in a camouflaged boiler suit and heavy make-up, they appeared comfortable with the fact that (apart from keyboardist Reza Udhin, the only member not part of the original 1979 line-up) they are all men in their fifties. In particular bassist Martin "Youth" Glover in white linen looked every inch the louche millionaire he undoubtedly is thanks to his studio work with the likes of Paul McCartney, Dave Gilmour and U2. But from the very beginning of the 30-year-old track "Unspeakable", for well over an hour they kicked up a furious noise that could make younger bands quake in their boots.
While Youth, Udhin, guitarist Geordie Walker (pictured left with Coleman) and drummer Paul Ferguson hunkered down, casually blasting out dense riffs that hit like bulldozers, Coleman's theatrics never once let up. If indeed they were theatrics: his quaking, eye-rolling, gurning persona never has the knowing camp of, say, an Iggy Pop, and in fact his stage presence owes more to history's maddest despots than to anyone else in rock, so it's entirely possible that what we witnessed was simply an extension of his personality rather than rock persona. Whatever the truth, it works.
Again, Coleman's presence is entirely ludicrous, likewise his constant blunt pronouncements like, "The shit that's gone down in the Middle East is gonna start in the West," (before a blistering "Change") - after all, this is a man who has been proclaiming the immediate imminence of the apocalypse for three decades now, yet also finds times to compose Hollywood soundtracks – but it is backed up by stage presence and vocal delivery of such utter conviction that there is something genuinely stirring, even noble, in its madness.
Combined with the monstrous noise of his band and the constant barrage of images on the screen behind them (churning fire, war machines, panicked crowds, colliding planets, the terrifying kitsch of Maoist propaganda films), it was easy to see how such utter dedication is kept aflame in Killing Joke fans.
The set leant heavily towards early tracks like "Pssyche", "Eighties" and a glorious "Wardance", and the grinding heavy metal of last year's Absolute Dissent album (their first since the reformation of the original line-up, the cover of which provided the cross image for the intro visuals). Thankfully there was little of their mid-Eighties period where they ended up sounding like a more Gothic Duran Duran, although their huge 1985 hit "Love Like Blood" was delivered with full macho camp grandiosity and managed to fit well with the more aggressive material.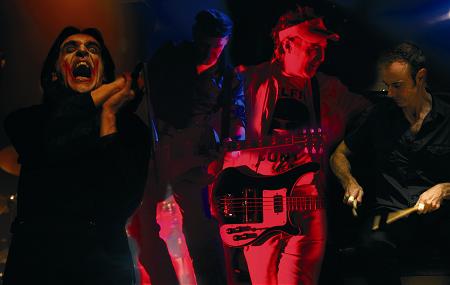 If operating at full intensity for 80-odd minutes could get a bit wearing, the band certainly didn't show it, and through to the final encore of "Pandemonium" there were more peaks than plateaux in the set. And if Coleman's political ideas don't stand up to close examination, the songs nonetheless say something valuable about the sublime, about extremity of experience and the fragility of life. Killing Joke may be one of our most preposterous bands, but they are also one of our most influential, with everyone from Nine Inch Nails, Nirvana and Napalm Death to Franz Ferdinand proclaiming their dedication, and on last night's showing it was only too obvious why this is. This wasn't a nostalgia show, it was a band still at the height of their lunatic powers.
Trying to get noticed next to the spectacle of Killing Joke was never going to be easy
Explore topics
Share this article