Interview: 10 Questions for Joe Walsh |

reviews, news & interviews
Interview: 10 Questions for Joe Walsh
Interview: 10 Questions for Joe Walsh
The guitarist and sometime Eagle talks electronica, power trios, John Belushi and more
Joe Walsh, perhaps contemplating his days in the fast lane
Joe Walsh is one of classic American rock's guitar heroes. For the solo at the end of The Eagles' "Hotel California" alone, he earned his place in those ranks, but he's done a whole lot more in the 44 years he's been a professional musician.
Born in Kansas in 1947 and raised in Ohio and New York, Walsh first gained profile in the heavy rock trio the James Gang before moving on to his own band Barnstorm then going solo. His combination of technical skill, tight riffs and wry lyrics garnered US appeal and when he joined The Eagles in 1975, he gave their sound a steroid edge, co-writing "Life in the Fast Lane" and appearing all over the album Hotel California. As The Eagles slowly disintegrated in the wake of that album's huge success Walsh had another hit with "Life's Been Good", a self-deprecating, comic ode to rock star life, alongside its 1978 parent album But Seriously, Folks…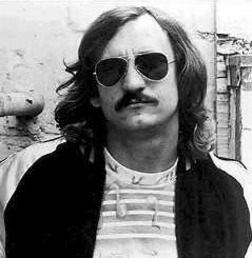 Such large-scale commercial success did not, however, follow for subsequent solo work during the Eighties, yet he continued playing guest guitar on multiple albums by everyone from Ringo Starr to Lionel Richie. Eagles reunions since 1994 have also usually involved him. As a number of his songs heavily hint, Walsh was a devoted hedonist, playing and partying with a who's who of fast living, from Keith Moon to Stevie Nicks, until in the early Nineties problems with alcohol and cocaine put him on the road to sobriety.
With a new album, Analog Man, his first in 20 years, Walsh is on a promotional tour of Europe with possible live dates to follow. He meets me in a large suite in an expensive Knightsbridge hotel, his extensive team holding court in a nearby room. Tanned, smiley, blond-locked, green-eyed and healthy-looking, he sits in an armchair, clad in a black tee-shirt with a flying bird logo (an eagle?) and a leather sleeved box jacket. He talks in a very LA drawl, cackling upon occasion.
THOMAS H GREEN: "India", the closing track on your new album, has a pulsing electronic psychedelic feel – was it intentionally different?
JOE WALSH: I found electronica on my satellite radio - it has its own station and I love that. It's young musicians who know a computer backwards and forwards making brilliant music - trance, house and all these other genres. I really salute those people, they're just working out their craft, not mainstream. I've been paying attention to that when I've been driving in my car, then I went to India with my wife. I was in Mumbai, I went to a small club and there was a band there, young guys who didn't play instruments, they played laptops, and it just blew my socks off. So I just figured I don't really know how to do this but I'm going to try it, so I came home and made some loops and had a great time. I decided to play lead guitar over it rather than sing, that was my first attempt and I thought it was great to put at the end of an album that starts with "Analog Man". That makes sense somehow.
Watch "Analog Man" live, featuring Jeff Lynne
The lyrics to the song "Analog Man" display a marked lack of interest in modern technological developments, but haven't you always had an interest in communication technology?
I'm not saying analogue's better. I'm not an old hermit who's come out of the woods. I do know about digital technology. I've been a licensed ham radio operator since 1961 so I was learning digital circuitry before the internet. There's a whole new technology now – so be it, that's ok, but some of us have had to make adjustments. Along with all that there's a virtual world and we're all spending more and more time there and it's easy to get lost. I'm not sure where that is, that world. Where do we go when our bodies are sitting in chairs waiting for our minds to come back?
The other thing with digital technology now is there's a real temptation to fix everything and make it perfect so what you lose is the human performance. If you get too far away from the magic of human performance music loses its mojo. You've got to be careful. You have to think analogue. Analogue is a bunch of guys in a room and you set up mikes, press record and they play together. That's the magic of it because they play differently compared to playing by themselves. That's your priority, keep that then use digital technology and you'll be OK. Digital music that's perfect made by digital instruments that don't exist and nobody played on - I have trouble with that.
Is your new song "Lucky That Way" a sequel to "Life's Been Good"?
It came out that way. I wrote that with a guy from Nashville called Tommy Lee James. Barbara Orbison - who was Roy's wife - took care of his publishing in Nashville and she sent him out to Los Angeles and said, "You need to write with this guy." Tommy showed up with the chorus of "Lucky That Way," so I thought, "This is great," and filled in the verses, the world according to Joe, so we co-wrote that. There's a bit of Nashville to it.
I used to think I was so different and unique and the exception to the rule and no-one understood
Your mother was a classically trained pianist. Do you think that influenced you to become as technically skilful on the guitar as possible?
Yeah, I grew up around music whether I wanted or not. She was always playing piano. She mastered and majored in classical piano and was always playing classical music, so I had it ingrained. I also have some genes from her in my make-up, and there's her work ethic too – she'd practise for hours. Before I played anything I was listening to the radio and what happened to be on was rock'n'roll, starting around 1954 when I was seven. So it could be said I applied her technical skills to rock'n'roll, yeah.
Your band Barnstorm had a song called "Turn to Stone" which is real prototype metal number back in 1972. What are your recollections of that?
It was a couple of chords, kind of repetitive but very powerful, open chords for the guitar, that powerful Pete Townshend stuff where you can turn it up. I was kind of mad at politicians, silly ineffective government, bureaucracy, so I had a kind of attitude for that song and it seemed to fit well. It's a great vehicle to be able to improvise over so you don't have to play the same every night you can sail out there within that song.
Watch "Turn to Stone" live in 1972
Can you tell us a little about how you auditioned for the James Gang, who were already a hot, rising band when you joined in?
I was in a band in college in Akron and I was up'n'coming. We did cover songs mostly and I was starting to step out with guitar. The James Gang was in Cleveland, they were a five-piece and their guitar player [Glenn Schwartz] left to go to California – to make it, I guess. I filled his shoes. He was real good so I was the new guy and everyone was checking me out. I really had to step up. "OK, let's see what you got!" - I was in that position – "Here's what I got!" Then two of the James Gang quit so there was only three left - drums and bass. The lead singer quit and the organ player, they quit between when Cleveland and Detroit on the way to a date. They had a band fight in the car or something - I don't know what happened but three of us made it to Detroit. We couldn't get home without playing because we didn't have money to get gas. Otherwise we never would never have done it. I inherited lead vocals and played guitar. I knew a couple of first verses so we made an agreement I'd sing the first verse of a song, then we'd play at least five minutes, then I'd sing first verse again. If we did that for a time we'd get paid and could go home. That five minutes was "See you at the end of it - every man for himself" - but it worked really well and we played stuff we'd never have played otherwise, so we got a standing ovation at the end. We said, "Oh shit, let's do this some more," so that became the way to do it.
We did cover songs playing the beginning and end then the middle was different every night. We got so comfortable with that we just thought, "Let's go fishing," and eventually made up our own beginning and end. That's where the James Gang songs became originals - but we had a year and a half of those middle five minutes and we kept all those. There's nothing better on a good night than a three-piece when you're in a small club and everything's going right. You can just stir up the hornets. However, on a bad night there's nothing worse.
The song "One Day at a Time" is on your new album but haven't you had it for quite a while?
It was on an Eagles DVD live in Melbourne, basically our set except we put "One Day at a Time" as some new material. It was never really released as an Eagles record. Jeff Lynne heard that and recommended a re-do – "Let's recreate it as guitar-based song rather than a keyboard-based song," which is what it was with The Eagles – so that one came out dusted off with a fresh coat of paint on it. It's about recovery, my new life sober, one of the hardest things I ever had to do. That song should be in there as a beacon of home to anybody who comes across my music and might be in trouble themselves. The phone can weigh 80 pounds but pick it up and get some help. I look back and a lot of the guys I ran with didn't make it. I don't think I'd be here unless I'd stopped. I never thought about being 60 – "That's so far in the future it'll never happen!" - and here I am. I'm this kid in this body that's starting to slow down. I don't feel old. I just wish I could go to the bookstore and get 64 For Dummies so I could find out how I'm supposed to be.
Why did you end up spending a chunk of the 1990s down under touring with bands such us The Herbs and The Party Boys?
The Herbs were Maori native New Zealanders who played reggae. You can apply that reggae approach in rock'n'roll and it goes in some interesting places – "Life's Been Good", the verses are like that in terms of vocals going somewhere you might not normally go without that kind of symmetry behind you. The Herbs had that symmetry. The Party Boys were a group of guys, each one of them was in a major Australian band but during the summer they would all get together because they were buddies and do cover songs, playing bars. They invited me to come over. I didn't know who they were but it was so off the wall I thought, "I've got to go and see what this is." We did cover songs together and I was just one of the guys. I got to meet the whole music community in Australia and some became lifelong friends.
Tell us about what it was like to be in the film The Blues Brothers.
I'm the prisoner that starts the riot at the end. One of my great friends was John Belushi. We used to be crazy together. John said, "You gotta do this, you gotta be this guy, I need you start a riot," so I did. The fun thing was we had three riots to get all the camera angles so there was me and 200 guys and when they give the signal we go nuts and destroy the place, then we go on break and they set it all up just like it was and we come in and go nuts again. John and Danny Ackroyd were great, the Blues Brothers was legitimate music - Steve Cropper and "Duck" Dunn - we had some great times.
Am I right in thinking the lyrics to your song "Family" imply religious leanings?
Spiritual maybe. I got married three years ago and along with my wife I have this big family that's very close. It's a dynamic I've never been around and I'm learning. It's a different way of looking at the world. There's this community I'm part of and I have to interact whether I want to or not. I was always kind of a loner and, of course, in my darker days I isolated a lot, never got in a relationship that worked therefore never got close to in-laws but this is a whole big family, it's opened me up. I used to think I was so different and unique and the exception to the rule and no one understood. They all understand and now I'm part of something.
Listen to "Life's Been Good"
I wish I could go to the bookstore and get 64 For Dummies so I could find out how I'm supposed to be
Explore topics
Share this article