Royal Opera House lullabies for Little Amal |

reviews, news & interviews
Royal Opera House lullabies for Little Amal
Royal Opera House lullabies for Little Amal
Near the end of her long journey, our refugee gets a welcome her real-life kin are denied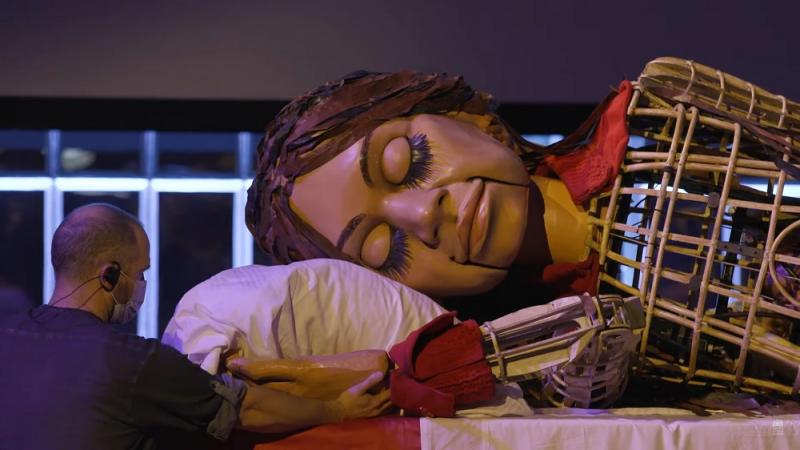 Little Amal lullabied to sleep in the Paul Hamlyn Hall
"I want to tell her that people will be good," Tewodros Aregawe of Phosphoros Theatre confided to us as Little Amal closed her eyes on the giant bed made up for her in the Paul Hamlyn Hall, "that all the people with kind eyes who have walked alongside her and listened to her story will be louder than those who wish she wasn't there".
It's a Utopian vision that has largely gone hand in hand with the three-and-a-half metre tall creation of the wonderful Handspring Puppet Company on her 8000 kilometre journey from the Turkish-Syrian border, though even this ultimate exercise in magical moving theatre instigated by the pioneering Good Chance Theatre met with hostility in some places along the route.
The truth is harsher, of course; never forget that the first act of the new government was to vote down the ongoing bill to reunite refugee children with their families in the UK. But what are drama and music there for if not to transform as well as inform? The magical surroundings of the Royal Opera House towards midnight on a Saturday night in London - already buzzing with the Diwali celebrations in Trafalgar Square - and into the first half hour of Sunday morning as Little Amal finally went to sleep only stood for what refugee children might dream.
And what a dream! In the colonnade of Covent Garden's piazza, dancers Francesca Hayward and Cesar Corrales saluted Little Amal at the end of their performance in the Royal Ballet's Romeo and Juliet (pictured above by Ellie Kurttz). This was the magic in which anyone could share. Within the Paul Hamlyn (Floral) Hall the audience was necessarily more limited – I feel genuiney honoured to have been part of it – as a full programme of lullabying music, dramatic salutes, dance and craft unfolded. Our big but gentle and shy child, operated by three of Handspring's puppeteers (one inside the frame of her chest), tentatively greeted the onlookers to the infinitely tender and haunting strains of Rihab Azar's solos on the Syrian oud (artistry which I could have gladly listened to for another hour).
The dance was a new choreography by the Royal Ballet's Valentino Zucchetti, a bittersweet Pas de Deux, to a loose pre-recorded rearrangement of Rachmaninov's Vocalise, of looking back to the place left behind and living in the ambiguous moment beautifully executed by Lukas S Bensrod and Joseph Sissens (pictured below).
First of the Phosphoros monologues, written by Kate Duffy-Syedi and directed by Esther Dix, came from Afghani Syed Haleem Najibi; both he and later Aregawe drew us compellingly into an intimate dialogue with Amal that combined with a personal meditation. Sixteen singers from the Royal Opera Chorus brought artistry to Morten Lauridsen's "Sure on this Shining Night" before joining with diversely and beautifully arrayed members of the Citiziens of the World Choir to perform The Hope, specially composed by Ayanna Witter-Johnson.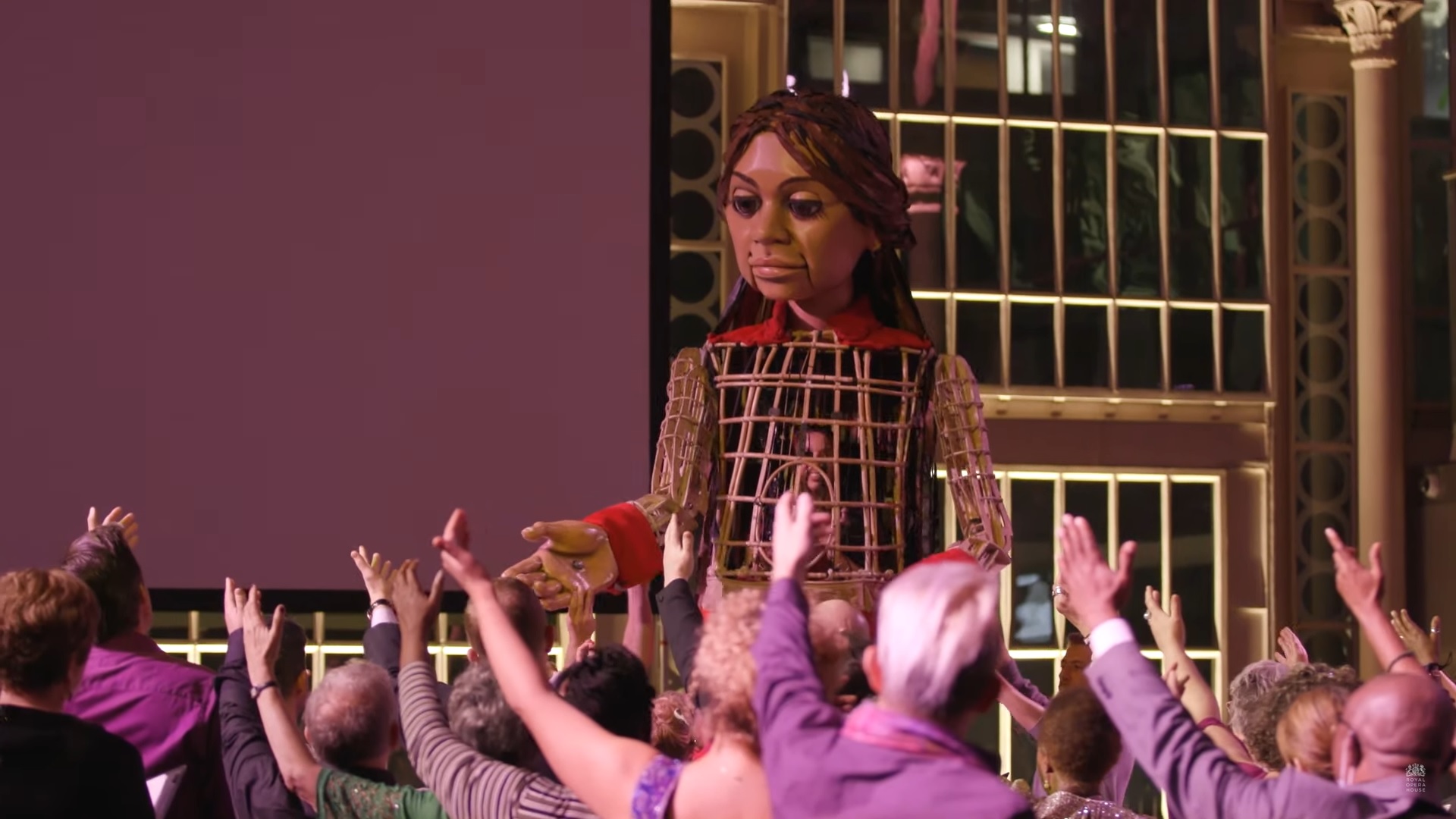 By this stage Amal would have been wide awake again, so we returned to intimacy with the consummate singing of three lullabies by newcomers to the Royal Opera's Jette Parker Young Artists Programme, soprano April Koyejo (pictured above) and pianist Michael Sikich.
After a touching film of ROH partner schools' children singing the Evening Prayer from Humperdinck's Hansel und Gretel – hungry kids lost in the woods, always pertinent – Koyejo had the affecting task of spreading sleep dust over the now-recumbent Amal as the opera's Sandman (pictured below by Ellie Kurttz).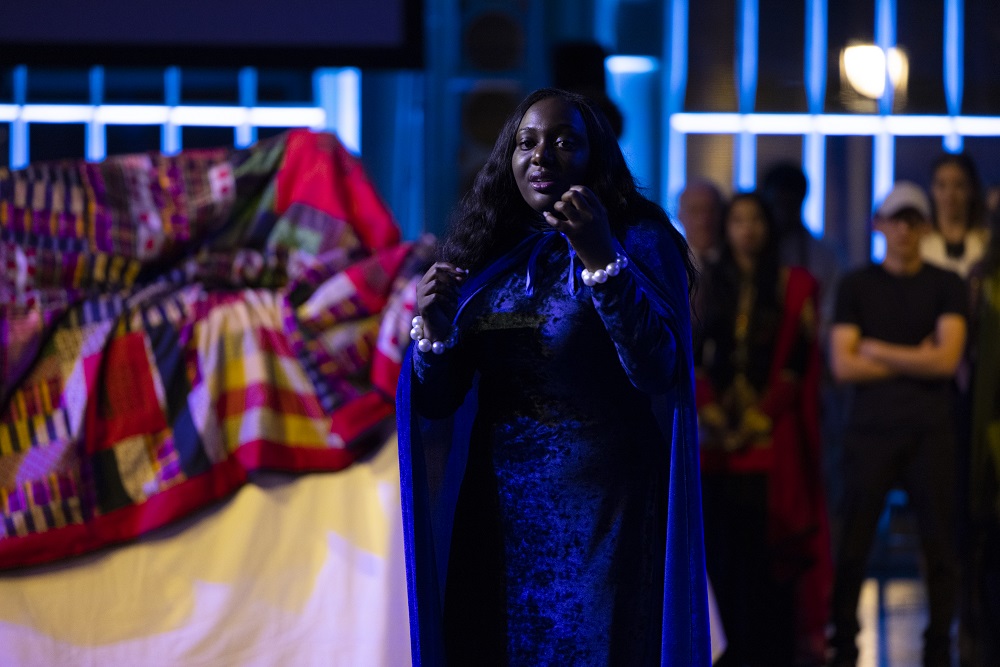 Little Amal was covered with a quilt made from ROH costume fabric, sewn by the staff in conjunction with Kite Spirit Textile Group, and seemed to sleep quite happily through the exuberant and delighted chatter of the departing crowds. The following day, she celebrated her 10th birthday; tomorrow, she arrives at that symbol of rebirth from the ashes of war, Coventry Cathedral, and Manchester is her final destination on November 3. Catch her where you can: this is a once in a lifetime event.
Watch this consummate 55-second film of Little Amal's arrival at the ROH