Refugees and referendums: Ramin Gray on staging Aeschylus's The Suppliant Women |

reviews, news & interviews
Refugees and referendums: Ramin Gray on staging Aeschylus's The Suppliant Women
Refugees and referendums: Ramin Gray on staging Aeschylus's The Suppliant Women
The second oldest play, adapted by David Greig for the Actors Touring Company, bursts with contemporary resonance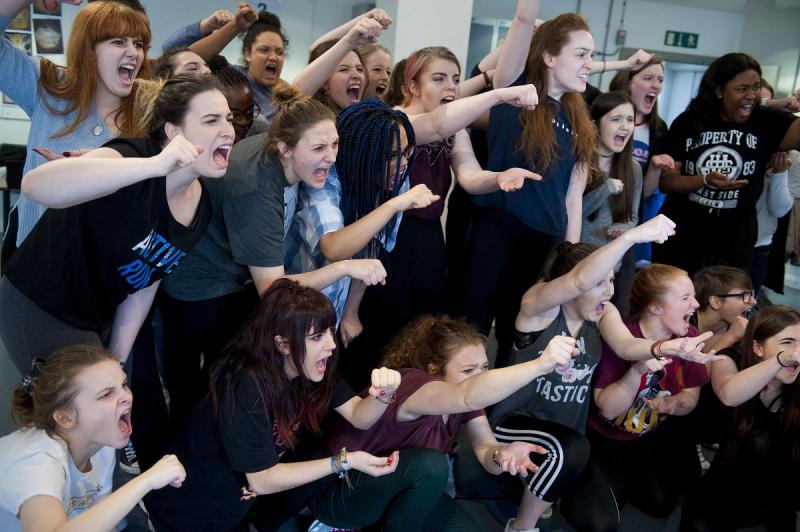 Actors Touring Company's production of 'The Suppliant Women' recruits an amateur chorus in every theatre it visits
I'm sitting in a rehearsal room in Manchester preparing an Actors Touring Company's new version of Aeschylus' The Suppliant Women, listening to a group of young women raise their voices in praise of "untameable Artemis". She's the goddess of virginity among many other things. In this play she's pitted against Aphrodite, the goddess of union, love and sex. The competing claims are complex: retaining one's virginity implies choice, control, autonomy.
But, as Benedick notes in Much Ado About Nothing, "the world must be peopled", and when we understand that these women have travelled across the Mediterranean, fleeing forced marriage in Egypt and now seek asylum in Greece, then the claims of Aphrodite become pertinent: are these new arrivals to our city going to join in, participate and forge new unions. Or will they hold to their stark, separatist commitment to virginity?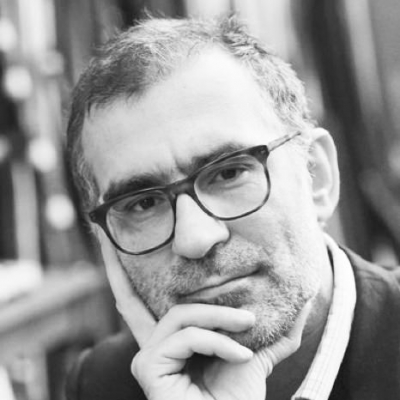 I've never tackled a classical Greek play and this is thought to be the second oldest extant play, dating from 463 BC. It has meant a great deal of research plus a determined effort to scrape away centuries of cultural overlay in order to uncover the Aeschylean bedrock. The fascination has then been to discover how much of what the Greeks laid down informs our culture today – political, cultural and theatrical. (Pictured: Ramin Gray, artistic director of Actors Theatre Company)
For example, in the dialectic between Artemis and Aphrodite we see reflected contemporary sexual politics, debates around agency, empowerment and choice. The trilogy charts the movement of our radical virgins to murderesses and ultimately brides in their quest for autonomy. The theme of female autonomy is always resonant but the twin theme of the refugee – the suppliant, the asylum seeker – is acquiring even more resonance with each passing day. David Greig worked diligently from the literal to provide a version that is as close to Aeschylus as he could make it and yet the play seems to soak up current affairs like a sponge. In the fourth line of the 2,500-year-old text Syria is name-checked; when gods like Hermes who crosses borders or Poseidon who provides safe passage across the Mediterranean are invoked, then you feel this play was written today.
Borders. Cultures. Asylum. Migration. Gods. Men. Women. Prayer. Persuasion. Violence.
And then: Democracy.
Because this word, or rather a reference to this word makes its first appearance on the world stage in The Suppliant Women. Faced with 50 female refugees camped out in his temple, the local king Pelasgus has a tough choice. if he spurns the women he will bring down the wrath of Zeus, god of the suppliant. But if he lets them in he may bring war to his city as the Egyptian men they were betrothed to stake their claim.
Besting Angela Merkel's unilateral decision to let 1.5 million refugees into Germany, Pelasgus wields a new-fangled political instrument currently held in some disrepute, the referendum, to consult and implicate his citizens in the decision. A careful political campaign leads to a unanimous vote to allow the women in. Even the suppliants themselves are amazed at the result and the whole mechanism of voting itself. This theatrical sequence restores one's faith in a real, current process and the play vibrates with hope and possibility.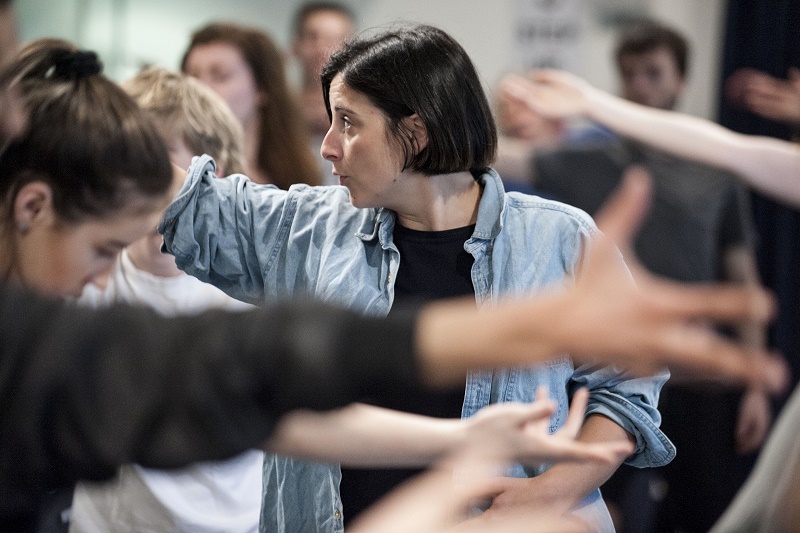 In the same way that we challenged David Greig to remain as faithful to the literal as possible, so John Browne the composer, Sasha Milavic Davies (pictured) the choreographer and myself have attempted to recreate the conditions in which Aeschylus might have created the play. We have given ourselves two professional actors, one of whom has a swift doubling. A third performer has been employed as chorus leader or choryphaeus, an absolute necessity to guide, inspire and cue the amateur chorus of young women we recruit in every town we tour to. Of course in Aeschylus' time they would have been young men but I think the key thing is seeing the knitting together of the community chorus and professionals. I asked John and Sasha to make everything as simultaneously sung and danced as legibility will allow. Oh and John has composed music for the aulos, the twin reed pipes that would have accompanied every important occasion in the ancient world – plays, recitals, ceremonies, parties, games. We think this production marks the first time a classical play will have been heard accompanied on the aulos in the modern era.
As we have gone further into the process of making this play, so have we become more obsessed with the history, with bringing detailed research to bear on what we make in rehearsal. And the more we go back to the past, the more powerful the present moment seems to become. It's a rich process, seeing the ancient world creating a resonant range of possible futures in the theatre today.
The Suppliant Women is at the Royal Exchange in Manchester from 10 March to 1 April
The play seems to soak up current affairs like a sponge
Explore topics
Share this article
Subscribe to theartsdesk.com
Thank you for continuing to read our work on theartsdesk.com. For unlimited access to every article in its entirety, including our archive of more than 10,000 pieces, we're asking for £3.95 per month or £30 per year. We feel it's a very good deal, and hope you do too.
To take an annual subscription now simply click here.
And if you're looking for that extra gift for a friend or family member, why not treat them to a theartsdesk.com gift subscription?