Bolshoi Ballet dismisses world star Nikolai Tsiskaridze |

reviews, news & interviews
Bolshoi Ballet dismisses world star Nikolai Tsiskaridze
Bolshoi Ballet dismisses world star Nikolai Tsiskaridze
Russia's most famous dancer is told to go, as disputes reach height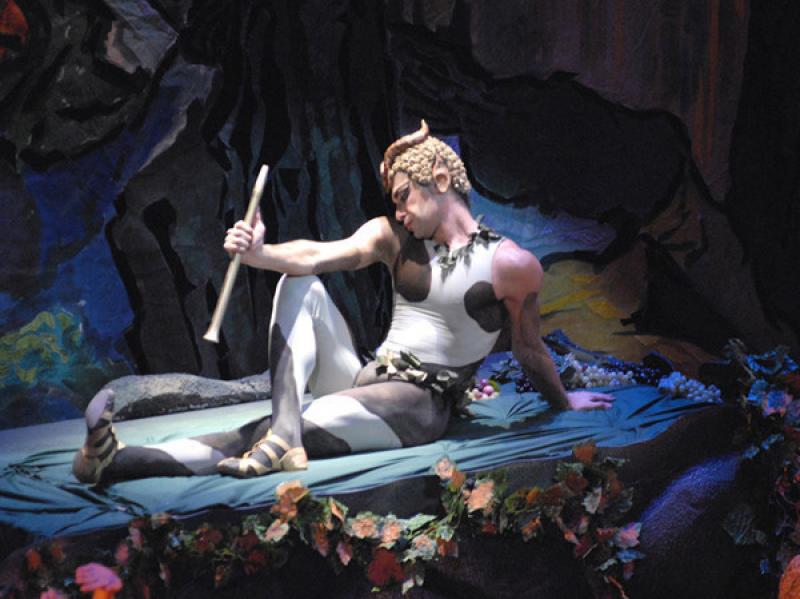 Bolshoi, c'est moi: Tsiskaridze as the Faune in Nijinsky's ballet
The celebrated star of the Bolshoi, Nikolai Tsiskaridze, has been told his contracts will not be renewed when they expire at the end of this month - an effective dismissal for Russia's flamboyant and outspoken ballet icon.
The dancer is currently embroiled in a vitriolic lawsuit with his Bolshoi bosses over media interviews he has given since the acid attack on the Bolshoi ballet director Sergei Filin, in which he has questioned whether Filin was genuinely injured and has accused the theatre management of manipulating the incident to get rid of Tsiskaridze.
He has stated more than once that he would be ready and willing to replace the long-time Bolshoi Theatre general director Anatoly Iksanov, whom he accuses of mismanagement, and last autumn got together a petition signed by various prominent cultural figures asking President Putin to take action on it. However, later some of the signatories recused, saying they had not seen the text of the letter and apologising to Iksanov.
There has been a stormy and unpredictable atmosphere built up around the Filin attack, soon after which the Bolshoi management accused Tsiskaridze of contributing to the foetid hostilities between rival factions in the ballet and having contributed in some way to the incident.
The dancer hit back in the media, giving several interviews in which he accused the management of wrecking the refurbishment of the Bolshoi Theatre and running irregular financial practices concerning payment of performers. He was also vocal in defending the dancer accused of organising the attack on Filin, Pavel Dmitrichenko, whose girlfriend, Angelina Vorontsova, he coached.
A further reprimand was issued to him over a later interview, and Tsiskaridze found himself on a knife-edge facing dismissal
In the past three months he went to court to overturn the reprimands the theatre was issuing to him over his media interviews, and succeeded in having one of them struck out. However, a further reprimand was issued to him over a later interview, and Tsiskaridze found himself on a knife-edge facing dismissal.
Yesterday the Bolshoi's press head Katerina Novikova told the Russian media: "Yesterday [7 June] Nikolai Tsiskaridze received notice of the non-renewal of both his fixed-term contracts as dancer and teacher-coach. From 1 July he will have no more working contracts with the theatre."
Two weeks ago the Bolshoi ballet company manager Ruslan Pronin, who had been deputising for Dmitrichenko in union activities, was also told his contract would not be renewed.
Tsiskaridze, 39, joined the Bolshoi 20 years ago, and his black-haired, exotic looks and elastic body swiftly attracted the attention of the then ballet director, the mighty Yuri Grigorovich, under whom the Georgian-born dancer rapidly rose to star status. He was coached by the very best - by Galina Ulanova, the Bolshoi's legendary ballerina, and by Marina Semyonova - but his flamboyant way of dancing was less beloved of many critics in Britain than in Russia, and it had been noticed that his name had been dropped from the list of dancers coming on this summer's Bolshoi tour to the Royal Opera House.
While Bolshoi casting politics have ever been obscure, it could be assumed that part of the reason for this might be his open hostility to the stricken Filin.
Public reaction in the Filin affair has been sharply divided. Tsiskaridze's view that he himself is a greater dancer than Filin and therefore had a better claim to be either ballet director or even overall Bolshoi Theatre chief is feverishly supported by a large cohort of Bolshoi fans and by many TV viewers throughout Russia who have seen his charismatic, voluble appearances before the camera.
However, others have been horrified by Tsiskaridze's ambivalence over the attack on Filin, in which he has strongly implied that a conspiracy of the theatre with police and doctors in Russia and Germany was in place to magnify minor injuries into major ones, in order to get certain dancers hostile to the current directorship fired, chiefly himself. He claimed that the main suspect, Pavel Dmitrichenko, had been targeted because he was the ballet union leader and had attacked the way Filin ran the Bolshoi dancers' payment system.
The Russian flagship ballet companies pay their enormous dancer numbers a low fixed salary, with piecework payments for dancing particular numbers and roles in ballets. This means that those who are cast more often earn much more than those who are less favoured by the directors, regardless of their official ranking.
At the Mariinsky, the prima ballerina Daria Pavlenko, an articulate spokeswoman for the performers, has claimed that the corps de ballet are paid just £62 per performance of Swan Lake, and has described the system - set up in Soviet times - as unfit for the modern world. However, her efforts to convince the Mariinsky chief Valery Gergiev to change it have so far been in vain.
At the Bolshoi Dmitrichenko and his supporters, including Tsiskaridze, have claimed that Filin's favouritism was being used to discriminate unfairly against certain dancers. They also suggested that the notoriously corrupt box office relationship with ticket touts was in some way run with tacit permission by the directorship - and box office corruption has been put up by Valery Gergiev as one likely motive behind the attack on Filin.
Filin remains in Germany in a specialist hospital in Aachen, having just endured his 18th eye operation, according to his wife's Facebook page this week, and in considerable doubt as to how much of his sight can be saved.
Dmitrichenko and two other men, a known convict Yuri Zarutsky who is alleged to have confessed to throwing the sulphuric acid in Filin's face, and an alleged driver, Andrei Lipatov, face up to 12 years in jail if convicted of causing Filin grievous bodily harm. Currently in custody, they are attempting to have Filin's medical condition double-checked to back their contention that he is not in fact grievously injured, and therefore their charge should be reduced.
See full coverage and translation of Russian reports on the saga on my website ismeneb.com
The Bolshoi Ballet is at the Royal Opera House from 29 July to 17 August