The Dream/ Song of the Earth, Royal Ballet |

reviews, news & interviews
The Dream/ Song of the Earth, Royal Ballet
The Dream/ Song of the Earth, Royal Ballet
Alina Cojocaru and Tamara Rojo dazzle in two British masterpieces
Thursday, 02 February 2012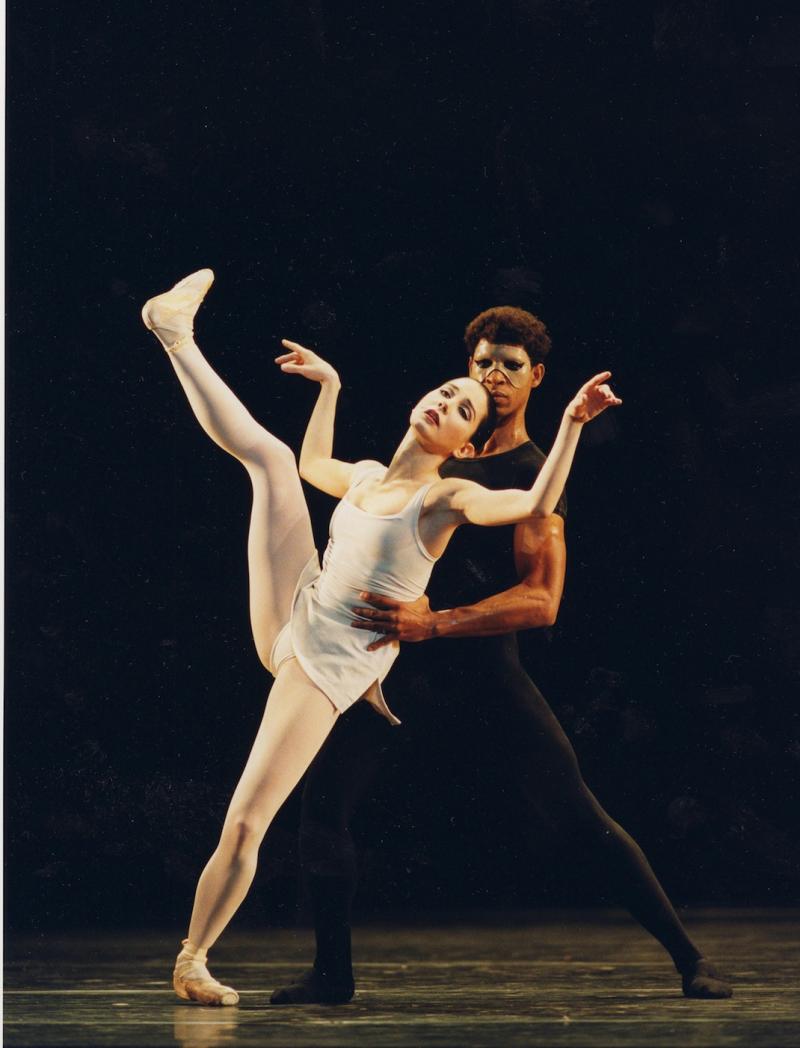 Song of the Earth: Tamara Rojo and Carlos Acosta in Kenneth MacMillan's masterpiece
Oberon in Frederick Ashton's The Dream was the hurdle at which the ferociously promising young Sergei Polunin refused when he quit the Royal Ballet last week, and whether it was the deceptive complexity and difficulty of it that caused his sudden exit, last night's opening gave his replacement, the brilliant Steven McRae, such a run for his money that it wouldn't be surprising if the role had indeed left Polunin in a blue funk.
Ashton's balletic reduction of Shakespeare's A Midsummer Night's Dream is almost 50 years old now and its charms and nimble wit seem enhanced every time one sees it. So quick is the fairy footwork, so mercurial the bubbling of dance invention with Mendelssohn's music, and so deftly comic the characterising, that it sums up in a wickedly concentrated little pillule all the magic, romance and daftness of the play in a lightning 50 minutes.
The role of Oberon is a killer, spinning and leaping in tornadoes of amorous anger or pride, broken only by sophisticated dramatic mime passages involving the aphrodisiac flowers with which he intends to trick his whimsical queen Titania, or bring foolish human lovers together. McRae has all the breathtaking nimbleness to outdance even the sprightliest Puck - and last night's Puck, Valentino Zucchetti, was as sparkly as a hailstone - but failing stamina seemed to hinder a complete characterising of this hubristic fairy king.
There did seem an air of competitiveness overcomplicating some of his encounters with the enchanting Titania of Alina Cojocaru - if her leg could go vertical, so could his, so bedtimes, one surmised, would be squabblesome. And Cojocaru's characterising (pictured above with Bottom by Dee Conway) had all the beguiling inconstancy of a true fairy, feet hovering in a blur like a hummingbird, darting and flashing her fingers and eyes rapturously, switching her fancies in a trice from a changeling boy to a donkey to Oberon without guilt or even memory. A little more mystery from McRae would elevate him in power.
A little less camp from Zucchetti's caprine Puck would do the same - after all this is a secret forest that the lovers are lost in, not a TV make-over studio. There was a lot of ragged dancing (a fairy tripped herself up early on), proving that skipping is very much harder than it looks and that an overall director's view could help. Still Valery Hristov remains the handsomest, most Austenishly desirable Lysander anywhere, and the entire ballet is a joy of art, so retro it will soon be "now" again.
In an utterly opposite way so is Kenneth MacMillan's Song of the Earth, which though virtually contemporaneous with The Dream seems to come from another world, not so much supernatural as metaphysical. The choreographer was famously banned by the Royal Opera House in 1965 from using Mahler's Das Lied von der Erde song cycle for a ballet - music too grand to be touched by dance, they said - so he went to Stuttgart Ballet to create it. Predictably, the result was so fine that Covent Garden said they'd have it after all. And despite its heavy demands on musical performance, and its quite pronounced European style, it has established itself as one of the supreme masterpieces of Royal Ballet heritage.
The trio of two contrasting men and a woman echoes the triangle of Oberon, Puck and Titania in The Dream, and Mendelssohn and Mahler make a fully satisfying partnership of frivolity and rumination. The music-making must be superior, though, and I'd wish the mezzo Katharine Goeldner had sung less into her score book and more to us, communicating as directly and soulfully as the impressive tenor Toby Spence did.
A sense of nemesis is provided by the menacing presence of a masked man, who persistently picks off individual dancers
The words set by Mahler (taken from Chinese poems) rear through similes of lotuses and tigers as picturesque as MacMillan's choreographic language is spare and large-limned, ploughing into the ground with squats and falls - all worlds away from the twiddle and skip of Ashton's ballet. The sense of nemesis provided by the menacing presence of a masked man, who persistently picks off individual dancers, is several tones darker than the pretty lyrics - though there are two sweet pastoral sections for boys and girls demurely flirting. Sarah Lamb was delightful in the third song, "Of Youth", being swung acrobatically between the boys.
But despite the varied and masterful plottings of many dancers, it comes down to the lead ballerina to make the solemn journey from life to death. If there's ever been a more evocative interpreter than Tamara Rojo, I can't imagine it. Though small and contained, she utters each gesture personally, sieves each phrase of movement through her body as if absorbing the music, as if describing or sometimes protesting the endurance necessary to face the last frontier. This ballet came after Romeo and Juliet, a drama in which Rojo is superb, but she brings something quite different here from that taut, desperate girl.
Lightly tapered in detail here, intensely enriched with significance there, her presence is so piercingly judged between anonymous girl in the crowd and the figure who stands for all of us that she becomes a redeemer as much as a sufferer. No matter that Rupert Pennefather was too musically detached to impress as her partner. Carlos Acosta, as the Messenger, grew in stature and expressiveness to fulfil the transfiguring end without grandstanding, simply making a statement of inevitability: that death must come.
Watch Alina Cojocaru and Johan Kobborg dance the final Nocturne pas de deux from The Dream in a concert performance
Rojo swings piercingly between anonymous girl in the crowd and the figure who stands for all of us
Share this article