Jasmin Vardimon Company, FREEDOM, Sadler's Wells |

reviews, news & interviews
Jasmin Vardimon Company, FREEDOM, Sadler's Wells
Jasmin Vardimon Company, FREEDOM, Sadler's Wells
Fighting talk in the programme notes, clunkiness in the staging
Tuesday, 13 November 2012
Freedom: 'Vardimon's piece abound with stereotypical characterisations of gender'
The Jasmin Vardimon Company bring their latest creation, FREEDOM, to Sadler's Wells this week for two nights only. The work is best described as a collection of vignettes (supposedly) discussing the subject of freedom, and any conflicting conditions. The programme literature confirms that Vardimon is assessing "political systems, social conditions and personal philosophies" within the piece – which is seriously fighting talk that wasn't necessarily backed up.
The work starts well with a diversely textured set (by Guy Bar-Amotz and Vardimon) suggesting a natural locale, all tactical green moss, supported by rainforest-like hangings that on closer inspection are made from industrial materials – an engaging contradiction (pictured below). The music begins loudly, and stays so as it interchanges between recognisable popular song (from the likes of John Lennon to Led Zeppelin), and atmospheric, electronic based muzak.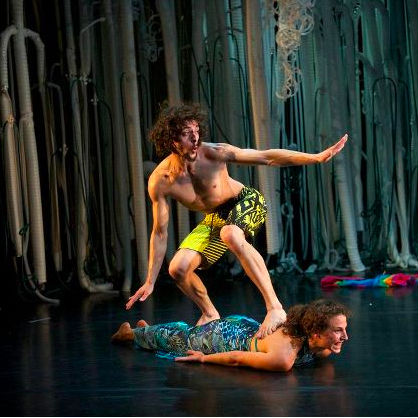 An initially arresting episode is a duet between a man and woman – which plays with the idea of passion, seeing them cover the stage with forceful embraces reached through a juvenile pattern of toing and froing. With the idea of freedom in the back of one's mind – this seems like a realised display of sexual liberation; and the amount of space consumed through dynamic use of level is engrossing.
The same can be said for Vardimon's movement language throughout, which has a true sense of flow. Though primarily floor-based, she has a gift for manoeuvring the human body from vertical to horizontal with an apparent molten ease, further accentuated when elevation is used to emphasise the change of angle. Sadly the same can't be said for the majority of the other vignettes. This fact is fortified by a distinct lack of connectivity – verging on clunkiness throughout the work, from disparate concepts to amateurish staging of props.
Vardimon also chose to include text within the piece – which could have been her calling card for meaningful communication, but this wasn't to be either. One of the dancers repeated a question throughout the work: "I want to tell you a story – it's about, it's about..." Which feels poignant, as by the end(ish) of the piece I felt the same – as in I had lots of questions that hadn't been answered either. The cast of six dancers (three men, three women) did Vardimon proud though, as they seemed to be fully engaged with the work – both mentally and physically, and an appreciation of their corporeal feats is not to be ignored.
During her analysis of freedom, gender was bound to become a topic – and for me, Vardimon did it a disservice. The piece abounded with stereotypical characterisations – which didn't help her pursuit, and gave mild offence along the way. From the victimised woman (by men), to the smoking, predatory femme fatale – reassuringly supported by the dim "I only think about sex" man, to the Man-Beast who seemed to take great pleasure in devouring on women like he'd been fasting for a lifetime.
The gender argument is a tempestuous one – but the subject of freedom is far bigger than sex, or any number of clichéd parodies, and Vardimon seemed to miss the boat concerning what she could have done with the contentious theme. And although the positive facets of her movement language are still apparent, they were far harder to trace within this overall disjunctive work.
The subject of freedom is far bigger than sex, or any number of clichéd parodies
Explore topics
Share this article