Kontakthof, Tanztheater Wuppertal Pina Bausch, Barbican Theatre |

reviews, news & interviews
Kontakthof, Tanztheater Wuppertal Pina Bausch, Barbican Theatre
Kontakthof, Tanztheater Wuppertal Pina Bausch, Barbican Theatre
Two amateur casts turn a masterpiece into an even greater masterpiece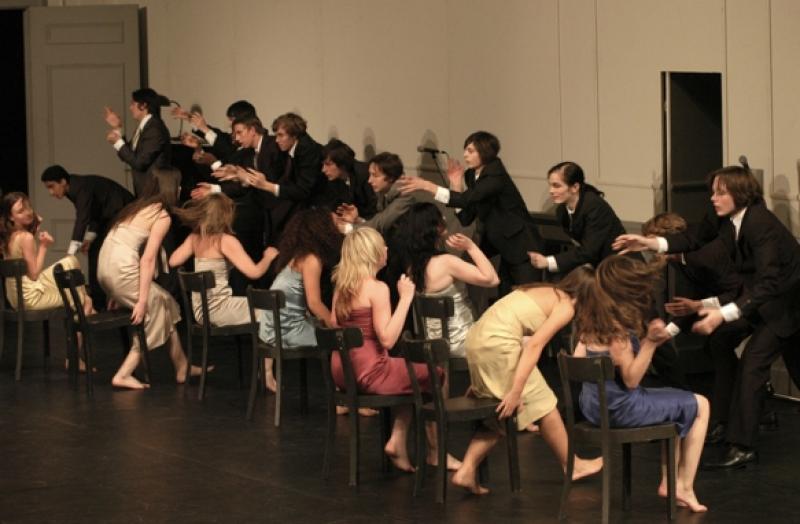 Kontakthof: 'games that seem like a speeded-up version of a life of missed opportunities'
A house of contact, a place to make contact - this bare, evocative title sits on one of Pina Bausch's most appealing works, and also its most elastic. Brought this week to the Barbican posthumously, staged by her company on two amateur casts, Kontakthof didn't look 32 years old, it looked both timeless and as fresh as fledglings cracking out of their egg shells.
In 1978 when this surreal and exact spinner of magical webs created the piece, the Berlin Wall was as impregnable as it had been for a generation and meetings carried less casual insignificance than today. Kontakthof then was danced by young professional dancers in her company born in the 1950s, to parents who were in the war. Now Kontakthof has been given two further existences, for amateurs - a version for over-65s, people who shared that life, that world, that same half-fearful childhood that Bausch knew, and one for teenagers born since the country's reunification.
When pensioners perform Kontakthof, the village hall on the stage (high windows, curtained stage, ropey upright piano, black bentwood chairs) becomes a day centre, a dance-hall of dreams and memories. They wear the same style of dresses as the kids do - glamorous, vaguely Fifties, satin cocktail dresses, and heels, of course (where would Bausch works be without high heels?) - but old people being old people, they are highly non-conformist. Some live more in the past than others, some are greater fantasists, others don't want to remember.
As they stand up before us, offering their teeth and hands for us to inspect, we're clinicians, casting agents, border officials, a quarter expecting to see faded concentration camp tattoos, or proof that the old folk are fit enough to work. When the youngsters do the same, we're parents, we're seeing kids worried they don't look grown-up enough, or enough like their idols, or secretly wondering if they'll have to have sex with their new boyfriend on the first date. It may be this effortless way that Kontakthof peels the skin off souls young and old, and responds with love and nostalgia to their differences, that makes it such a piercing joy to experience. Could anyone but Pina Bausch put a masterpiece on amateurs and make it look even more like a masterpiece?
The nearly three hours fly by, borne along on a series of old café songs, tangos, love songs, strains of romantic classical music, like a soundtrack of memories. The characters appear to be auditioning for (maybe) an amateur performance set somewhere in Alice's crazed Wonderland. They tell a snatch of story in German or cracked English, or climb carefully up on a chair and laugh in a way that is discomfitingly pitched between hilarity and hysteria. After their three seconds at the microphone, the others applaud politely. They carefully learn their social dancing, switching between partners in games that seem like a speeded-up version of a life of missed opportunities, a sort of musical chairs where you must find a spare partner, or be lost. Or they fall over, to be totally ignored.
Lovers in pairs demonstrate different shades of relationships by performing the same series of caresses, in increasing gradients of violence, so that what is tender in the first pair by the fourth has turned into a mutually sadistic war, with the male slapping the female's bottom hard, while she grinds her stiletto into his foot. As Bausch said in an interview that you can read on theartsdesk, for some people life would be boring without violence in their relationship.
Then there are the shades of the brothel, the meat market, that come unbidden to mind watching the teenagers (aged 14 to 19) strutting with their hooker-red lipstick, their mothers' evening dresses, or for the boys their too-soon learning of physical domination of girls, itemising their date's attractiveness (pulling up her arm, pulling her head around) like a Magimix demonstrator expecting a sale. With the older folk, this is pregnant with embarrassment, like when your mother dressed too daringly when she was middle-aged, or a senile old grandad suddenly unleashes an adolescent sex drive.
As usual, this is a dance-play rather than a contemporary dance, and as usual it is a paean to woman-watching, their plumage, their mating rites, their power-sex games. The movement sequences are meticulously fashioned from observed body language, the little tics of discomfort and adjustment that women automatically adopt, hitching a bra strap, surreptitiously hoiking down their pants when they stand up, or trying to smoothe a wandering girdle. Bausch's eye misses nothing - she makes an entire tango of silly walks from a foot-grinding motion that I swear is derived from having stepped in stilettos in muck and trying to wipe it off them on a doormat. The bottom sticks out, the knee bends, the heel grinds, wipes awkwardly either side while the hips push unstably from this side to that, the hands bunch as if doing the twist. All together now - and there is a dance of pure Jabberwockian glory, vividly and hilariously eloquent about human beings' little unconscious ways.
The differences in physical strength that are marked and interesting in the older performers with their wide age range - the powerful old lady, the withered old man - become in the younger cast differences in that crucial quality, aplomb. The eyecatching thing with the teenage cast is what very strong stage personalities are already evident among them - several of them could effortlessly translate up into the "adult" version of Kontakthof, it seems, particularly the adorable, irresistible two girls, one skinny and blonde, the other voluptuous and chestnut-haired, who lead these daffy, perceptive and wholly entertaining revels. How Bausch will be missed. But Kontakthof holds out a promise that life and her captivatingly absurd and truthful work continues without her.
Share this article