Q&A Special: Sarah Lamb, Royal Ballet Cover Girl |

reviews, news & interviews
Q&A Special: Sarah Lamb, Royal Ballet Cover Girl
Q&A Special: Sarah Lamb, Royal Ballet Cover Girl
Broken ballerina who hobbled determinedly back to stardom again
Thursday, 11 February 2010
Sarah Lamb in Monument Valley: 'I have learned I can be myself without dance. But I'd rather be myself WITH dance'
You don't usually find ballerinas in Monument Valley. Cowboys, maybe, but not a pale, slender girl in a glistening golden tutu alighting like an exotic butterfly briefly on a silk-shod toe in the very same red dust that John Wayne rattled across in Stagecoach. The cover pictures for the Royal Opera House season brochures have fielded some spectacular pictures, but the new spring image is symbolic of the enduring nature of the dancer's will to survive.
Sarah Lamb, the translucent blonde from the US, is back on pointe after a year when her career appeared to be over.
Breaking her foot in a Manon rehearsal a year ago deprived her not only of her debut in this much coveted ballerina role, but, as she explains, forced her to wonder who she could be without dance in her life. Sarah Lamb (b 1980) joined the Royal Ballet six years ago from Boston Ballet, one of the rare Americans to cross the Atlantic. Conversation ranged over the gruesome details of injury, her unusual training under a legendary Russian teacher, her love of painting, and the accidents (literally) of the path to finding Mr Right on stage.
ISMENE BROWN: Excuse me, Sarah, I'm struck by how pretty you are...
SARAH LAMB: Er, thank you! Actually I'll tell you a funny story - Ed [Edward Watson, principal dancer] and I were recently in Japan doing advance prep for the company tour we'll do there this summer. I was sitting in an interview room pretty much from 10 till 8 every day. One photographer came in, and I was standing there, he looked at me - and he ran out. Then he suddenly came back in, said, sorry he thought I was a doll!
You've come a long way to London from Boston - but in fact you're not wholly American?
No, my mum is from Montreal, and my father grew up in Somerset, in England. He left as a small child for the US, but never became a US citizen - so I have dual citizenship.
How do you feel about where you are now? You missed last season.
I had a terrible accident at the start of last season, in September 2008. I was rehearsing the leading role in Manon, the bedroom pas de deux with David Makhateli, and on the very last step - well, we're not exactly sure what the misalignment was, but as I went off on my slide step, my left foot smashed into him and the exact angle and force was perfect to create quite a catastrophic break of four metatarsals, and the arch was ruptured. It could hardly have been worse. That was the first time I've ever been injured, and it was really traumatic. The pain was so unbearable I thought I would pass out.
To get to hospital we were hailing a cab outside, and I had to stand on one leg with my left foot held up to my ear to keep it from throbbing so much - which must have looked pretty odd. It took over half an hour to drive to Princess Grace Hospital, it was agony, I didn't have ice in the cab. They saw me quite quickly - the X-ray showed the breaks were quite clean, which was fortunate, but I guess the arch damage was quite hard to identify well, and an MRI was needed, and a Cat scan. And then I was rather hastily told it ought to be opened up the very next day. You just think, argh, that is exploratory surgery.
So I called a physio I had been close to in Boston and she got the orthopaedic surgeon there who is very good at the job, and he said he would be doing the same. So I went into the surgery, but not knowing what would result. Luckily the moment I got injured my husband landed from California. He was coming back from there because his mother had just died, so it was an awful time. But otherwise I would have been alone, and it would have been pretty awful.
What had been your plans in the season?
It was going to be a very good season for me, I'd have done my debut in Manon, my debut in Giselle, I was going to do certain ballets again, like Voluntaries, Rubies again, I was going to be in Wayne's new ballet Infra. I missed quite a lot.
I was talking with Alina [Royal Ballet ballerina Alina Cojocaru] a few months ago about her similarly catastrophic neck injury - and she was saying, an injury like this is terrifying, no one understands what you are thinking, it is very lonely and frightening, it feels like your whole life is hanging.
Yes, I did feel in a way I'd lost myself as a person, because ballet is an all-consuming job and a very brief career, so you have to put your whole body and soul into it. I was on crutches for a long time. I went back to Boston to do my rehabilitation there, because there is an incredible therapist there who does a lot of aquatic treatment. There was the famous case of the American skater, Nancy Kerrigan, whose kneecap was shattered by someone, he got her back on the ice. And there was a Canadian silver medal diver who came back from Beijing whom he worked with. And we were working together on some things there.
Watch Sarah Lamb on shoot for the Monument Valley cover picture - video from the Royal Opera House:


It's all about believing the advice is right, isn't it? Because you have to feel that they know what is at stake for you. Because he could get it wrong, the treatment could just not do it.
Yes, it was very likely that I wouldn't dance again. They didn't tell me - you guess that. To a certain extent you believe what you want to believe. I am quite a pessimist, and people would say, oh, you'll be back better than ever, and in my head, I'd go, oh yeah, and how does that happen? And also I knew it was a horrific accident that really could have been avoided. It was such a painful year, but I'm over it now. So where I am now is obviously that I am just very lucky to be back. I see the more how fortunate I am to do what I do. I am very self-critical, and I think I now learned to be slightly less self-critical. After all for a long time I could hardly walk. So being able to do barre a bit, and then rehearse a bit, and then get back gradually into performance are major steps.
Who supported you through it?
I did feel I became closer to Alina after it happened because we have both been through hell. And my husband [of four years] was incredibly supportive, because he left London with me to go back to the States for my rehabilitation. He's a former dancer so he knew what I was going through.
Will you be able to catch up with Manon and Giselle?
I hope so.
What have you done or got coming up in this season that will compensate?
Oh, it was really wonderful having a part in McGregor's Limen created on me. And I did Mayerling, Sleeping Beauty, Patineurs, Nutcracker (right, picture by Bill Cooper) - those are all things I've done before. I'm replacing Lauren [Cuthbertson] in Infra, which is something new for me, and that's exciting.
In Mayerling I was strongly impressed by your performance as Countess Larisch - it was unusual, very painful to watch this character you formed, quite different from many interpretations of her. Has something gone into it from what you went through?
You can't help that. You can't divorce yourself from what you've lived, so you do draw on that for characters. When I was first doing that role, less than a month before I had lost someone who was very very close to me. You take these things, and if you have to express loss on stage, you use that. And sometimes it can communicate quite well.
You have to focus it through artifice, don't you? You can't just cry on stage and expect everyone to cry with you.
No, you can't. It's probably a little bit ingenuous to say that if you believe something enough you will communicate it - you do need the skill, and the more conviction and more confidence you have in what you are doing, the more someone is likely to believe you.
When you first came here to London, you had this interesting, completely American background, and yet you were being trained in a more European/Russian style.
When I was 13 I started working with Tatiana Legat, who was the granddaughter of Nicolai Legat (pictured left with Anna Pavlova in the Mariinsky's La Fille mal gardée, 1910), who helped [the great Soviet ballet teacher] Agrippina Vaganova do the men's syllabus for the Vaganova Academy [Leningrad/St Petersburg], so she has an incredibly rich and almost royal family line of Russian ballet. Her husband was the late Yuri Soloviev, who was an incredible dancer and very very famous in Russia. I started training with her six days a week after school - I went to normal school six and a half hours a day, and then took the train to do an hour and a half of ballet.
No one in my family had actually done ballet, but my grandmother had watched Vic-Wells Ballet when she lived in London and liked ballet a lot. My aunt had actually applied once for Paris Opera Ballet school when she was about 10, but the war started so nobody went anywhere. They moved out of London to Woodbridge, and my grandfather was working in Orfordness on the night bombers, he was a mathematician and engineer - and also a violinist actually.
How large is your family?
I am the middle of three sisters. We all used to do ballet classes. My older sister was put into the non-professional track, my younger sister stayed with it longer but had quite a few injuries and stopped when she was 16.
Did you feel at any disadvantage not to be in fulltime ballet school?

No, it felt full-time to me. When I was 17 another girl and I went up to Montreal to do a month in full-time ballet school. The girls there had beautiful bodies - they were much more chosen for their look, whereas in our school nobody was selected on those terms. But we were all really good, we did everything both sides, I did 32 fouettés right and left, and it was such a strong training that although people might not have the longest legs and nicest feet they were really strong and coordinated. And up there we saw those girls were really pretty but not strong, they wobbled a lot, were quite incompetent in strength. Even at the time I thought I'd rather be smart than do dance all day and be like that... I think there's a lot to be said for having a broad education so you think about other things than dance all the time.
Did you have an ideal to aspire to?
I really loved as a young girl a ballerina in Boston Ballet who had been trained in the Kirov as a child, Larissa Ponomarenko. She had a really Russian training but not the stereotypical exaggerated type - she was so pure in line, and her arms and fingers were unreal, they were so perfect. She was so tiny too, kind of like a doll, but it was so streamlined, and on top of that she was a beautiful actress. So I really admired that.
Did you not think, should I go to SAB [the School of American Ballet, the main US system based on Balanchine]?
No, I didn't like their style, I didn't like their arms and legs. I went to one of their summer programmes - I had a full scholarship when I was 14 for six weeks - and they loved me, and I thought it was great, now I can do anything I like with my arms! And I came back and my teacher was going, "Cauchemare! Nightmare!" And she had to chip it all away again. It's the broken wrists, the lack of form in the hands, the kind of careless arms - I don't believe in laissez-faire economics and I don't believe in laissez-faire ballet. It's kind of, who cares, look how high my leg is. I appreciate line very much. One of my first loves was drawing and painting, I like aesthetic, I like beauty, and when I imagine what I'd like to look like dancing, I imagine certain shapes, and I wouldn't want to cut off the wrist here, or have a vulture speaking out of my fingers.
Even if that's what you're told Balanchine wanted?
There's an argument that that's just how it's evolved now, and not necessarily what he would have wanted. I started dancing Balanchine when I was 14, in the summer programme there I danced in Symphony in C, then did Concerto Barocco and parts in Theme and Variations, and I did the lead in Ballo della Regina in Boston. Ask Merrill Ashley [the original ballerina of Ballo] - she thought I was fantastic in Ballo dello Regina.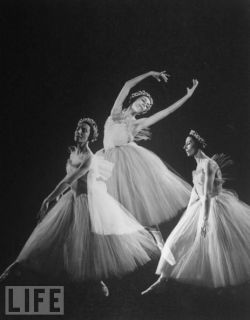 Well, the UK hands nowadays are the opposite - they're like mittens - they clamp the fingers together and just stick out the index finger. You should see the pictures of Alicia Markova (right), like each finger is showing off a ring - very Balanchine.
I think it's nice to think of water droplets falling off each finger.
At some stage you had to make up your mind whether to go to university or to ballet.
I knew that I had a position in the company so I deferred from university for a year. In the US you don't need to choose your subject until your second or third year, I would probably have done a language-arts-related course..
Did your teacher have a big influence on your decisions?
No, but I noticed from going to competitions that my teacher was unique, and if anyone could make me a better dancer it was she.
When you were at Boston Ballet [1998-2003] there were a lot of changes of artistic director - presumably very unsettling [Anna-Marie Holmes, Maina Gielgud, Mikko Nissinen].
Yes, it was, but you never really work day-to-day in the studio with the artistic director, so in those tumultuous times the core balletmasters had stayed the same, until finally Mikko Nissinen took over. Before then Sergei Berezhnoi and Tatiana Terekhova [former Kirov stars] were still balletmaster and mistress, they were fantastic, and people I also wanted dearly to work with as well as Madame Legat.
Sometimes I'm incredibly exact and follow directions to a fault, or somewhere else I'll create something in a step that is totally weird
How much was your leaving linked to your teacher being dismissed from the school?
Linked, somewhat. But also the company's balletmasters had changed so much that I didn't feel I was getting the coaching I wanted. And I wouldn't say my goal since I was a young age was just to be a principal at Boston Ballet - I wanted to try for more. So I went out and auditioned here and at Het National Ballet...
Wait. Tell me about that very dramatic weekend when you flew here from Boston.
I flew overnight Thursday, arrived Friday morning in London, came straight here to the Fonteyn studio - which is all white walls with little pixellations, so you imagine what it did to my eyes arriving at 6am off the plane! The next day I took class and Monica watched, Jeanetta [Lawrence, assistant director] watched, and Gail Taphouse [company balletmistress] watched, and following class Monica offered me a job as first soloist - then I went back to Heathrow and flew to Schiphol, Amsterdam, Saturday night. Watched them rehearse a David Dawson piece at the theatre that night - Ted Bransen was the director, Wayne Eagling had just left. Then Sunday morning I took class with them, and was offered the equivalent of a principal contract. Then I flew from Amsterdam to London, and Sunday night London to Boston, and arrived late Sunday night local time back in Boston.
Not a bad weekend's work. Two big job offers!
Yeah, it was quite fun.
Principal at Het, first soloist here - it's a choice to make. Was there a big difference in the money as well as the rank?
Yeah, probably, but you wouldn't do this job for money. Honestly. There is a big difference in cost of living, of course. But the repertoire is much wider here, and the Royal Ballet is very well regarded.
Did you feel confident about coming into it? I'm guessing that it might be unnerving to come in from outside, with all the tradition, even though it's been international for about 20 years now.
Maybe. I think it's now half and half really, British and foreign. You notice that the people who've known each other have known each other since they were seven, or something, which is a little bit strange. Every day of their lives.
A few Americans here, not many... Deirdre Chapman?
Yes. But actually Deirdre and Brian [Maloney] are both "Irish", and I'm "English". People consider us American but we work on our passports here. Eric [Underwood] is the only one who needs a visa form now.
Did you come in with a wish-list to dance?
No, I was not that presumptuous.
Really? Surely you need to let it get known somehow what you'd like?
Well, I always worked hard, and just hoped it would happen. I was really quite humble, and I think that endeared me to other dancers. If I'd come in with a puffed-up head I don't think I'd have made any friends at all.
So it wasn't like, oh, I want to dance Ashton or MacMillan. I knew you'd danced Ashton's Fille mal gardée at Boston - which is also an interesting story, as it was your first full-length role and Carlos Acosta flew in to partner you...
Yes, he was scheduled with Larissa Ponomarenko, but she was off and he got me instead. He flew in and we did four shows in a row.
Was there a type of rep at the Royal Ballet that you were interested in?
Actually when I arrived here I hardly knew the repertoire. I hadn't seen Manon, I hadn't seen Mayerling, I didn't watch ballet videos. But once I saw them on stage I wanted to be in them! I did Thaïs first, and I learned it as it was taught to me, and I was thinking, "Actually this is really beautiful."
Since you've been here you've done an even allocation of Ashton and MacMillan, Symphonic Variations, Thaïs, Fille, and then Winter Dreams pas de deux, Requiem, Juliet, and you studied Manon.
I found MacMillan harder. Ashton I found I could fit into easier. For instance, the mistress in Manon, I've never felt natural in - I find it very very awkward. Other things you get comfortable in. But I hear from other dancers that MacMillan liked making people feel uncomfortable.
Yet there's your Larisch. To me there are two Lambs that really interest me as individual creatures on stage: one is the melancholy that I've been surprised by in your character parts, like Larisch in MacMillan's Mayerling, and I found myself thinking a little of Svetlana Beriosova, another Russian émigrée in a sense, also in the gentleness and dreaminess of your Juliet. And then there is a very bendy moonlit quality you have in abstract ballets, Faune, or Wayne McGregor's ballets, where you seem to lose yourself, almost physically, in dancing.

I think that's perceptive... I think everyone probably switches personalities a little bit, and maybe I do it more than some. Sometimes I'm incredibly exact and follow directions to a fault, or somewhere else I'll create something in a step that is totally weird. I like challenging both extremes. it's almost like in mathematics, you can follow an equation right to the end, and just by following that structure you come out with what is correct and equal, and very beautiful. But in another way you might do something very beautiful that is almost abstractly created - but I feel the outcomes are just as rewarding, though they're totally different.
What is Wayne's way of working that brings this side out of you? You had Tatiana Legat being so precise and slapping you and making you do it this way... what does he bring out? He is known for his cerebral approach.

He is also very perceptive. Just by watching you he sees something he thinks he understands about you, and together you can reach something that may be remarkable for that person. So I don't think I necessarily thought of myself as a super-bendy person, but the way he started choreographing for me, I found myself going to extremes and then he made even more extremes out of that. That's the way it came together. Even though my teacher was totally "strict Russian" if I had a modern solo for competition she would always make me move more, or bend more, than the choreography. If there were mime gestures, she would make me do it much bigger, which is far more interesting for the audience. She is an incredible teacher and could see what had to be done.
It's about projection, isn't it? But it also means you are always challenging your limits. It's what Baryshnikov said to me - he was more interested in people with 99 percent gifts who gave 100 percent, than people with 100 percent who gave 99 percent.
Yes, I would fall a lot in class, because I wasn't afraid to take risks.
It's a brief career. You can be as determined as you want, but it doesn't mean someone won't hit you with a car
Talking about risks - I notice you dance quite a bit with Ivan Putrov. Last night in Romeo and Juliet, for instance, in Sleeping Beauty, and in Viacheslav Samodurov's piece last year. You like him?
Yes, personally I do. Though actually last night I didn't feel went well. But you thought it was a good show?
Not precisely. I thought Ivan characterised Romeo wonderfully, surprisingly really, whatever the partnership problems. But I felt as always that this is a drama about family relationships, and you had three very strong family members on stage there, with Gary Avis, Elizabeth McGorian and Bennet Gartside as the Capulet parents and Tybalt, a proper little cosa nostra, and I was trying to work out how your very gentle Juliet would break out.
I don't think Juliet does break away from them, she does it in secret, in the guise of obedience.
You also had quite a pairing with Samodurov, who's taken a lot of fine photographs of you too [Samodurov's Lescaut in Manon, with Lamb as his mistress, was one of the best-ever interpretations, for me, of that complex role.]

Yes, I'm really sad. He's choreographing more now. He couldn't do much after his knee went the second time.
Was there any Russian thing that pulled you together?
No, I think Monica sometimes needs a girl to dance with some of these guys that no one else will dance with, and I'm the only one.
This key business of partnerships - deep down you do wish for Mr Right?
Yes, I think everyone has that wish for someone with whom you can run and jump and they'll always catch you. It is always a good instruction and education to work with different people, but to have something like Alina and Johan have is really lucky. I wish Federico [Bonelli] were back right now, I'd love to dance more with him. (Above right, Lamb and Bonelli in McGregor's Chroma, picture by Johan Persson)
Several great potential partnerships do just slip past each other, don't they? Irek Mukhamedov and Lesley Collier always said they missed each other by a few years, Tamara Rojo and Jonny Cope were another. You have a good thing with Acosta too, don't you? You did your first Fille mal gardée in Boston with him, and you were very striking together recently in Afternoon of a Faun.
Yes, I really enjoyed that very much, I have always had a good time with Carlos. He's quite quiet, and he's gone so much that when he comes in you just work, and then he leaves again. But I find that when we are on stage, I find that we understand each other, which is what you always hope for in a partnership. In Cuba last summer when we toured it was really beautiful to see him running around so happy after the show and thousands and thousands of people going nuts in the town square in Havana when everyone went outside to bow at the end. It was beautiful because they have nothing and yet they love it. Down the street they were saying, "Oh, Royal Ballet! Royal Ballet!"
Do you have any long-term plans? Five years from now?
I don't know. I've learned not to try to predict anything now. It's a brief career. You can be as determined as you want, but it doesn't mean someone won't hit you with a car.
True, you are a pessimist.
It's just the way it is! I think probably being away with the injury did make me realise that I'm still a person and I still have a brain and was capable of doing other things, so in a little bit of a way maybe I feel I have learned I can be myself without dance. But I'd rather be myself with dance.
To get to hospital we were hailing a cab, and I had to stand on one leg with my left foot held up to my ear to keep it from throbbing
Share this article