The Return, Circa, Barbican |

reviews, news & interviews
The Return, Circa, Barbican
The Return, Circa, Barbican
Exile-themed circus show is rather too serious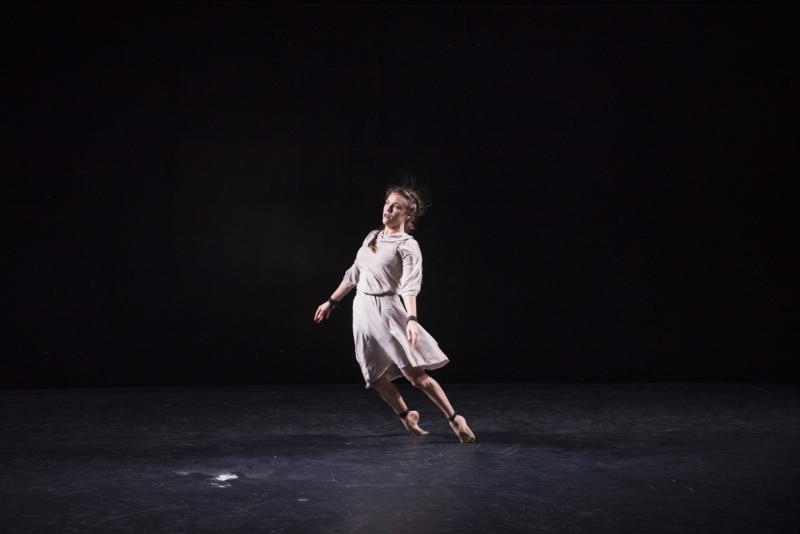 Walking or falling? Bridie Hooper of Circa in 'The Return'
If you thought circus acrobats and Shostakovich were a daring combination, try circus acrobats and Monteverdi. While the spiky harmonies and vivd dynamics of 20th-century Russian string quartets sit pretty nicely with circus show-offery, surely Baroque music, with its steady continuo basses, its measured rise and fall, is a world away from tumbling tricks and strongman stunts?
Virtuosic Australian troupe Circa certainly can't be accused of staleness in their pairing of circus arts and classical music. Their new show The Return, which opened last night at the Barbican Theatre, differs from their last London show Opus not only in its choice of musical genre, but in the mixing of period and contemporary music. Extracts from Monteverdi's opera Il Ritorno d'Ulisse in Patria, performed live by singers, strings and harpsichord, are intercut with contemporary, often electronic, refigurings and adapatations of the same music and an original cello score (by whom is not clear: four composers are listed in the programme note beside Monteverdi, John Barber, Quincy Grant, Jakub Jankowski, and Cornel Wilczek, but with no indication of what their individual contributions were).


As the choice of opera suggests, the theme of the show is separation and return, and the two different soundscapes allow for both an elegiac and a much more gritty picture of separation. The mid-height panelled wall which cuts across the stage gestures in the gritty direction, evoking the Berlin Wall and the West Bank Barrier, while the acrobats' contorted attempts to walk inevitably suggest the thousands of refugees for whom exile is no poetic odyssey, but only a grim, crippling burden.
Pain and disorientation dominate the mood for most of The Return and the six acrobats convey it well through their blank faces and pained breathing, as well as the extraordinary positions they twist themselves into, while sections of the choreography cleverly suggest tropes of displaced life: women on their own performing different kinds of elaborate and extremely difficult balancing acts; men fighting and supporting one another; people helping others get a leg up, but sometimes leaving them hanging.

A sustained use of the Monteverdi would have been far more effectiveIt's incredibly impressive to harness circus to this kind of serious artistic agenda, but here the seriousness verged on underselling one of the major draws of a circus act, which is the sheer joy of tumbling, flipping and flying through the air. There are extraordinary feats of strength and skill in The Return - even the disciplined Barbican audience gasped under its collective breath at a woman standing one-legged on a man's hand held above his head, or the daringly thrashing ribbon work of Bridie Hooper - but overall there is far less of the sustained dynamism and exhilaration that made Opus one of my favourite shows in 2014

Partly, the choreography is responsible - there are too many periods of awkward walking or flopping on the floor, which feel like filler - but also the intercutting of Monteverdi and the contemporary music doesn't help; the liquid singing of the former (by tenor Robert Murray and expressive mezzo Kate Howden) is so totally incongruous with the electronic rumbling of the latter that each switch between them disrupts the flow of the piece, and unfortunately highlights the underlying, monotonous pause-stunt-pause pattern which so decisively separates rhythmic gymnastics from dance. A sustained use of the Monteverdi would have been far more effective in my view, not just because dance really doesn't need any more electronic sound-painting, but also because it's precisely the unexpected juxtaposition of the "high" art of classical music and the "low" art of circus that brings out unexpected qualities in both, and makes Circa's work in this vein so entrancing.