Rosas, Drumming/ The Forsythe Company, Sadler's Wells |

reviews, news & interviews
Rosas, Drumming/ The Forsythe Company, Sadler's Wells
Rosas, Drumming/ The Forsythe Company, Sadler's Wells
Two of today's most significant contemporary choreographers zip through London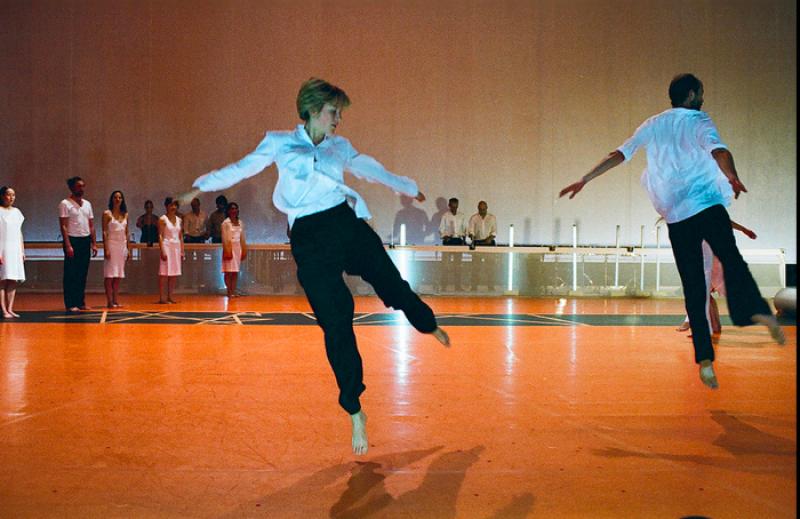 De Keersmaeker masterwork: Rosas in 'Drumming'
William Forsythe and Anne Teresa de Keersmaeker in a week - it has to be Sadler's Wells, the theatre to sample some of the world's best dance stuff. De Keersmaeker's Rosas are briefly here to take part in Sadler's "Sampled", a new thread of summer performances surrounding a single famous piece with chat, film, interactivity and other related things.
Forsythe's equally brief company visit last week was a sampling too, the major work being a medley of chunks. Dance is always most illuminating when you can find contrasts, and to hold the laddish playfulness of the American's work in mind when watching the Belgian's controlled delicacy last night made both shine all the brighter. These were two largely exhilarating evenings.
Skin drums make a subtly tuned noise, marimbas are almost pianos, while glockenspiels exist in Tinkerbell-land
In Drumming choreographer submitted to composer - Anne Teresa De Keersmaeker took on a vivid Steve Reich piece for a dozen percussionists and decorated it with 12 dancers. Twelve drummers drumming, 12 dancers dancing.
What goes on is, for the most part (the caveat is needed), totally thrilling. Reich's rock-era 1970 minimalism in the drum section is revelatory: despite the aural fracking your head gets, it's ravished with the African tuning that you forgot percussion instruments had. Skin drums make a subtly tuned noise, marimbas are almost pianos, while glockenspiels exist in Tinkerbell-land.
The composition is in four acts, so it feels theatrical just via the ears - the bongos first, in a relentless jungle beat; the marimbas, hot, sultry and tuneful, a miasmic hybrid of woodblock and bamboo pipe; then the weirdly troubling tinkling of glockenspiels, a glistening rain far above in the realm where you feel a squeaky sound in your backteeth more than you hear it. And then tutti, to finish.
De Keersmaeker, I reckon, listened to that lean, happy, obsessively built drumming, and decided to do a total contrast with it. She constructed an hour's dancing that would appear - counterintuitively to the trance-inducing rhythm - random, happenstance, people found by chance in the park, yet all be woven in a fiendishly delicate illusion of spontaneity by a perfectionist.
You could be watching the workings of a gorgeous, alien timepiece. Individuals who peel off in their own jags collect themselves with a quick stuttering little skip that compensates momentarily and brings them back perfectly into a larger wave of others. The waves of synchronised people sweep across the stage like water, while individuals cut through them on their own courses, perhaps just walking, like a commuter set on her destination, or perhaps dancing along with this person and that, like two autumn leaves who happen to catch the same gust of wind.
Drummers and dancers all wear black and white with occasional flickers of orange in this shirt or that; light pours down a white back wall of what appears to be linen or parchment, pours over the back line of indistinguishable percussion instruments and their performers, the Ictus Ensemble, who come and go as sections of the music demand. They drum and they dance with irresistible precision,
I found myself last night thinking how compelling random people in the park are, and then, how extraordinary De Keersmaeker could be when she applied her fierce, unsmiling intelligence to deconstructing the mystery and then replicating the sweetness of accident and liberatedness, how butterfly-light those little Rosas skips are, how enchantingly dewy they have been calculated to appear. And you may note with as much fear as admiration, it is structured to the last dot: there are 12 dancers, like 12 hours of day; there are 12 drummers, like 12 hours of night. This is a piece of exquisite, deceptive clockwork, and if one person steps out of line or loses a beat, the entire timepiece crumbles.
Continued overleaf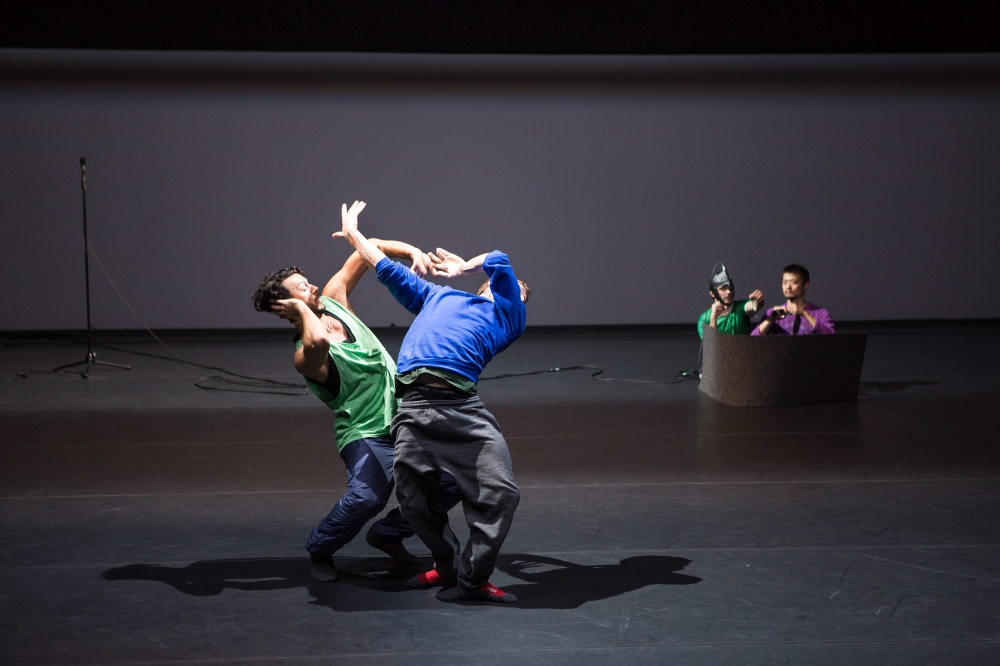 Precise intent is common in all great choreography, and with the Forsythe Company's night last week it seemed stronger in the first of the two pieces the company came with: a male quartet, NNNN. The four men, casually dressed, casually slapped each other's shoulder, or inserted an arm fraternally in someone else's, and a little chain of movement would be born, sometimes roughly, like a snatch of a fight, and sometimes as lyrically as a phrase of Balanchine in Serenade.
The four managed to be aggressive and amusing at the same time. Their hands would land on each other's head, plop. They'd stop for a second, and consider. Then push off, and another piece of intricate gearing and meshing of arms levering these elastic, slithering bodies into a laddish kind of synchronised syncopation would come about. They suddenly breathed heavily "Whoo!" all together. Then disappeared.
No one is stranger, funnier or more attentive to the possibilities of ballet. But his dance-theatre pieces are quite another kettle of fish
The other piece, Study #3 (pictured above, courtesy Sadler's Wells), was an hour-long medley of slices from 30 years of Forsythe works from his post-ballet period, in a setting with the performers in street clothes mixing dance and beat-boxing, deliberately down-playing his reputation. To me it is a celebratory fact that the man is (or was) a genius as a modern choreographer of ballet, no one stranger, funnier, more rigorous or more attentive to the possibilities of this timeless aesthetic discipline.
But his dance-theatre pieces are quite another kettle of fish. They need their full span, in my view, to accumulate their quite different atmosphere, sometimes of almost baroque humour and pathos. To cut them into chunks is to downplay their context and put too much cold focus on the dance movement, and the casual-edged movement feels too much like noodling.
Some catchy personalities on stage among the dancers, and prodigious skills, not least the eternally amazing Dana Caspersen, tiny, tough, with a mesmerising American voice tenderly spouting yards of redundant words. Still, the overall effect was muted, forgettable, which I'm not used to with Forsythe. I would rather have been invited to see a full performance of one of the quoted works.
This is a piece of exquisite dance clockwork, and if one person steps out of the line, the entire timepiece crumbles
rating
Explore topics
Share this article