The Sleeping Beauty, Australian Ballet, cinema broadcast |

reviews, news & interviews
The Sleeping Beauty, Australian Ballet, cinema broadcast
The Sleeping Beauty, Australian Ballet, cinema broadcast
A sparky, faithful rendition of a classic
Thursday, 06 October 2016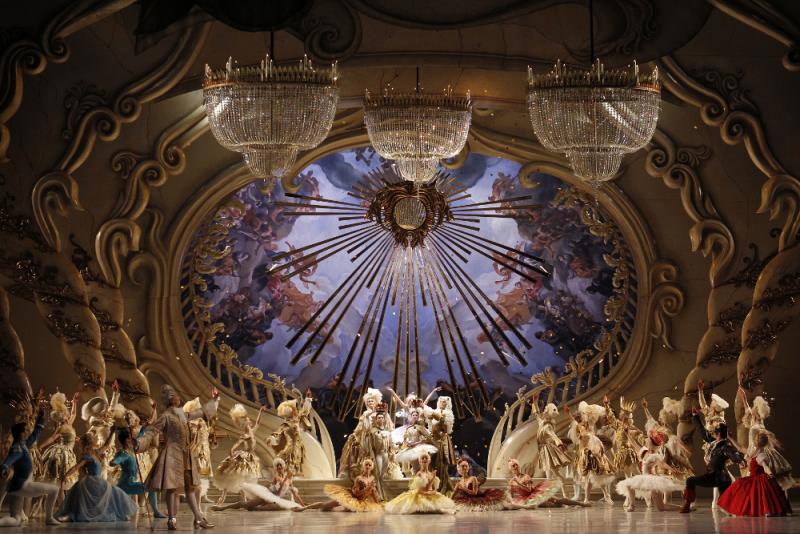 Tromp l'oeil: Gabriela Tylesova's designs for The Australian Ballet's 'Sleeping Beauty' create a theatre within a theatre.
Australian Ballet's cinema broadcast on Tuesday night appears to have been a little under-publicised
Australian Ballet's cinema broadcast on Tuesday night appears to have been a little under-publicised – at least in my local multiplex, which was deafeningly empty with just five spectators. I suspect a combination of circumstances to be at work: the lower international profile of Australian Ballet relative to others who do cinema screenings, like the Royal Ballet or the Bolshoi; the multiplex location, where the culture on screen market is less developed than at arts cinemas which show plays/ballets/operas/exhibitions much more often; and perhaps also the fact that the Sleeping Beauty production was recorded.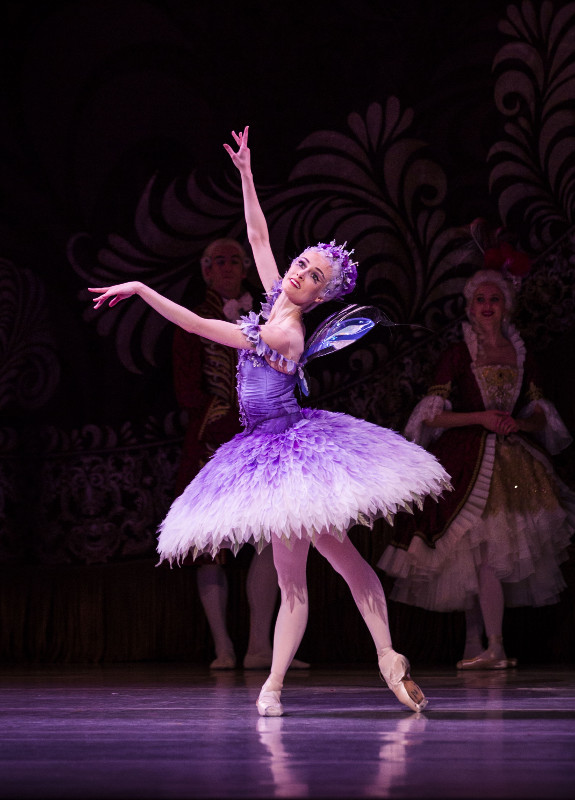 There is certainly something about liveness which attracts – witness the large global audience for the World Ballet Day live stream, which broadcast for 20 hours on Tuesday from ballet studios all over the world, including the Australian Ballet headquarters in Melbourne. Another attraction of that event though is that it offers a glimpse into backstage life, including full videos of companies doing their daily class and taking rehearsal, the kind of thing that is manna to ballet fans in a way that a recorded performance of a well-known ballet is not – the latter can be watched on YouTube at any time, and the opportunity to see it bigger and with better sound quality is, I suspect, only of limited appeal. Certainly I feel that way; for all I welcome the chance to see any ballet, I get frustrated watching in the cinema, at the whim of someone else's choices about where to focus or when to pan in and out, and unable to connect with the performers in any way.

With that large caveat, anyone who did turn up to the Australian Ballet's Sleeping Beauty in cinemas would have seen a perfectly charming and tight production. As was clear on their trip to London this summer, the Australian Ballet possess a large number of neat, well-trained dancers, and the house demeanour is bright eyes, big, and warm storytelling; a very likeable package. The production is faithful to the Tchaikovsky score and Petipa choreography in the way that the company's Swan Lake is regrettably not, and there is a great deal of charm in Gabriela Tylesova's costume and set design.
The sets cleverly pick up on The Sleeping Beauty's function as a political piece – as much about the power of ballet (and ballet's patrons) as it is about princesses, fairies, and a magical 100-year snooze – by framing the action within a theatre's architecture: the backcloth images are surrounded by skewed ivory balustrades as if we are looking up at ceiling frescoes (main picture), the wing flats are fanciful curls of white and gold, like the scrollwork on the balconies of a grand theatre, and in the Prologue characters enter and exit through huge red and gold curtains at the back of the stage. Ingenious design indeed; the only flaw is that is makes the stage feel small and enclosed, in some ways no bad thing for the artificial and stuffy world of the fairytale court, but mildly frustrating to watch nonetheless. The costumes are 18th-century crossed with Disney, generously feathered, tulled and spangled, and not too stuffy. The best is that of Carabosse (Lynette Wills), whose masses of blue-black raven feathers frame a plunging neckline and a cleavage criss-crossed by gothically sexy black veins.


Lana Jones (pictured left) is a cool and collected Aurora, less ingénue than well-schooled heir to the throne, which – nice touch! – she ascends in her own right at the end, with her prince consort several steps below her. Kevin Jackson brings a pleasant, sincere face and nice petit allegro style to the part of the prince, and Amber Scott (pictured above right) is a loveable Lilac Fairy, floating around sorting out everybody's problems with no more than wide, beseeching eyes and a sweet smile. Cinema close-ups don't always do dancers favours – they can make normal acting calibrated to project all the way to the back of the gods seem like over-acting – but the Australians have finely-tuned facial acting down to a tee, and if character actors like the chap playing the chief steward (not named in the limited programme notes) go for a more panstick and eyebrows approach, you can hardly blame them.
Nicolette Faillon, whose conducting I much enjoyed when the company were in London, does a nice job with Orchestra Victoria and the Tchaikovsky score, and certainly the sound systems of a modern cinema convey the music stunningly; at times when I was finding the panning and cutting annoying, I wished I could close my eyes and just listen to the recording.
But I would have missed some very good performances that way; of those not already mentioned, I congratulate the Bluebird, Princess Florine, and the princes in the black and pale blue jackets (again not named on the programme), all of whom did lovely allegro work. If perhaps a couple more judicious cuts would have been welcome to shorten the run-time slightly (Beauty is a ballet behemoth at well over two hours of dancing), it's was still a quality production I might otherwise have never seen. Good luck to CinemaLive, the promoters; I hope the cinemas are less empty for the next broadcasts in this series.
CinemaLive and The Australian Ballet will broadcast Cinderella on 23 November 2016 and Coppélia on 19 April 2017 to cinemas across the UK. The Royal Ballet will perform The Sleeping Beauty in repertory at the Royal Opera House from 21 December 2016 to 14 March 2017.
The costumes are 18th-century crossed with Disney
rating
Explore topics
Share this article