Sutra, Sadler's Wells review – a masterpiece 10 years on |

reviews, news & interviews
Sutra, Sadler's Wells review – a masterpiece 10 years on
Sutra, Sadler's Wells review – a masterpiece 10 years on
Sidi Larbi Cherkaoui joins the Monks from the Shaolin Temple for a tour that continues to wow audiences the world over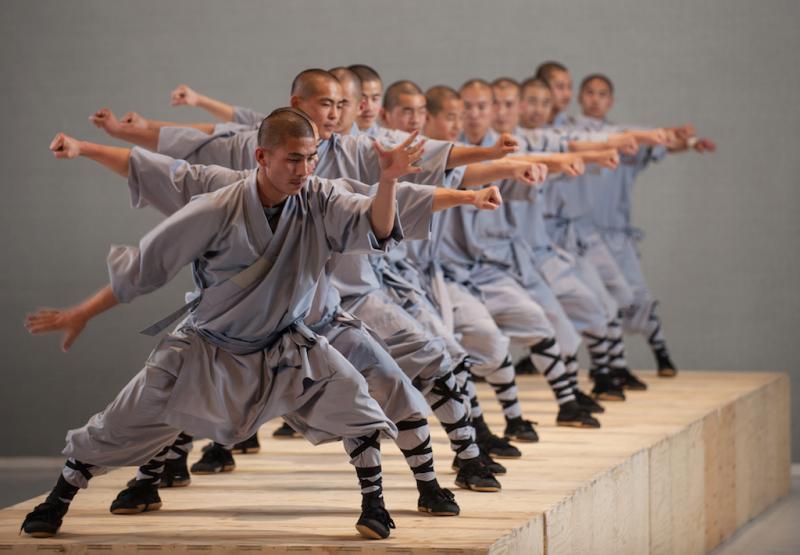 Monks from the Shaolin Temple in China reveal their kung fu prowess
Sutra is back, 10 years after its premier at Sadler's Wells. This is, in fact, the fourth time it has returned to London and such is the amazing popularity of this beguiling show that, in the past decade, it has been performed more than 200 times in 66 cities in 33 countries.
You can see why it is so successful. The production is clever, funny, skilful and endlessly inventive. Initially the choreographer, Sidi Larbi Cherkaoui performed in it himself; he played the role of an outsider trying to engage with the beliefs and practices of Buddhist monks from the Shaolin Temple in China, who are famous the world over for their expertise in martial arts. His attempts to emulate their prowess are helped by a young novice (pictured below right by Andree Lanthier) who gleefully monkeys around while skillfully mimicking his elders.

In many ways, the outsider is a self-portrait. Cherkaoui thrives on collaborating with people whose skills and cultural backgrounds differ from his own. He has worked, for instance, with Argentinian tango dancers, a male choir from Corsica who hauntingly sang their way around the stage in Apocrifu (2009) and, most recently, Japan's Bunkamura Theatre Cocoon who, in Pluto (2018), bring to life various characters from manga comics.
Cherkaoui visited the Shaolin Temple in 2007 and was inspired by the monks' daily practice of meditating to quieten the mind and training in martial arts to quieten the body. By combining these two contrasting disciplines, they attain a unique balance between spiritual stillness and frenetic energy which, as performers, gives them an extraordinary degree of physical presence.
Sutra is based on kung fu movement sequences which, practised in unison, are akin to a form of physical meditation. Then come demonstrations of individual mastery in fighting bare-fisted or with a staff, which includes leaping up a staff and miraculously balancing on the shaft to the consternation of one's opponent (pictured below left). But no matter how dramatic, an evening devoted solely to martial arts would soon pall, which is why the third element of this dream team plays such a vital role.
To design the set, Cherkaoui approached the sculptor, Antony Gormley who created the Angel of the North and populated Crosby Beach near Liverpool with iron figures that brave the tides. His contribution is brilliant – a simple minimalist set comprised of open boxes large enough to stand up or lie down in. Individually they can become plinths, cupboards, beds, lids or coffins while together they can be used to build a wall, platform, necropolis or Stonehenge. This amazing versatility becomes the source of endless surprises, which remind me of those tests requiring you to invent 40 different ways to use a brick. With his inexhaustible imagination, Cherkaoui would win every time.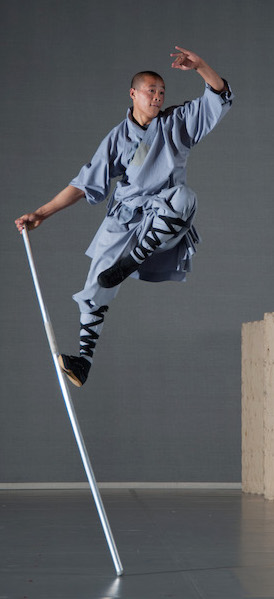 There are some memorable gems, but the comedy is physical and so hard to describe. The outsider, danced here by Ali Thabet, has a box of his own. It lies on its back; he steps inside and disappears bit by bit, as though descending a staircase. He walks round the perimeter with one leg inside the box, which gets him absolutely nowhere; in contrast, meanwhile, the monks effortlessly sweep their boxes into wondrous formations. They line them up like sentry boxes and stand inside having put the outsider at the front. Toppling one after another like dominoes, the boxes jolt the outsider out of his box and off the stage. The monks build a high platform which the outsider climbs onto. They join him one by one until, through force of numbers, they push him off onto the floor. He retaliates by removing one box after another, but the monks are saved by the novice who waits below in a box, like a rescue boat which they all jump into.
Sitting behind a translucent screen are five musicians who accompany the action with music by Polish composer Szymon Brzóska. With the help of gongs and other percussion instruments from the temple, he creates a glorious synthesis between eastern and western sounds.
Meanwhile on stage, all ends harmoniously. Thabet, who has studied kung fu, is able to join the monks in their exercises and for a moment, at least, becomes a convincing member of the brotherhood. A degree of reconciliation and a form of understanding between people from disparate cultures is achieved. Without resorting to kitsch, Sidi Larbi Cherkaoui delivers an uplifting message that we can all believe in, if only for a little while.
Sutra is at Sadler's Wells on 28 March
The outsider steps inside his box and disappears bit by bit, as though descending a staircase
rating
Explore topics
Share this article