Swan Lake, English National Ballet, Coliseum review - the story of a deluded prince |

reviews, news & interviews
Swan Lake, English National Ballet, Coliseum review - the story of a deluded prince
Swan Lake, English National Ballet, Coliseum review - the story of a deluded prince
The corps de ballet take the laurels in Derek Deane's dependably fine production
Thursday, 19 January 2023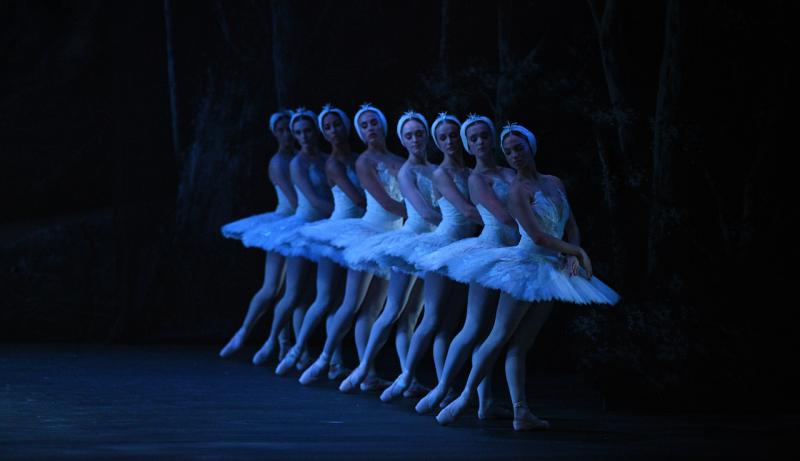 Well lit by moonlight: the corps of swan maidens in English National Ballet's Swan Lake, choreographed by Derek Deane
So there's this prince, see, and he's not at all happy. For a start, he never got over losing a parent when he was a child. He's at odds with the world, sick to death with royal protocol and convinced that no one understands him. Worse, having too much time on his hands, he suffers from delusions. Meet Prince Siegfried, who found his soulmate, and met his nemesis, on a moonlit night by a lake.
It can't be long before some ballet company mounts a Swan Lake with a bearded prince in a ginger wig, but it won't be English National Ballet that does it. That company is too respectful of the memory of Diana, proud of the friendship she struck up with its director and dancers (who in those days rehearsed just around the corner from Kensington Palace). And anyway, why would it want to tinker with a solidly built production that has served it so well for 22 years?
Created by Derek Deane (ENB's director during the Diana period), it was made on the bones of his arena Swan Lake that filled the Albert Hall for several seasons. But far from being a watered-down version of that 60-swan mega-spectacle, it's a distillation, packing in the steps to create a sense of depth and abundance. Dramatically, too, it's taut and lucid, adding many small but significant details that give substance to a slender story. There's a brief prelude showing how a princess came to be transfigured into a swan. There's a moment when the prince – already protective of his swan-woman – furiously turns his crossbow on the villain, Rothbart, under whose curse she is imprisoned. And there's an inspired choreographic moment when Odette, more bird than human, makes a late appearance by the lakeside, swooping down in a smooth parabola of flight to rest quietly on Siegfried's arm.
Yet Deane also knew when to leave well alone, using Frederick Ashton's choreography for the Neapolitan dance in Act II, complete with its cheeky kisses, flying ribbons and crazily fast feet. Hats off to Adriana Lizardi and Rhys Antoni Yeomans (both pictured below) of the first night cast for their spot-on tambourine work – a feat much harder than it looks, to judge by the number of other performances I've known where the stage tambourines have either been feeble or out of sync with the orchestra.
Daniel Parkinson was the young guest conductor, and while some of his tempi were surprising, he remained firmly in command of Tchaikovsky's romping climaxes. He also drew a veil of shimmering textures from the harp and strings of the ENB Philharmonic that was truly magical, a match for the corps of swan-maidens who moved and breathed as one. There is possibly no sound more spellbinding in ballet than the off-stage pitterpat of 24 pairs of ballet pointes just before they first bourrée into view. And there's no implied criticism in finding the two white acts more memorable than Acts I and III: the lead couple on opening night did well enough. Aitor Arrieta's prince is technically refined and unshowy and his acting low-key. Presented by the Queen with six eager-to-please princesses for him to choose from, it's his negative body language that says: "For god's sake, mother, really?" Emma Hawes is the creature of his dreams, more successful as a wispily tender Odette than as her fake doppelganger Odile, where she lacked venom. The utter catastrophe of the prince's poor judgement is relayed by the music, and there's no underplaying that.
Dramatically it's taut and lucid, adding details that give substance to a slender story
rating
Explore topics
Share this article