theartsdesk in Hamburg: Ghost Light - a ballet in the time of corona |

reviews, news & interviews
theartsdesk in Hamburg: Ghost Light - a ballet in the time of corona
theartsdesk in Hamburg: Ghost Light - a ballet in the time of corona
How the city is showing the world a way through the live-performance impasse
Saturday, 26 September 2020
Hold it there: David Rodriguez and Matias Oberlin connect in John Neumeier's new 'Ghost Light - Ballet in the Time of Covid'
So the Royal Ballet is to make a live comeback, for one night only, on 9 October. Fielding the entire company of 100 dancers, suitably distanced, the enterprise is being hailed as a triumph of logistics. And so it is. But the fact remains that the vast majority of its audience will be watching on a computer screen at home.
And the
gala programme
will be pulled from the company's back catalogue, health precautions having apparently ruled out the possibility of making anything new since March.
Not so in Germany, where earlier this month Hamburg Ballet launched its 2020/21 season with a run of John Neumeier's Ghost Light, a full-evening work involving 54 dancers, created entirely under Covid protocols. Granted, the Hamburg State Opera House was filled only to one-third capacity to allow for safe spacing of the audience, and vocal appreciation was discouraged, even when muffled by a mask. But otherwise this was business as usual. One could equally well pop over to Baden-Baden where the piece tours early next month. Trust the Germans to lead the way through the cultural impasse. It's not rocket science. Just a regular mix of meticulous planning, hard work and efficiency. Vorsprung durch Technik.
And ballet is not alone in leading the charge. Hamburg's Reeperbahn Festival, a three-day jamboree of rock and pop that every year commandeers bars, theatres and even churches in and around the city's entertainment district, went ahead last weekend with an eye-popping offer of 90+ events thanks to injections of extra funding from both local and national government.
"During lockdown, it was the silence, more than anything, that was the most frightening," Dr Carsten Brosda, Hamburg's Culture Minister, told me. "In a time of crisis the arts become more, not less important – not just to entertain, but to provide stimulation and challenge." What wouldn't we give for a British politician to express that thought, let alone build policy on it?
I was both challenged and charmed by the late-night gig I picked at random, staged in the Resonanzraum, part of an otherwise derelict concrete block known as The Bunker. Berlin-based indie band Albertine Sarges and the Sticky Fingers create luscious, part spoken-word soundscapes whose laxity is held in place by startlingly precise vocal harmonising from all four band members, one of whom doubles on jazz flute. Sarges' librarian chic – thick spectacles teamed with red polyester – casts a smokescreen over some fairly explicit same-sex love poetry. And just as subversive are her inducements to skip work and go naked for a day. Yet so delicious is Sarges' voice that the strains of anarchy come smothered in whipped cream.
Earlier at a press lunch I found myself seated next to an elfin young man wearing a John Lennon T-shirt. "Cool shirt," I said by way of breaking the ice. "Where can I get one?" After a beat's hesitation which I took for shyness, he replied: "from my dad's website". Ach so. Beatles album cover. 1965. Revolver.
Should have guessed. This was Maximilian Voormann, graphic artist son of graphic artist Klaus Voormann, friend, bassist and lifelong collaborator with the Fab Four since their Hamburg days. It turned out young Maxi was the Reeperbahn Festival's resident diarist, there to capture his impressions and upload his analogue sketches (pictured above) to Instagram. He wasn't just focusing on the artists with his felt-tip, but on the event as a whole: the venues, the punters, the vibe. The Reeperbahn Festival's visitor numbers may have dropped from 15,000 to 3,000 last weekend, but a vibe there certainly was.
The sheer breadth of Hamburg's music scene was made manifest over the next 24 hours. On the micro scale, there was a two-hour Beatles Tour with funny, spunky Steffi Hempel, who adds variety to her anecdote-rich trawl of the low dives frequented by the band in the early Sixties by whipping out a ukelele and belting out some of their early hits. On the macro scale, there was a visit to the gleaming new concert hall complex, the Elbphilharmonie (pictured below), built atop old tobacco warehouses on the docks. Almost needless to say in the context of this article, the latter has just returned to an almost-full schedule of classical concerts.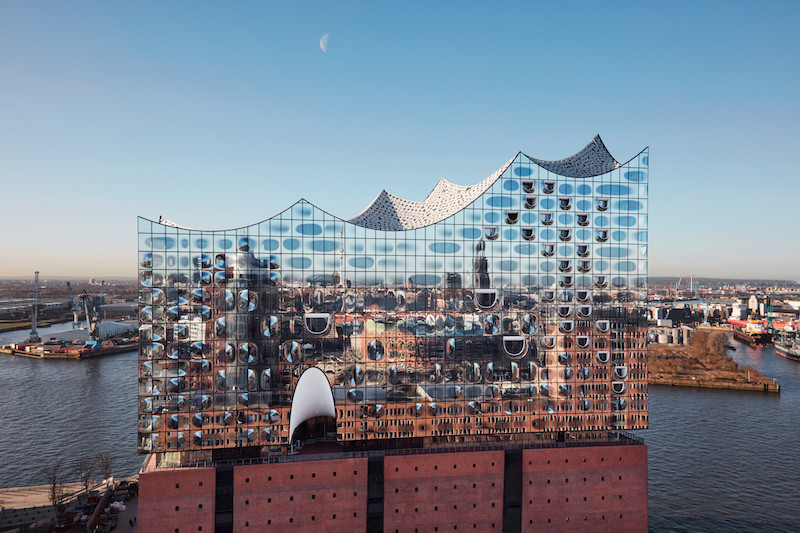 The single advantage Covid has brought, says the Elbphilharmonie's director, Christoph Lieben-Seutter, is that when contracted artists have been forced to cancel, a top-level replacement can be found almost instantly. "All it takes is a phone call. They all say, yes, I'll do it, I'm free!"
But none of this explains how, given the restrictions on bodily contact, Hamburg Ballet managed to conjure a new, full-evening's dancework under lockdown. The push came from John Neumeier, the company's artistic director and choreographer-in-chief for the past 47 years (you'd not be wrong to say the man is wedded to his job). Determined to do something for his dancers, distraught at seeing half the season cancelled, way back in April Neumeier devised a way of working that exploited the fact that a fair number in the company were established couples who lived together, and thus could legitimately rehearse and perform pas de deux with full contact. The rest he organised into working bubbles of six to 10 dancers, and thus, following a strict timetable so that the groups didn't have to meet, he built up the two-hour work in tiny fragments.
The result, Ghost Light – A Ballet in the Time of Corona, may be a composite yet its overarching theme is clear. It's about how the dancers of Hamburg Ballet dealt with the body-blow to their working practice, the apparent end to all their dreams, about their desperate longing to perform and their nostalgia for their working lives pre-Covid. A feature that recurs through the two-hour work is a gesture of reaching and enfolding, reaching and enfolding, the arms closing on nothing at all.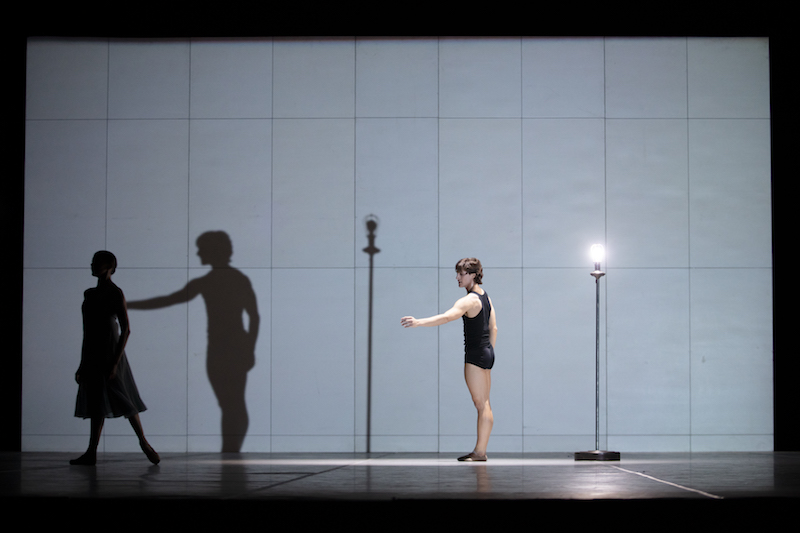 The melancholic tone is underpinned by the piano music of Franz Schubert, and includes the complete set of Moments Musicaux D780, played by Michal Bialk with intense innigkeit from the foot of the stage. And yet the ballet also introduces many light, even comic elements, such as the appearance of Giselle, costumed as a Wili, who drifts about as if searching for something – perhaps the cancelled ballet itself. We spot what can only be young Clara from The Nutcracker, who delightedly discovers her first pair of pointe shoes waiting on the floor centre stage. And there is the ailing Marguerite, from Marguerite and Armand, who after dancing a while falls to a fit of coughing. Would that be consumption or the onset of Coronavirus? The double allusion is hardly funny, but grimly apt.
There are also, praise be, luscious eyefuls of partnering. You cannot know till you experience it the delicious shock of seeing live, unfettered body contact after six months without. And we're not only talking male-female couples. The most dramatic choreography in Ghost Light bursts forth in a highly tactile duet for two men, David Rodriguez and Matias Oberlin (main picture).
The ballet's title is worth explaining. On Broadway, according to John Neumeier, when a theatre goes dark, superstition decrees that a lamp be left lighted, centre stage, until such time as theatrical activity resumes. Neumeier's offering, this ballet, danced on a stage that's empty but for a lamp on a stand, carries his hopes for a permanent return to normality.
During lockdown, it was the silence, more than anything, that was the most frightening
rating
Explore topics
Share this article