theartsdesk in Paris: San Francisco Ballet 1 |

reviews, news & interviews
theartsdesk in Paris: San Francisco Ballet 1
theartsdesk in Paris: San Francisco Ballet 1
The Americans on tour in pieces by Tomasson, Balanchine and Robbins
Crowd-pleaser: the Parisian audience went wild for San Francisco Ballet in 'Glass Pieces' by Jerome Robbins.
In 2005, San Francisco Ballet were the first company to visit Paris as part of a new summer dance festival, Les Étés de la Danse. Helped not only by this auspicious start, but by the obvious demand for live dance in a month traditionally barren for the Parisian performing arts, the festival prospered, and in this its 10th year, has brought the Americans back with a stonking programme.
Every night of the 17-date run at the Théâtre du Châtelet features a different triple bill, covering in total 18 pieces by twelve choreographers – and that's not counting the opening gala. A treat indeed for Paris audiences.
A treat for critics too, and not (only) because we get to visit Paris when it sizzles. SF Ballet, as we were reminded on their last London tour two years ago, are a critic's dream: they have company dancers of extraordinary quality trained to uncompromising standards of excellence, world-class principals, and a gifted artistic director (Helgi Tomasson) who combines strong heritage programming with a very lively commitment to new works.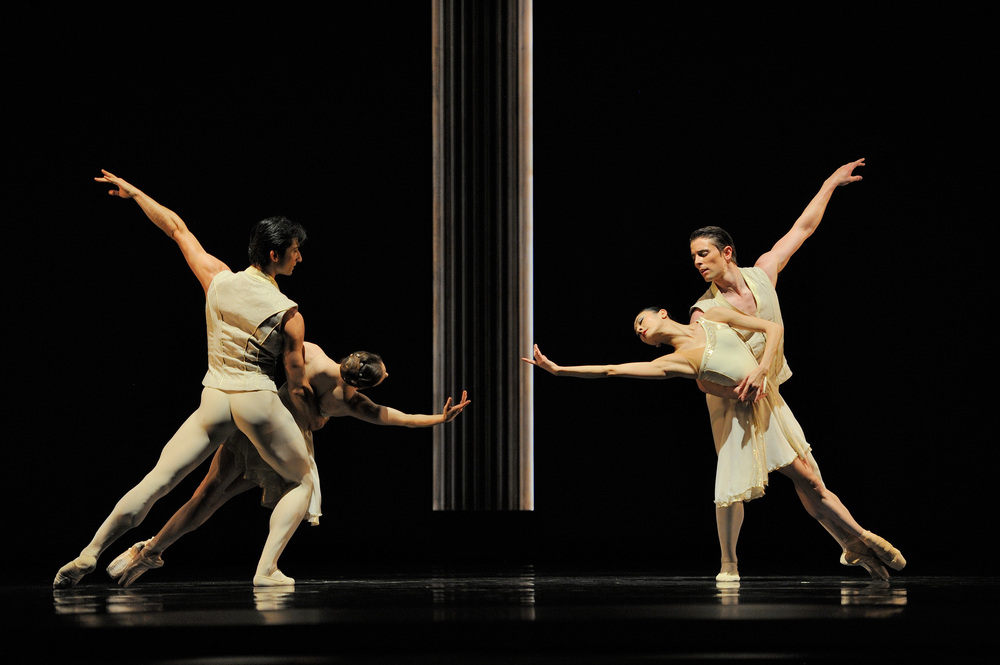 Last night's performance opened with a very new work, Tomasson's own Caprice, which premiered in San Francisco in April and in Europe just a few days ago. Tomasson is an exponent of the lushly pretty school of contemporary ballet. The promise of Balanchine-spiky neo-classicism, suggested by an opening tableau of a single dancer backlit between two quasi-Doric columns, is quickly lost amid swirls of gossamer arms, tasteful antique gold tunics, and a series of pas de deux for two principal couples (pictured right).
Maria Kochetkova is a Bolshoi-trained little gem, performing every step with flawless precision and the ghost of a soubrette's smile. Yuan Yuan Tan, another of the company's top women, is a dancer of breathtaking physical perfection, whose smooth, flowing lines could have been tailored in a Christian Dior couture atelier. Most of what these two do in Caprice with their partners, Davit Karapetyan and Luke Ingham, looks great – but that's more to their credit than the Tomasson's. After all, Tan probably looks this great taking the bins out; Kochetkova will be this precise in the most boring of class exercises. With only occasional, fleeting moments of emotion or sparky innovation, Tomasson's sometimes over-fiddly partnering and its accompanying, rather bland music, Saint-Saëns' Second Symphony, left me desperate to see something like William Forsythe – nourishment for brain or heart, as well as eyes.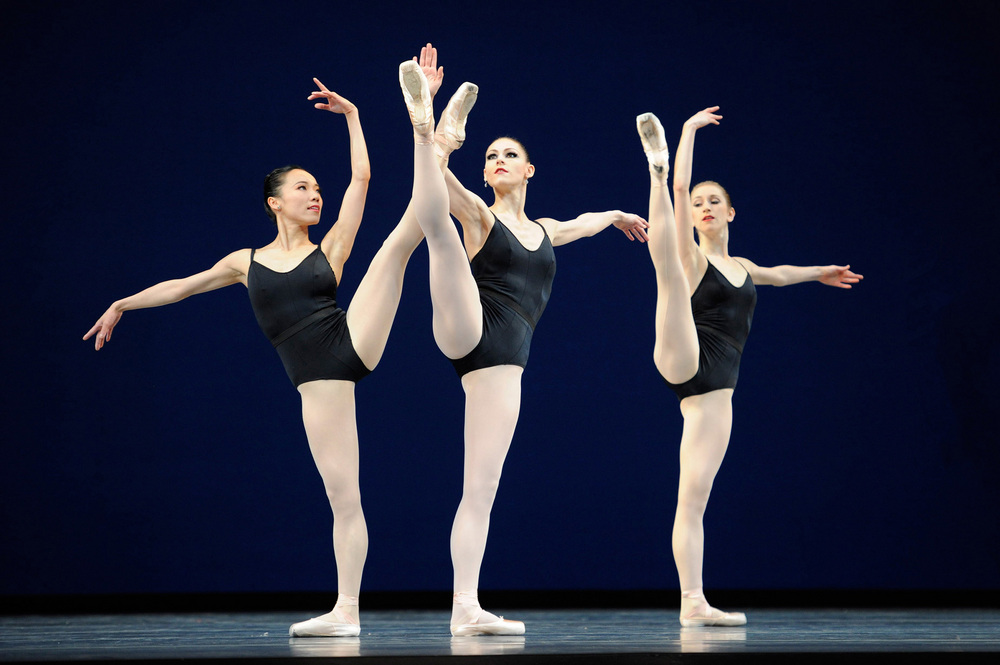 Good programming then to follow up Caprice with 1957's Agon, in which Balanchine and Stravinsky were at their most cerebral, responding to a manual of 17th-century court dances in 20 minutes of rhythmically complex 12-tone for 12 dancers. It's no mean feat to be able to take something this fiendishly difficult in your stride, as the dancers of SF Ballet do. The soloists manage to be both cool and a little bit fierce: Pascal Molat breathes hard after jumping hard in the first pas de trois; the fabulous, compact Frances Chung (pictured far left) attacks her pas de trois with a confident gaze levelled directly at the audience; the dark eyes of luscious Sofiane Sylvie (pictured left, centre) vibrate with intensity in the pas de deux; her partner Luke Ingham imbues his concentration with more than a hint of menace. It takes tremendous guts to dance like this, exposing your soul without the protection of character or story or set or costume – exactly what Balanchine wanted, and a bravura achievement for both the dancers and the company.
There's not a huge amount of heart in Agon (except those fuelling the dancers' own tired lungs and muscles), so it's clever programming again to end with Jerome Robbins's Glass Pieces (1983). Robbins is no emotional incontinent, but you know you'll feel something after a Robbins ballet – he is always trying to communicate with an audience, to have an effect. Reportedly, he wasn't all that happy with Glass Pieces, writing in his journal that it "goes nowhere". Formally, that may be true, but Robbins sells short the appeal of all the energetic walking with which the corps de ballet animate the driving, hypnotic Philip Glass score: there is something deeply pleasing in the simplicity and rhythm of it, and in the intermittent heavy stamped near-confrontations which pepper the walking like punctuation marks. Appealing too are the glimmering smiles with which a couple of the more energetic corps dancers adorn their walking, and especially the high-octane last movement – well done, Sean Orza, Benjamin Stewart, Isabella DeVivo.
The foreground pas de deux in the "Façades" section is less interesting than its background accompaniment, despite the impressive physiques of Tiit Helimets and Kristina Lind (the latter surely ripe for a promotion out of the corps de ballet soon). While they twist and interweave in cool, Nordic cascades, a line of women shuffles across the back of the stage, all bent knees and slow-jive hips, and in the silhouette of their their bun-topped, elongated oval heads against the blue checkered cyclorama we get one of those priceless moments of aesthetic alienation, equal parts beauty and strangeness, that make performing art – hell, any art – just so damn exciting. The audience went wild, and no wonder. How fortunate for us all that there are many more nights of these particular Americans in Paris.
One of those priceless moments of aesthetic alienation, equal parts beauty and strangeness
rating
Explore topics
Share this article