DVD: The Man from Mo'Wax |

reviews, news & interviews
DVD: The Man from Mo'Wax
DVD: The Man from Mo'Wax
Sometimes absorbing, sometimes morose documentary on London's 1990s kingpin of underground instrumental hip hop beats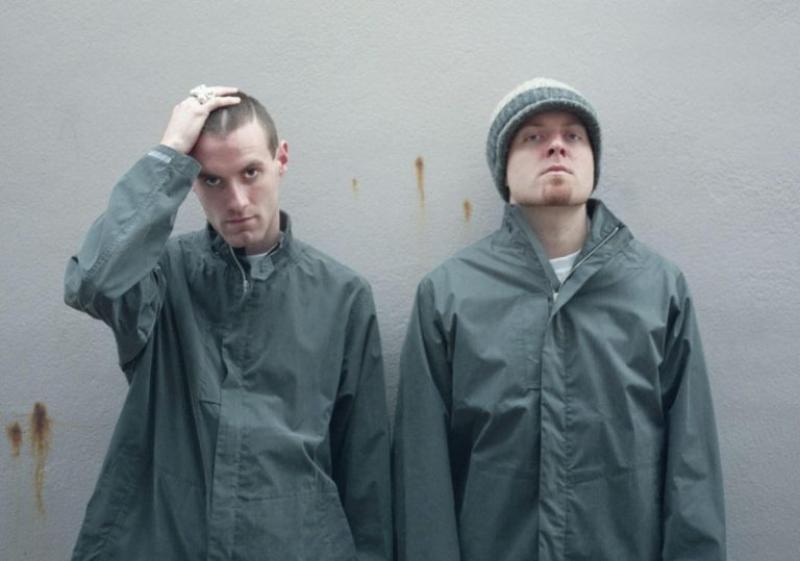 James Lavelle and DJ Shadow looking not especially happy
Recent years have seen a boom in music documentaries. They are, after all, relatively cheap to make and have a readymade audience. Their narratives are usually similar, and so it is with The Man From Mo'Wax: fame and glory, followed by a fall from grace, followed by self-reflection, absolution and a glimmer of fresh success. What many of them also offer is a sense of wild passion, of the raw, unfettered power of music. This film has little of that. It's a tale of too-cool-for-school hipsters (at least, that's how we'd term them now), with the too-cool-for-school-est of them all, Mo'Wax boss James Lavelle, at its heart.
In fact, this coldness makes for a more realistic portrait of the pop industry than many more romantic documentaries. Lavelle is – or, at least, was – a ruthlessly ambitious individual, a hip hop-loving teen music biz prodigy from Oxford with a startling barometer for the media zeitgeist. He swiftly rose to become, by the age of only 20, one of trendiest, most influential players in London. His label Mo'Wax defined the mid-Nineties stoned breakbeat sound that became known as trip hop.
The film races through all this, utilising effective scene-setting retro clips, à la Julian Temple, alongside never previously shared footage from the archives of Lavelle and his key protégé, DJ Shadow. It's around the latter that the film posits a stormy bromance, since Shadow and his album Endtroducing were key to Mo'Wax's acclaim. However, since he's so shy and introverted, and Lavelle so starkly self-centred, audience engagement with it is less than it might be, although there's a wonderful sequence where they're being interviewed and Lavelle is motormouthing while Shadow fidgets with discomfort and boredom.
Director Matthew Jones more successfully, and at greater length, focuses on the car crash of Lavelle's later career, his arrogant discarding of friends, associates, partners, a wife, etc, in a decade-long drug-fuelled quest to turn his label into a vehicle that might make him a rock star via his UNKLE project. The press turn on Lavelle with vitriolic viciousness and the documentary casts a baleful eye on the commercial freefall that follows, culminating in excruciating scenes around the recording of the 2010 album Where Did The Night Fall, wherein Lavelle and frazzled producer Pablo Clements can't raise the hoped-for high profile guest singers while the money to make the record simply runs out.
This part of the film is increasingly morose and depressing, but it's also the most affecting and awkward, a warts'n'all portrait of someone not especially likeable. It also raises debates about how much a facilitator and coordinator such as Lavelle might be regarded as an artist in his own right. Big name collaborators such as Josh Homme and Thom Yorke pop up in both fresh and archive footage, but Lavelle, as the title suggests is the motor that drives everything. In the end, he appears to find some sort of peace – or at least an ability to manage his ego-demons - and a cultural rehabilitation is suggested via his curation of the 2014 Meltdown Festival.
The Man From Mo'Wax is decent but doesn't achieve greatness. Something is missing. Partly it's that the music of UNKLE, Lavelle's focus for much of the film's length, is less interesting than that which came from his Mo'Wax label. Mostly, however, it's down to the void at the heart of chic 1990s London fashionista hipness. This is at the film's core and, viewed through the prism of history, it's neither likeable nor very interesting. Then again, unless you were caught up in its coked up, self-regarding whirl, it never really was.
The only extras on the regular release are a couple of commentaries (by director Matthew Jones and producer M J McMahon) and some trailers, but there's also a limited edition of 3000 numbered copies which has three discs and extras such as a 48 page booklet, artwork by Massive Attack's 3D and others, an archive 68 minute interview with James Lavelle and DJ Shadow, and five Mo'Wax/Lavelle mini-docs.
Below: watch the trailer for The Man From Mo'Wax
Raises debates about how much a facilitator and coordinator such as Lavelle might be regarded as an artist in his own right
rating
Share this article
Subscribe to theartsdesk.com
Thank you for continuing to read our work on theartsdesk.com. For unlimited access to every article in its entirety, including our archive of more than 10,000 pieces, we're asking for £3.95 per month or £30 per year. We feel it's a very good deal, and hope you do too.
To take an annual subscription now simply click here.
And if you're looking for that extra gift for a friend or family member, why not treat them to a theartsdesk.com gift subscription?