Interview: 10 Questions for Neneh Cherry |

reviews, news & interviews
Interview: 10 Questions for Neneh Cherry
Interview: 10 Questions for Neneh Cherry
The unconventional singer and rapper discusses her eclectic past and current excursion into free jazz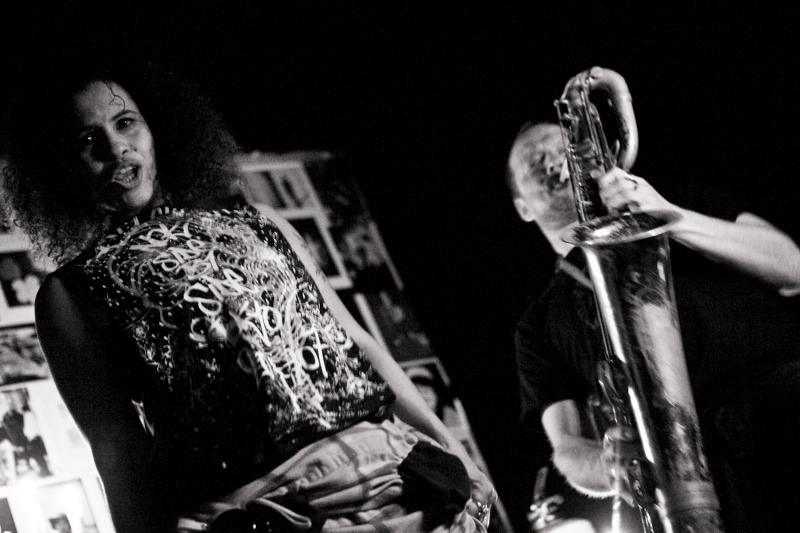 Cherry putting herself 'out there' with the jazz thing
Neneh Cherry has never been conventional. The singer and rapper's latest album is a collaboration with The Thing, a Swedish free jazz trio who have previously tackled songs by PJ Harvey and The White Stripes. If anything, the presence of Cherry has made them braver: The Cherry Thing features reworkings of The Stooges' "Dirt", Suicide's "Dream Baby Dream" and MF Doom's "Accordion". It's gutsy stuff, but it works. The album already sounds like a contender for the end of year lists.
At first, this project seems like an unlikely comeback vehicle for Cherry, but on closer inspection it could be construed as a return to her roots. The step-daughter of jazz trumpeter Don Cherry, she served her musical apprenticeship with Rip Rig + Panic, an early Eighties outfit who merged the angular sounds of post-punk with avant-garde jazz.
Later, she became a mainstream pop star with her debut solo album, 1988's Raw Like Sushi. Cherry performed its breakthrough hit "Buffalo Stance" on Top of the Pops wearing skin-tight lycra whilst eight months pregnant. It was a career-defining moment that provided, for the time, a pretty radical image of femininity.
Her follow-up album, 1992's Homebrew, was less successful, but Cherry scored another international hit two years later. "7 Seconds", a duet with Senegalese singer Youssou N'Dour, even took a broadly political message into the charts: its title refers to the length of time that a newborn baby remains free of prejudice; thereafter, it becomes influenced by its environment.
After forming an implausible trio with Cher and Chrissie Hynde for a 1995 Comic Relief single, Cherry released her final solo album to date, Man, the following year. Since then, she has laid relatively low, recording with trip-hop collective Cirkus and cherry-picking (sorry) collaborations with Gorillaz, Groove Armada and Kleerup.
She now lives with her husband and longtime producer Cameron McVey in Stockholm, from where she spoke to theartsdesk.

NICK LEVINE: How did your collaboration with The Thing come about?
NENEH CHERRY: I think it happened because we're quite likeminded people. They're amazing musicians, and I'm not sure I see myself in the same league, but in terms of spirit and attitude, we're similar. Then of course we have a close friend in common, a guy called Conny Lindstrom. He released The Thing's first album on his label back in 2000 and he's been a real umbilical cord for myself and Cameron [McVey] since we moved to Stockholm eight years ago. Anyway, I was gearing up to start recording again, and The Thing kept coming up in the dialogue. Cameron had seen them live a few years ago and kept saying I should do something with them! And there's also a kind of family connection because The Thing are named after a track on an album that my stepdad made back in 1966. He's been a big inspiration for them all through their career. So yeah, there just seemed to be a connection on a few different levels, so we decided to try something out."
The Thing had never really worked so closely with a vocalist before. Were you intimidated when you began the sessions?
Yes! I was really scared because I almost didn't know what I was going come to up with. We'd talked about songs that we might do before we got into the recording studio, but we hadn't decided for certain. I did most of my homework in the studio before we recorded each track. There was this scary moment before we started each song where I'd think, "What if I just stand there and nothing comes out?" I really did feel a kind of underlying panic, but somehow it would always just happen. I think this sort of creative process comes really naturally to me. In retrospect, I think it's as much a part of who I am as a singer as the more structured stuff.
Did this less structured approach remind you of your beginnings in Rip Rig + Panic?
Yeah, for me, the energy of this project evokes serious memories of the Rip Rig + Panic era. There's a similar sense of openness and reaching out to this project - it's kind of fearless and yet melodic in a similar way. Getting back into that creative mindset almost felt like muscle memory for me. That was a pretty incredible feeling, because I always say that Rip Rig + Panic is where I learned to fly. There was a lot of room for experimenting and Gareth Sager's songs were really special to sing. I found a big part of myself as an artist through that experience.
You've covered songs by Suicide, The Stooges and MF Doom on The Cherry Thing - ballsy choices, even for an avant-garde jazz album. How did you select material?
You can write a hundred songs and for some reason one or two will have that special something
The concept of putting us together was quite raucous and diverse, so going back to traditional jazz material didn't really make sense, especially when you factor in the music we're into as individuals. The Thing have covered PJ Harvey and played with Sonic Youth, and obviously I came from Rip Rig + Panic, so the punky thing made sense. We wanted to take tracks that you don't necessarily associate with the kind of sound we were making and see what happened. And of course, we had to pick tracks that I could actually sing! I mean, they had to be songs that I could get my head around, but also songs that had a force and a resonance for all of us.
You've also recorded one of your stepfather's tracks, "Golden Heart". Did you find it quite emotional to sing?
Yes, it was. Quite a few of the tracks on the album were done fairly freeform - we recorded them as live takes, all four of us together. With "Golden Heart", I had to come away and do it in my own time. I actually recorded the vocal in my brother's studio after The Thing sessions had finished. "Golden Heart" didn't have any words, so I wrote some lyrics to accompany my stepdad's piece and then Cameron helped me finish them off. The whole process was pretty emotional, but really quite special as well.
Somewhat improbably, it's been almost 25 years since your breakthrough single, "Buffalo Stance". Why do you think it's gone on to become such an iconic pop song?
25 years, is it really? You know, you're not the first person to ask me about "Buffalo Stance", but I'm afraid I've been really crap at answering. I don't really know, but I think it just really captured something in an innocent kind of way. There's something in its energy that's timeless and even now, it seems to stir something up in people. When we recorded "Buffalo Stance", we didn't over-think what we were doing - we just did it. You can write a hundred songs and for some reason one or two will have that special something that "Buffalo Stance" has. Trying to recreate that is pointless because whatever happened, that funny little bit of magic, it happened then. If I ever sat down and thought, Let's do another track like "Manchild", I think I'd kill myself.
Watch Cherry perform "Buffalo Stance"
Have you heard "Playa Boi", the sort-of-cover of "Buffalo Stance" by The X Factor alumnus Cher Lloyd?
You know, I have… A few years ago someone covered "7 Seconds", I can't remember who it was, and it wasn't very good. [Laughs] But it's still quite an honour in a weird sort of way. What do you think of "Playa Boi"?
I think it's quite a sweet, bubblegummy take on the song. Obviously it doesn't stand comparison to the original, but it doesn't offend me either.
I agree actually. When I heard it, I thought it was sweet. And from my end, it's really quite touching. The fact that someone so young wants to sing this song that I recorded almost 25 years ago, that means something.
You mentioned "7 Seconds", another iconic song you wrote and recorded. On paper it seems such an unlikely hit: it's sung in three languages, its sound draws from world music, and it has quite a political message. How surprised were you when it became successful?
You know, I think there was something in the energy of that track that people almost needed. It was quite direct and it got people. Without the message and the different languages and all of that stuff, I think there's something in the feeling of that record that struck a chord pretty immediately. I remember sitting down in my brother's little apartment in Brooklyn and writing it with Cameron and Jonny Dollar. It felt really good, but then Youssou [N'Dour] came in the next day and brought it to another level. But to answer your question, it never ceases to amaze me how that tune just carried on and on, millions of miles away from all of us. It's quite an embracing and hopeful song and I'd like to think that has something to do with it. I must admit though, I find it quite difficult to say why these things happen. To have been part of a few things like that in my lifetime is a great privilege, but I do feel like I don't really own those moments.
Obviously this project is a collaboration, but it's also the first time since the Man album in 1996 that you've recorded as Neneh Cherry. Are you feeling nervous about putting yourself "out there" again?
I'm quite excited actually! I held off until it felt right and now it feels right. When I look back at the past, things just kind of happened in a domino effect. Now I feel like I'm at the centre of everything, choosing what I want to do and how I want to do it. That's something that maybe comes with getting older, but I like it. At the same time though, everything feels really new and vital and exciting. I'm looking forward to getting out there and playing with The Thing and I'm also working on a solo record. The years leading up to this moment came with a lot of twists and turns: I lost my dad around the time of the Man album and then my mother died two-and-half years ago. It was just, you know, life, life, life, life, life. I had a lot of stuff to get off my chest. To be able to do this, you have to be in the right headspace and that's where I'm at now. It feels good!
How's work going on the new solo record?
Really good, I think. I'm kind of writing and recording it as I go along. I was writing it before we started The Cherry Thing, but I've definitely taken some of the energy from The Cherry Thing through to my solo stuff. Obviously it's hard work and it does takes time, but I do feel like everything's flowing at the moment. I feel like I'm on a roll. I want to harness this feeling while it lasts and just be as prolific as I can be.
The Cherry Thing is released on 18 June

I feel like I'm at the centre of everything, choosing what I want to do and how I want to do it
Share this article