Bruce Springsteen's Letter to You, Apple TV+ review - his new album is a matter of life and death |

reviews, news & interviews
Bruce Springsteen's Letter to You, Apple TV+ review - his new album is a matter of life and death
Bruce Springsteen's Letter to You, Apple TV+ review - his new album is a matter of life and death
Documentary takes an emotional journey through the past with the E Street Band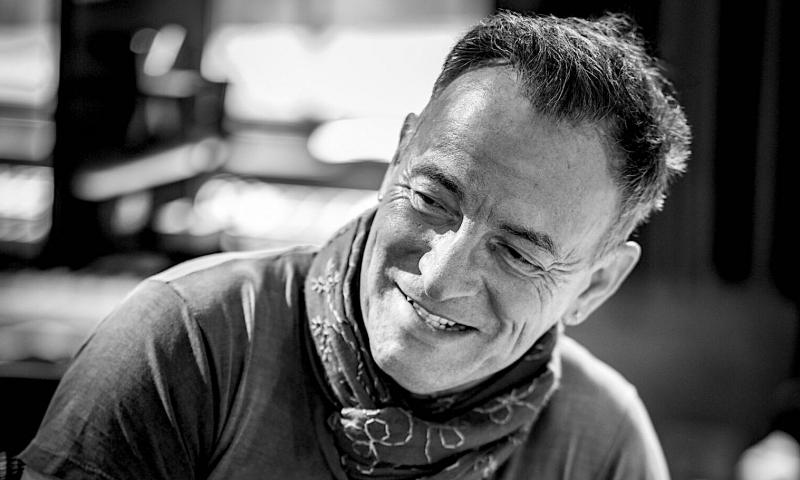 Bruce reflects on his life and times
Towards the end of this new documentary, an account of how he recorded his new album Letter to You at his home studio in New Jersey, Bruce Springsteen delivers a eulogy to the E Street Band.
"The greatest thrill in my life is standing behind that microphone with you guys behind me," he tells his gnarled old troupe, as they near the completion of the
album
(it took them four days, all of them playing live in the studio).
Then, over a snowy winter landscape shot from a slow-flying drone in the rich monochrome that's the movie's trademark, Bruce adds a kind of valediction to life itself, mulling over life and death and how growing older brings its own special perspective. We become aware that we only have a limited number of days left. Simply being alive for another day in this brilliant, confusing, fucked-up world is our reward.
Sobering thoughts indeed, and this certainly wasn't the worldview of the 20-something rock'n'roller we also meet in the course of director Thom Zimny's film as it roves across Springsteen's life. Three of the tracks on Letter to You date back half a century, to when Springsteen recorded a demo of a bunch of songs to play for Columbia Records talent spotter John Hammond. The standout is "If I Was the Priest", a picaresque Catholic Western where Jesus is the sheriff and "sweet Virgin Mary runs the Holy Grail saloon". It's the kind of cartwheelingly prolix material Springsteen wrote for his first couple of albums but never managed again. "The songs from 1972 were and remain a mystery to me," the Boss puzzles (pictured below, the band in the studio).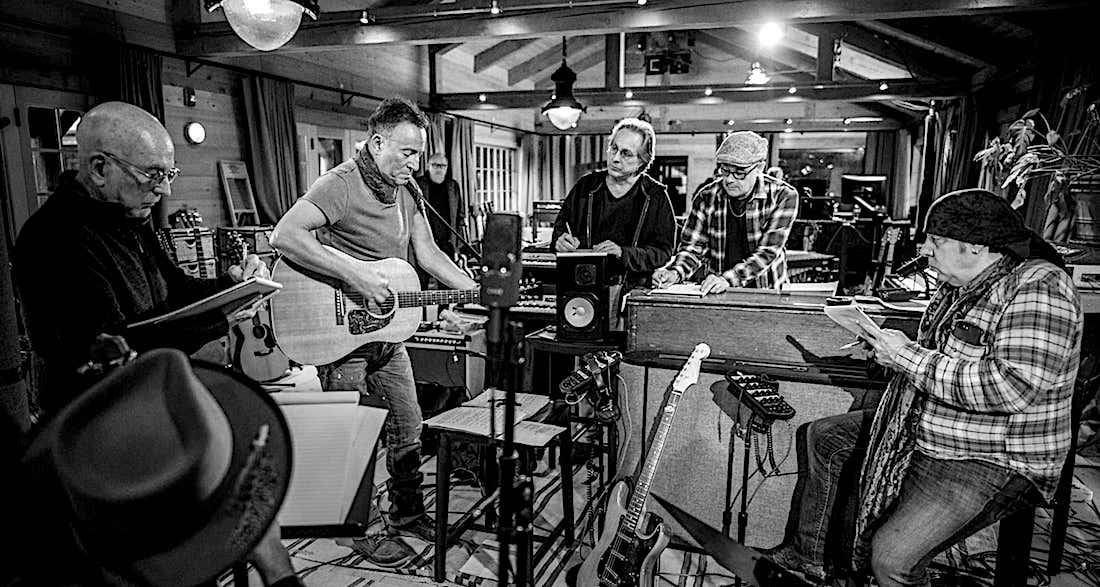 But many of the new songs present a revitalised, passionate Springsteen, ripping through clanging rockers or statuesque ballads while the sense of life-and-death stock-taking looms over the proceedings. Springsteen turned 71 last month and looks noticeably older and slower than the hyperactive rocker we grew accustomed to, and there are several moments when the band take time out to drink a toast to departed band-members Clarence Clemons and Danny Federici. When they sit in the studio and listen back to the rousing "I'll See You in My Dreams", a nod to the afterlife, the camera lingers over the emotionally wracked face of Bruce's manager Jon Landau. "Nice!" chuckles Bruce when the track ends. "It's got a kind of magnificence to it," Landau manages to mumble, before heading rapidly for the door.
It's fascinating to get such a close-up look at the E Street crew in the process of working up new material, and Springsteen reminds us that they're "a finely-tuned instrument of great flexibility and power," though there's never any doubt who's in charge. You'd get short shrift if you tried to argue with the Boss.
The film's only drawback is his tendency to become pontifical, a trend we've seen developing through his autobiography and the Springsteen on Broadway show. Some parts of his voice-over make you think you're listening to a travelling Bible salesman or an earnest sociology student, as he delivers potted lectures about how a rock band is a social unit "greater than the sum of our individual parts," or perorates about speaking in "the voice of my better angels". But happily, they kept the running time to a brisk 86 minutes, and the bulk of it is all about the music.
Many of the new songs present a revitalised, passionate Springsteen
rating
Explore topics
Share this article