American Utopia review - the new age of the concert movie |

reviews, news & interviews
American Utopia review - the new age of the concert movie
American Utopia review - the new age of the concert movie
Spike Lee directs film of David Byrne's celebrated Broadway musical
This Might Be the Place: David Byrne in American Utopia
American Utopia is not your average Spike Lee joint. He has teamed up with David Byrne of Talking Heads to make a concert movie based on Byrne's lauded Broadway show of the same name, which opened in October 2019 in a limited run. After the success, Byrne invited Lee to direct this screen version.
Two unlikely titans match, with good results. Byrne hasn't lost anything of what he always had, and Spike Lee does interesting things with the camera, but it's hard to avoid envying the real audience we see singing and dancing in the grand Hudson Theatre. I wanted to be there.
But who wouldn't? This is not the correct standard to apply to the genre. Supposedly, the presence of cameras (Lee used eleven) and how they are edited for a screen viewer can enliven and even change how a live performance is perceived. American Utopia (and Byrne's whole artistic oeuvre for that matter) plays into this concept of multimedia performance. Byrne's music was often about new technology, particularly television. His robotic dancing style parodies the types of characters (cartoon animations, newscasters, workout coaches) we might see on TV. The stage setting for this performance is a bare grey square, a box set, in which the musicians and two dancers move through in precise, goofy orchestration. It is as though Byrne has created a 3D TV screen.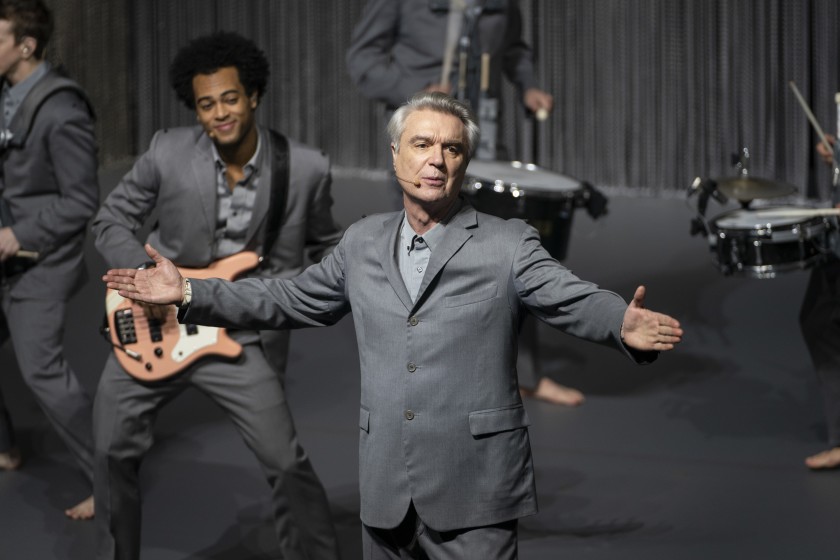 Spike Lee uses camera shots from behind the stage and the ceiling to show us what the live audience cannot see. The editing is quick without being jarring. We are carried in rhythm with the music. A poorer concert movie would be less dynamic, holding for too long on the wide angle of the stage for example. Lee's camerawork is humorous in an off-kilter David Byrne kind of way. One of the longest takes I can remember is an extreme close-up of one of the dancer's feet.
The song line-up is a kind of greatest hits, with the old songs seeming refreshed by the new band and the intelligent choreography. There's no need to change what his fans love, so Byrne doesn't try. But he does include a string of political messages for the current moment. He encourages people to vote in (what was then) the upcoming US election. He praises the immigrant contribution to his music. And he projects an image of a kneeling Colin Kaepernick. It never feels didactic, because the politics is weaved seamlessly into the show, and Byrne speaks with candour which enhances the mood of hope. Sincerity was always fluttering beneath his deadpan irony. The standouts of his recent songs, like "Everybody's Coming to My House" (performed here), are the unashamedly hopeful ones.
Hope is what American Utopia is about. You can see it in David Byrne and on the faces of the performers. You can feel it in Spike Lee's direction, yearning for the unique angle that might redefine a form. You might feel it too. The hope of one day being in a packed audience again.