Anatomy of a Fall review - gripping psychological thriller set in the French Alps |

reviews, news & interviews
Anatomy of a Fall review - gripping psychological thriller set in the French Alps
Anatomy of a Fall review - gripping psychological thriller set in the French Alps
The power of ambivalence: Sandra Hüller excels in Justine Triet's superb fourth feature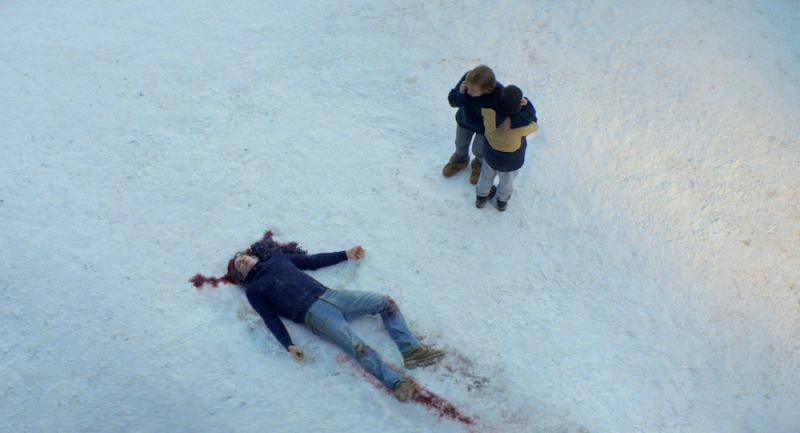 Family trauma: Samuel (Samuel Theis), Sandra (Sandra Hüller) and Daniel (Milo Machado Graner)
There's a splinter of ice in the heart of a writer, said Graham Greene, and that ice plays a part in French director Justine Triet's superb fourth feature, which won the Palme d'Or at Cannes.
Set in the French Alps, the film begins with successful novelist Sandra (an amazing Sandra Hüller, totally inhabiting the role) being interviewed at home by grad student Zoe (Camille Rutherford) for her dissertation. They're drinking wine and chatting flirtatiously.
Then music on a loop, an instrumental version of P.I.M.P. by 50 Cents, invades the chalet. It's so deafening that the interview can't continue. It's her husband Samuel, explains Sandra, looking only mildly annoyed. Normal behaviour from him, apparently. He's insulating the loft. Let's continue the interview in Grenoble soon, says Sandra; she's starved for company in this remote place. Zoe leaves.
A short while later, their visually impaired, 11-year-old son Daniel (a brilliant Milo Machado Graner) and his support dog Snoop, a beautiful pale-eyed border collie whose role is essential to the plot, come back from a walk to find Samuel (Samuel Theis) lying dead in the snow, bleeding from the head. This is the first time we see him. Did he jump from the third-floor balcony or was he pushed? And was his head injury caused by a blow from a third party – ie Sandra, who says she was taking a nap at the time – or by hitting it on the shed below as he fell?
Partly a story of two writers and the toxic creative imbalance within their marriage, it raises questions about the overlap between truth and fiction and is also a very stylish whodunnit, bearing some resemblance in plot to the non-fiction Netflix mini-series The Staircase, where the blood-splatter expert's evidence was crucial. Anatomy of a Fall, although even more open-ended than that show, grips you every second of the way and leaves you endlessly mulling over the events.
As prime suspect, Sandra employs a lawyer, Vincent (Swann Arlaud; pictured above with Sandra Hüller as Sandra), who's also an old friend and perhaps an old lover. A frisson remains and you wonder if she's manipulating him. We're never sure if he believes in her innocence – or indeed if we do. "I didn't kill him," she says. "That's not the point," he replies. Suicide is their best defence, he adds. Later he tells her she looks like a dog, a basset. "I can trust someone if I can put an animal's head on them," she says. Let's see how that stands up as a defence. Snoop might buy it.
Sandra writes books that reflect her own life (a theme explored in Triet's last film, Sybil, which also featured Hüller). That splinter of ice is very much part of her essence. The family has only been in France a couple of years; before that they were in London, where Sandra was happy, much happier than she was in her native Germany. "I left my shithole in Germany and landed up in his shithole," she says bitterly. She compromised too when it came to language: they spoke English as a neutral ground, together and with Daniel.
But London is where Daniel was hit by a motorbike, an accident that left him almost blind. Samuel blamed himself: there was an after-school mix-up and he didn't collect him. In the interestingly dishevelled, informal courtroom scenes – toppling piles of papers, loads of lawyers and functionaries squeezed together on the bench - where the prosecution is led by a nasty piece of work (Antoine Reinartz), we hear that everything changed after the accident.
Crippled with shame and self-doubt – and pride that made his head explode before he could come up with an idea, according to Sandra – Samuel couldn't finish his novel, was teaching and also home-schooling Daniel. His choice, says Sandra. She owes him nothing. She, on the other hand, is always writing. She can work – and sleep – under any circumstances. Procrastination was his middle name. She is the opposite. Always pragmatic and open, she had affairs, one with a woman. Resentment has built up, to put it mildly.
A recording of a vicious argument between Samuel and Sandra the day before he died comes to light. The fight, seen in flashback, is a marvellous encapsulation of their lives, made even more multi-layered and ambiguous by the fact that Samuel may have been recording their conversations for a "literary project". He's been sending snippets to an unimpressed publisher friend. We hear that Sandra stole one of Samuel's ideas, connected to their son's accident, and turned it into her own book.
But no, she says – it wasn't plunder, they agreed upon it. It was merely an outline. She turned it into a novel. You've made your own trap, she tells him. "You're a monster," he replies. "I can't take any more of your fucking ice." The sneering prosecutor and Samuel's self-important psychiatrist are, of course, on Samuel's side.
In court, ambivalence doesn't play so well. The law wants to pigeonhole their relationship, to blame her success and hold her responsible for his failures. But a couple is a kind of chaos, she says, and in spite of Samuel's rage and Sandra's lack of sympathy, we want to believe her when she tells Daniel that she and his father were soul-mates. "How do you prove that?" she asks her resilient, thoughtful son. Before the court scenes, we see them playing the piano together, a dark, melancholy tune. At the end, Daniel provides a riveting testimony. But it's Snoop who has the final word.