Another Year |

reviews, news & interviews
Another Year
Another Year
Mike Leigh's latest gives us the four seasons in varyingly autumnal shades
Wednesday, 03 November 2010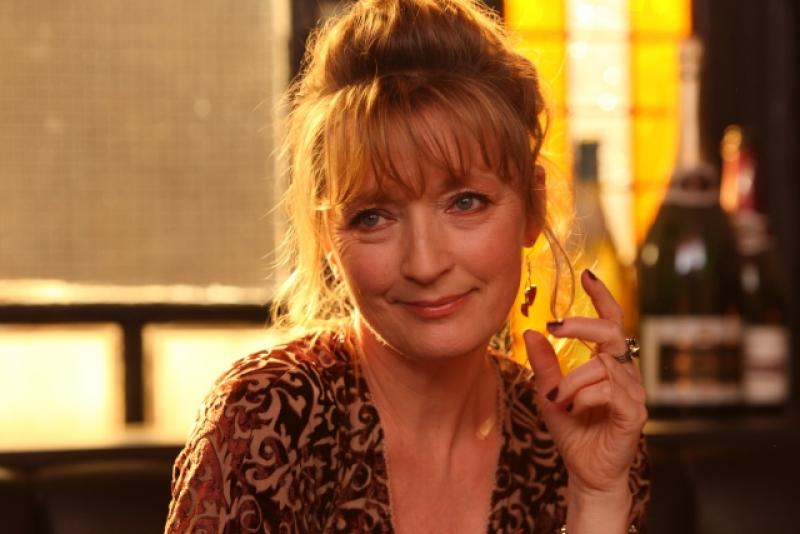 Oscar-bound? Lesley Manville is the latest Leigh girl to make a splash
Mike Leigh's Another Year traverses the four seasons beginning with spring, and yet the mood is autumnal throughout. People don't sunbathe or picnic or build bonfires or for the most part respond in any particular way to the passage of time.
Instead, they nurse cups of tea, share (if they're lucky) in a cuddle, and bear out in varying ways the truth of a remark that gets voiced well into the film. "Life's not always kind, is it?" asks Gerri (Ruth Sheen), a gently spoken medical counsellor who knows that no reply is needed; the answer is on full, melancholic view all around her.
At first, you could be forgiven for thinking of Another Year as a direct rebuttal to its immediate predecessor in the Leigh canon: Happy-Go-Lucky (2008), a movie whose eternally chirpy, selfless heroine (played by the wonderful Sally Hawkins) exists in stark contrast to the clenched, tense close-up of Imelda Staunton with which this film starts. The camera zooms in on Staunton as if wanting to examine every anxious pore of someone whose apparent mantra - "Nothing changes" - would suggest that no human equivalent to the changing of the seasons is likely for her.
And then, in a daring move that may confound some, Leigh abandons this character never to bring her in again, the baton of distress passed to the fast-talking, heavy-drinking Mary (Lesley Manville), in the same way that Manville with this movie inherits the mantle of Acclaimed Leigh Actress that has gone previously to Hawkins, Staunton (Vera Drake) and Brenda Blethyn (Secrets and Lies). As was the case with those other women, Manville may have to start making room on her mantle for an awards trophy or two.
The actress, a London theatre stalwart who was terrific earlier this year in the Old Vic revival of Six Degrees of Separation, gets her breakout screen opportunity with this role and runs with it, in the process eclipsing arguably the film's most thoughtful, quietly devastating performance - that of Jim Broadbent playing the geologist, Tom, husband to Gerri, who is, in turn, Mary's abiding friend.
And how you ultimately feel about Another Year may in the end depend less on your response to Manville's self-evident bravura, at once fully rounded and funny and unsettling, but to the persistence of a character who keeps being spoken of as a great mate and yet would send many (very kind) people of my acquaintance running a mile in search of respite.
Mary, we soon discover, is the sort who shows up for lunch three hours late, chattering 10 to the dozen, and not always accurately, about places her hosts have been (or not, as the case may be). And woe betide Tom and Gerri's grown son, Joe (Oliver Maltman), for daring to bring home a serious girlfriend in the form of the chipper, eager-to-please Katie (Karina Fernandez). Mary has known Joe since he was 10 but can't keep from wanting a bit of the now 30-year-old lad for her (far older) self. That she doesn't succeed is giving nothing away beyond adding to the catalogue of disappointments that is this film's pervasive theme. Not for nothing has Leigh had a parallel career in the theatre: the various seasons function in cinematic terms as the four acts of a celluloid play, Chekhov's rueful spirit rarely far off.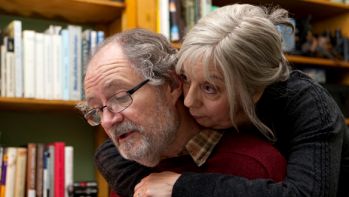 Sharing the landscape of loss and/or defeat are Tom's childhood pal, Ken (Peter Wight), who arrives in London for a visit from the North of England sporting a T-shirt that says "Less thinking, more drinking", and Ronnie (David Bradley, looking ashen), Tom's newly widowed older brother who gets absorbed into family life - Mary in her infinite variety included - down South.
The movie's de facto rocks of Gibraltar are its Guardian-reading central couple, Tom and Gerri, and Broadbent and Sheen (pictured above) play together easefully like the Leigh veterans that they are. One could argue that Gerri is somewhat too saintly and that many of us would have snapped in frustration at Mary's self-destructive ways long before the seemingly infinitely patient Gerri ever registers a response. Or maybe it's that life's maelstrom is there to be glimpsed in the flashes of concern, alarm even, that pass across Broadbent's infinitely expressive face, rather like clouds scudding through an otherwise serene landscape.
The movie ends without recourse to melodrama or manufactured incident, preferring merely to move on from these characters in the same unfussy way that it allowed us access to them two hours earlier. Will Mary ever know the sort of contentment that Happy-Go-Lucky at least suggests is possible? There's a rhetorical question Another Year never directly asks, but if you need an answer, just consider the choice of season with which the film ends.
Watch the trailer for Another Year
Manville eclipses arguably the film's most thoughtful, quietly devastating performance - that of Jim Broadbent
rating
Explore topics
Share this article