Antidote review - two films in one that lose sight of their message |

reviews, news & interviews
Antidote review - two films in one that lose sight of their message
Antidote review - two films in one that lose sight of their message
Taking Ayahuasca becomes a metaphor for saving the planet in Marc Silver's documentary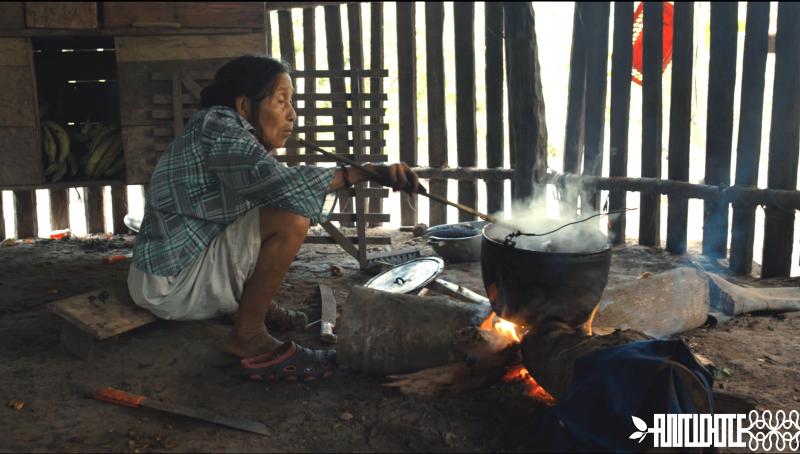 Healer Mukusawa Ushigua boils Ayahuasca stems in 'Antidote'
"I believe Ayahuasca is something very deep," says spiritual leader José López Sánchez in the documentary Antidote. "It's not like selling palm oil or rubber. How many gringos have been healed with Ayahuasca? How many have discovered things about themselves and made positive changes? We should create an alliance with the Westerners; it would be a new path."
Sánchez works at the Temple of the Way of Light, a healing centre for Western tourists deep in the Peruvian rainforest. Visitors come in increasing numbers to drink Ayahuasca mixed with chacruna, a hallucinogenic cocktail that induces visions, in the hope of healing the trauma that has blighted their lives.
A boat load arrives along with facilitators Tanya Kammonen – who explains what will happen over the next few days – and Richard Condon, who seems more involved in his own healing process than in aiding others.
Ayahuasca is a vine growing in the forest and we see Sánchez chopping it down and boiling the stems to make a brown syrup that, judging by people's faces as they swallow it, tastes vile. Traditionally, drinking it was a sacred ritual led by shamen and accompanied by chanting and the smoking of special herbs, but the practice was condemned as witchcraft by Catholic priests. Ironically, it's recent revival is being spurred on by interest from the very people who once tried to stamp it out. (Pictured below: José López Sánchez participates in an Ayahuasca ritual)
The anxiety of the visitors is palpable, but Tanya allays their fears by explaining the process in terms they can relate to. "You're going to a hospital and working with doctors who can do the surgery required on your energetic systems and your spiritual systems, and with your body and your emotions. These people have trained for a very, very long time," she adds reassuringly.
Having witnessed the ritual, we listen to various participants describe their experiences. A woman grappling with anorexia for 15 years watches as her body simply ejects the problem. Now she has a new concern, though – how will she create a life no longer dominated by an eating disorder? "The real challenge of Ayahuasca," Richard replies, "is not the thing itself, but how you integrate that experience into your everyday life."
At this point the film's weaknesses become apparent. Marc Silver's fly-on-the-wall shooting style is not suited to rigorous enquiry. As a one-man band – he was producer, director, and cameraman – he could have done with another pair of eyes, someone to ask exactly what he was trying to say. Because instead of exploring how effective Ayahuasca is in helping people to overcome trauma, he changes tack. Use of the drug now becomes a metaphor for a much bigger issue – our need to save the planet by learning respect for nature from indigenous peoples.
Manari Ushigua flies to New York to take part in a climate change protest. As he looks down over the rainforest, he remarks "it's up to us spiritual leaders to protect the earth's resources. When we drink Ayahuasca, the spirits see us and they give us the patience and strength to continue defending this place. The West sees the forest only as material to extract, while we see it as a collective consciousness. The spirits have told us we have only one chance left to save ourselves. Our destruction is in our own hands."
No matter how much you sympathise with the message, Antidote remains unconvincing. It feels like two films in one, neither of which follows through. And the change of direction is confusing; it muddies the waters to the point where, sadly, no one's mind will be changed.
Silver's fly-on-the-wall shooting style is not suited to rigorous enquiry
rating
Explore topics
Share this article