Aurora |

reviews, news & interviews
Aurora
Aurora
Dawn breaks oh-so-bleakly in Cristi Puiu's Bucharest. There will be blood
Wednesday, 07 November 2012
Man of enigma? Romanian director Cristi Puiu plays main character Viorel in his 'Aurora'
Three hours is a testing length for any film. Directors may stretch to that because they're telling a huge story with plenty of plots and characters, but in Aurora, Romania's Cristi Puiu pares down plot, such as it is, to an absolute minimum. Elements of semi-documentary set in, as we watch his hero Viorel (played by Puiu himself in his first screen role) move disaffectedly through contemporary Bucharest.
He takes the first half to bring himself to action, the alienated coldness of which, when it comes, leaves us stuck in his troubled soul – and, by extension, the soul of his city.
The only hint at plot comes if we follow the "Chekhov gun" motif: if there's a weapon at the beginning, it will be fired before the end. It duly is, though why and at whom is only revealed in Viorel's closing-scene confession to bemused detectives. The viewer struggles no less to appreciate what's actually happening in the process; that most of it becomes clearer on a second watch doesn't do much if viewers are unlikely to give it that extra attention.
'The Death of Mr Lazarescu' was a visceral indictment of the spiritually frozen state of post-Communist Romania
Knowing where Puiu is coming from as a director is more helpful, and it's memories of his 2005 masterpiece The Death of Mr Lazarescu that will draw viewers to Aurora. The story of a dying man being carted around Bucharest by ambulance all night in an attempt to find a hospital prepared to treat him, Mr Lazarescu was a visceral indictment of the spiritually frozen state of post-Communist Romania, one that compelled emotional engagement. In the wider sense, Puiu's Romanian cinema contemporaries over the last decade, dubbed the country's "New Wave", have treated loosely similar subjects (frequently at length, too): Cristian Mungiu (4 Months, 3 weeks and 2 Days), Corneliu Porumboiu (12:08 East of Bucharest), and Radu Muntean (Tuesday, After Christmas) to name only a few. They've scored much more highly at festivals, with plenty of top gongs from Cannes, than in distribution at home.
Puiu has given an extra slant to this by declaring he's filming a series, Six Stories from the Outskirts of Bucharest - a loose tribute to Eric Rohmer's Six Moral Tales - of which Mr Lazarescu ("the story with the ambulance") was the first. Aurora, "the story of sharing", comes next, though it's precisely the inability to share that drives it towards its bleak conclusion. Details of everyday life are telling, if intentionally banal, and together they add up – if we follow Puiu's thesis - to a portrayal of a country in what he has called a "state of permanent crisis" (pictured below: the underground carpark as metaphor for life?). It's love that seems most lacking, not because it's not there - the women characters, most notably Pusa (Valeria Seciu), Viorel's loving, widowed mother, and the more eccentric female cameos who add some brightness to the ongoing gloom, prove that – but because the hero has gone sociopathically beyond it.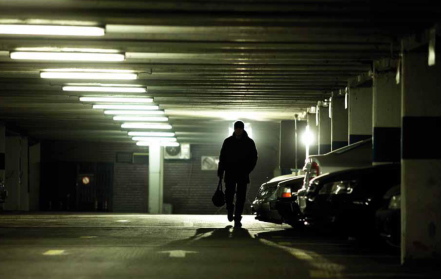 Aurora's visual atmosphere is impeccably down-beat, creating frames in which human beings seem uneasily trapped (no sign that it was shot by four cinematographers) – lengthy night scenes while Viorel cruises around in his car or lurks by a railway line, the dinosaur metals factory where he works (in itself a metaphor for human insignificance), the apartment that he's either redecorating or moving out of. In documentary style, there's no score but only heard sound, bar the sprightly solo piano that plays over opening and closing titles, surely an ironic comment on what comes between.
One of the detectives asks Viorel the key question, "Why?" Aurora, with its non-judgmental story of the taking of life, seems to have moved into Crime and Punishment territory, its hero a modern-day Raskolnikov, or more accurately one of Dostoevsky's generic "insulted and injured". There's a lot of insult and injury around in Puiu's Bucharest. Some would argue there's much else as well, and many that any such story could be better told less elliptically than the director does here.
Aurora opens in limited release on 9 November
Watch the Aurora official trailer