The Ballad of Billy McCrae review - beware the quarryman's beautiful daughter |

reviews, news & interviews
The Ballad of Billy McCrae review - beware the quarryman's beautiful daughter
The Ballad of Billy McCrae review - beware the quarryman's beautiful daughter
Welsh neo-noir packs a nasty punch but falls short
Friday, 24 September 2021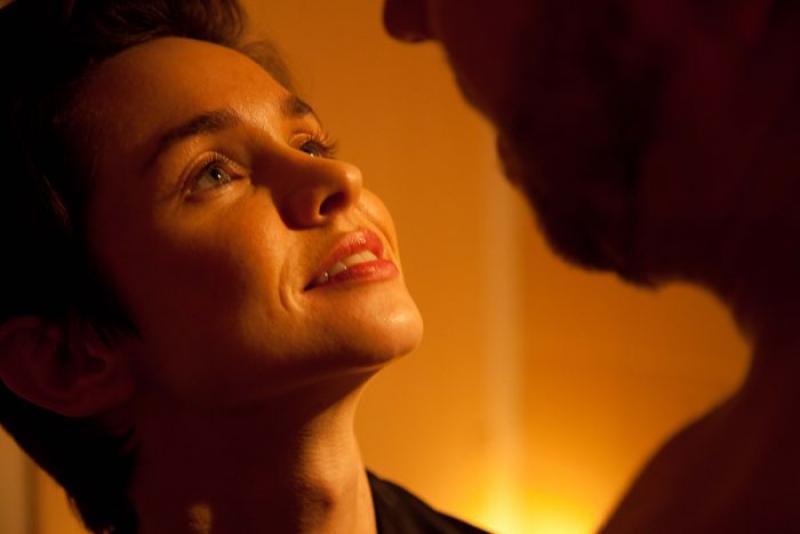 Casting a spell: Siânad Gregory and Ian Virgo in 'The Ballad of Billy McCrae'
An entertaining but undernourished industrial-domestic neo-noir set in South Wales,The Ballad of Billy McCrae depicts the power struggle between bent quarrying company boss Billy (David Hayman) and gullible failed businessman Chris Blythe (Ian Virgo), the story's fall-guy protagonist.
Directed by the enterprising Welsh filmmaker Chris Crow and dynamically scored by Mark Rutherford, the movie feels compressed – despite cinematographer Alex Metcalfe's resplendent images of the hills and vales – and rushed. Getting an ambitious film made in Wales is admirable and Crow must have worked with a low budget on a tight schedule, but Philip Palmer's script was either weak to begin with or compromises were forced on it in production.
Chris has returned from Canada where the collapse of his haulage business cost him his fortune and cast suspicion on him for murder. His old dad was formerly Billy's accountant so it's easy for him to join the firm as a labourer; Virgo, it has to be said, is more convincing as an emotionally dim hunk than a onetime hotshot in the cut-throat world of North American trucking.
Billy gloats at Chris's diminished status but soon has him crunching figures in the quarry office. They bond, sort of, after beating up a crooked supplier and his heavies in a pub. There's an unmistakable gangland whiff about Billy. He's so charged with violence and so hickory-hard, like a cudgel come to life, you want to see him join forces with Sexy Beast's Don Logan (Ben Kingsley). Billy's smirks are as complacent and malign as those of Hayman's Malcolm McLaren in Sid and Nancy; the veteran Scottish actor is a key reason for seeing The Ballad of Billy McCrae. (Pictured below: David Hayman, right, and Ian Virgo.)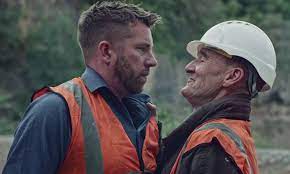 Chris and Billy's relationship sours after Billy reneges on a promise to go 50-50 with Chris on a potentially lucrative slag heap reclamation deal he's proposed.
Their battleground isn't business, however, but the curdled soul of Billy's sexy daughter, Elen. Though Siânad Gregory's portrayal of her wavers at times – a fault of situations Elen's placed in and lines she has to say – she's a terrific femme fatale. Just as Gloria Grahame's mercurial Human Desire character seduces a railroad engineer to rescue her from her brutally possessive husband, Elen needs a tough guy to extricate her from her dad's control. Chris is that dupe, though her love for him may be sincere.
While there's no hint of incestuous desire in Elen and Billy's relationship, small details convey its unhealthiness. Billy treats her as property and walks into the house he's bought her – she's a failed singer and directionless small-town princess – without warning. On one occasion, he leans over her shoulder when she's at the stove and plucks a sausage from the frying pan. The snarl she gives him seems like nothing at the time, but it's memorable enough to indicate, in light of later evidence, that she's unstable – a caged vixen bursting with rancour.
She ensnares Chris on their first meeting. Ordered by Billy to pave Elen's patio with the help of a fellow navvy (Gerald Tyler), he's spellbound by the way she saunters around unsmilingly inspecting their work, taking in his sweat-streaked torso all the while but avoiding eye contact. Chris glances at her as she walks away, prompting his mate to urge him not to mess with their ferocious boss's daughter, but he's a lamb to the slaughter. When he returns to the patio after the shift, Elen seizes him by the sides of his throat and viciously kisses him.
They become a couple, but Elen's secrets and lies emerge – dismaying for Chris, satisfying for the (straight male) viewer. At the end, she grabs him again by the throat as blood trickles down his face, threatening to stain her white dress. Such rhymes and resonances are few and far between. (Pictured below: Ian Virgo and Siânad Gregory.)
Chris's backstory and arc are weak and too many scenes are awkwardly constructed, as when Chris and Elen run into her ex-husband (Tim Duthrane) on a day out, and when the latter implausibly shows up to trigger the climax.
The deeper mystery is why the film has no discernible social conscience beyond the references to the exploitative capitalization of a former coalmining valley. If Elen's craving for independence from Billy allegorizes the yearning of Welsh nationalists, the idea is buried too deep – and why bury it in a half-mad Medusa? The Ballad of Billy McCrae should have greater relevance, but it does at least pass muster as a tale of corrupt power and psychologically twisted motives.
Chris and Billy's battleground isn't business, but the curdled soul of Billy's sexy daughter
rating
Explore topics
Share this article