Berg review - a glorious visual meditation on the mountains of Slovenia |

reviews, news & interviews
Berg review - a glorious visual meditation on the mountains of Slovenia
Berg review - a glorious visual meditation on the mountains of Slovenia
Awesome beauty underscored by ever-present danger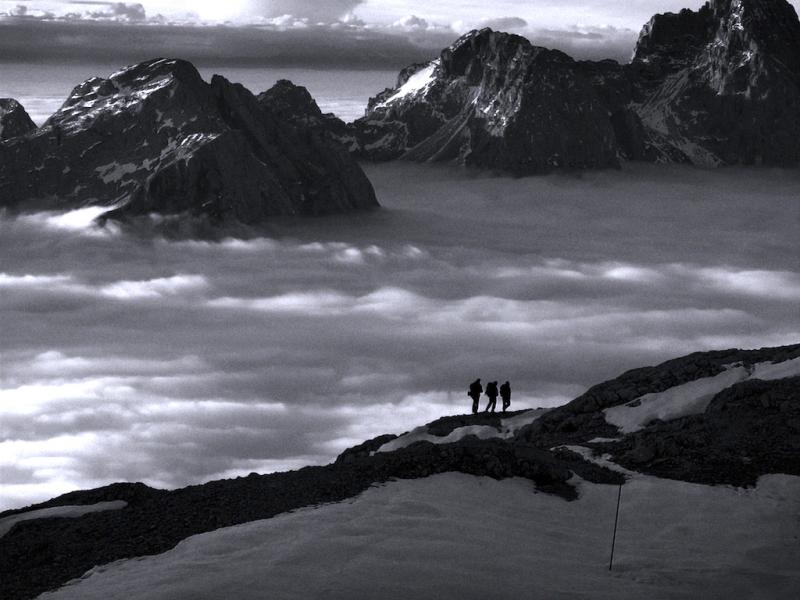 "The three of us stand here and look into the depth": Triglav National Park, Slovenia
It's been a long time since I went walking in the mountains – too long. And Joke Olthaar's film Berg (mountain) has intensified my longing for that very special experience.
Three walkers follow the stony paths of the Alpine ranges in Triglav National Park, Slovenia and, in voice-over, we hear their thoughts: "I felt a deep connection with myself and the universe. I felt infinite peace… The three of us stand here and look into the depth from the edge of the abyss. We love the same place." So far so serene, but then the words "only much later I heard what had happened" trigger fearful expectations.
Berg is not about accidents or disasters, though. Nor is it about the conquest of the wild or survival in extremis. In fact, it's scarcely about people at all. We are peripheral to the main story, which is the fearsome beauty and drama of the mountains.
Occasionally the walkers appear as tiny figures cautiously picking their way across rocky terrain. But geological time prevails here and, in a landscape shaped over millennia, they seem puny, fragile and, above all, transient.
Berg is an elegiac visual poem. Filmed in black and white mainly with a fixed camera, André Schreuders's shots of the Alpine ranges are as breathtaking as Ansel Adams's photographs of Yosemite National Park. Schreuders focuses on the cliffs, gullies, striations, and fissures, the limestone pavements, boulders and scree – all of which remain immoveable. Even the clouds and mist hang heavy. Only the flutter of a leaf, the flight of a bird, or an ibex chewing the cud indicates that this is film and not photography.
Then weather happens. Rising over a ridge, the sun fills the lens with a glorious burst of sunlight. A downpour drenches the terrain, and as rainwater trickles over every rock and drips off every leaf, the world turns liquid. A stream rushes downhill with an urgency that seems absurdly out of keeping in this otherwise static terrain.
Then just as you start to get fidgety and, like the Small Faces, feel "It's all too beautiful", something else happens. The film flips into colour and rescuers leap into action. It's a chilling reminder that this environment is dangerous; people die here. These moments are fleeting, though; we quickly return to monochrome and to gazing at the mountains, which are awesome in their indifference to our wellbeing. Above all else, they teach humility.
Berg is in cinemas from 29th April