Berlinale 2014: 20,000 Days on Earth |

reviews, news & interviews
Berlinale 2014: 20,000 Days on Earth
Berlinale 2014: 20,000 Days on Earth
Engaging documentary about a once wild post-punk rocker, now mature and clean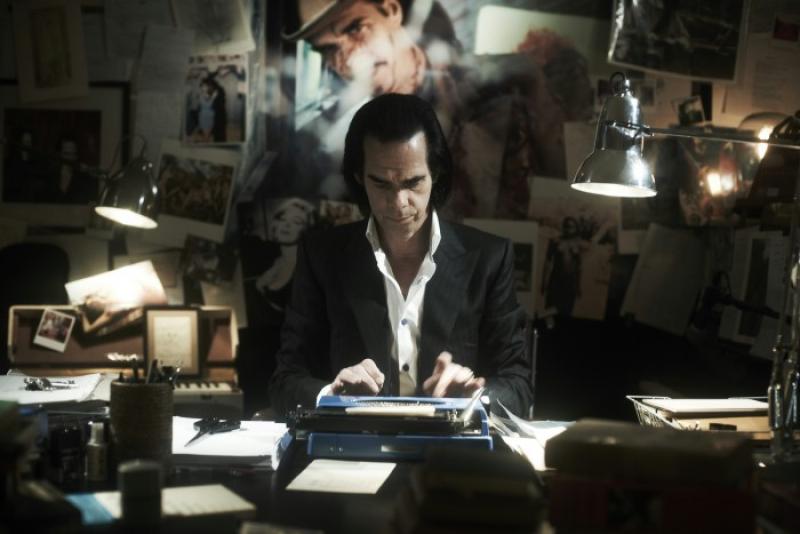 Singular Australian: Nick Cave, enjoying himself, his past and his present fine health
He cuts a dash, that man Cave. Very tall, gangly, with his idiosyncratic snub nose and upside-down-U-shaped hair, the Australian is a one-off. His growly music isn't always easy to like. In his fury days with the Birthday Party and the Bad Seeds, he was a post-punk rock poet. He has, of course, oceans of fans.
It goes without saying that they will be a-quiver at
20,000 Days on Earth
(20,000 was the number of mortal days Cave had notched up three years ago when this documentary started: he's now 57).
You'd probably have to be pretty hard core to relish much of the twiddling and impro of the new musical footage of Nick – with a singing voice as unvarying as Bruce Springsteen's – and his now ageing Bad Seeds playing in what looks like a front room in France; but music is not, interestingly, what this film is really about. With Cave's assent and even, as the credits proclaim, his writing participation, 20,000 Days is about an intelligent, promiscuously articulate star accepting his age, his decisions, good and bad, and his past.
This is an absorbing portrait of a very singular musician
Cave was famously wrecked for most of the Eighties, making his home in West Berlin, which is why the screening of 20,000 Days at the Berlinale was apt. We see him, today, waking up at 7am, scrutinising his clean, lean self in a bathroom mirror (his wife still asleep in bed). He submits to gentle inquisition by psychoanalyst Darian Leader, an elegant and witty way of conveying the early Cave that avoids conventional speech to camera. He has eels for lunch with Bad Seed Warren Ellis and they recall some monstrous concert behaviour by Nina Simone.
In one of the strangest sequences, Cave drives around Brighton (where he lives) with actor Ray Winstone as a passenger talking about being Henry VIII. Later, he has that Kylie Minogue in the back seat (pictured right: they duetted in Cave's "Where the Wild Roses Grow" in 1996). The film ends with Cave and band performing in Sydney Opera House, footage cut together with clips of much older gigs some of which look quite frightening.
This is an absorbing portrait of a very singular musician (he's also a novelist and film-maker, of which we hear nothing). You will have to be a complete fan to love the film, and a true believer to relish scenes about Cave's rather extraordinary archive, or monument to himself. But he's never been one to mute his own trumpet.