Big Hero 6 |

reviews, news & interviews
Big Hero 6
Big Hero 6
Charming Disney animation gives way to superhero spectacle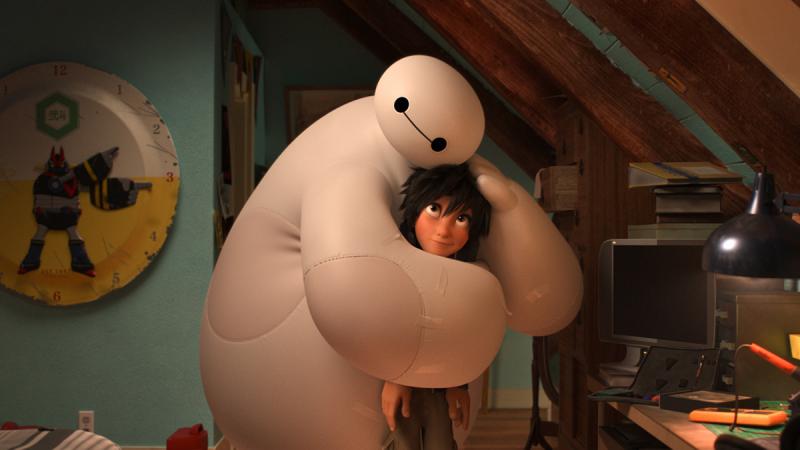 Smothering him with love: Hiro gets a suffocating squeeze from his new buddy Baymax
Following the critical and commercial hits Wreck-It Ralph and Frozen, Disney's latest is a film which will win you over with its charming WALL-E-esque antics, oddball coupling and simple slapstick before it – somewhat annoyingly – reveals itself as a kids' first comic book movie, entering the superhero movie stratosphere by transforming into an origin story for the titular crime-fighting team.
Based on a little known Marvel comic series and directed by Don Hall and Chris Williams, Big Hero 6 is set in the fictional mash-up city San Fransokyo – a pleasing blend of ornate Eastern-inspired rooftops and vertiginous streets. It follows Hiro (Ryan Potter), a 14-year-old robotics genius being raised by his scatty Aunt Cass (Maya Rudolph), who's hell-bent on self-destruction after the loss of his parents.
His older brother Tadashi (Daniel Henney) diverts Hiro's attention from underground 'bot-battling dens, encouraging him to apply for a place at university. However, explosive events intervene, pointing Hiro towards a new purpose; he teams up with Tadashi's healthcare robot Baymax – a font of sage advice and cuddly reassurance – and his brother's friends to investigate a heinous crime and battle a mysterious, genuinely menacing adversary (pictured below right).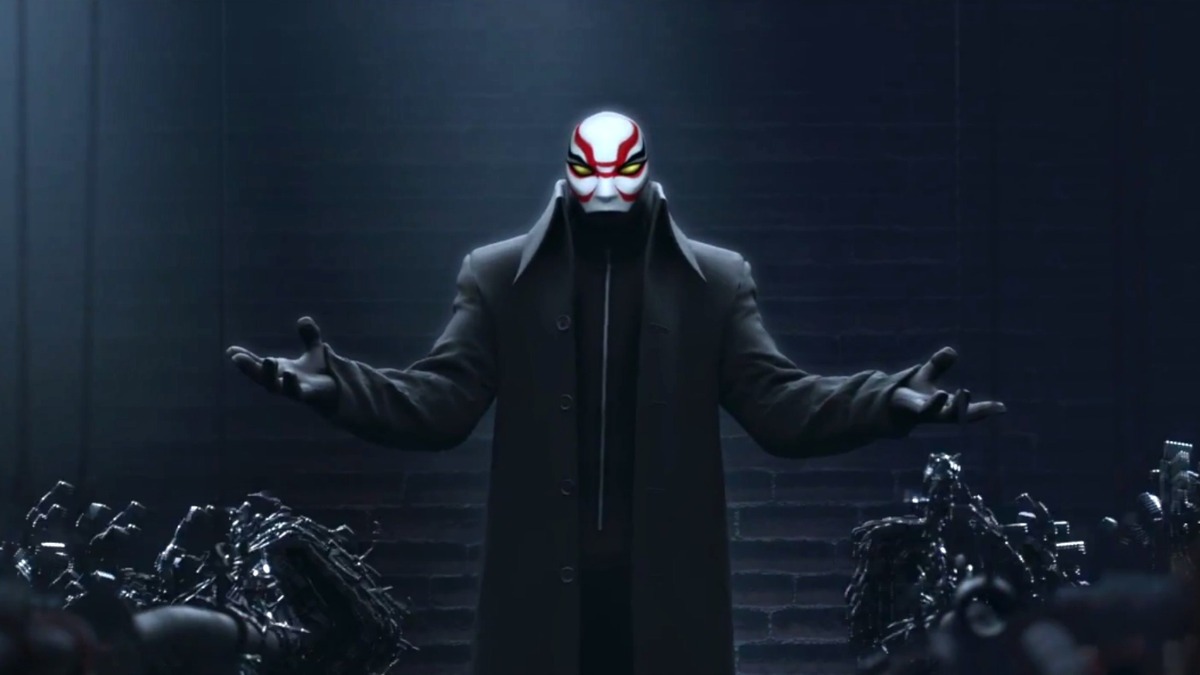 The animation impresses throughout and, while the 3D occasionally seems pointless, Big Hero 6 suffers far less from the discolouration that taints so many stereoscopic films. It nicely balances this gainfully employed technology with a message about technological advancements falling into the wrong hands, and is spot on in its presentation of a not-too-distant future where East fuses with West and where the young are the innovators.
In its monotone, comically literal and highly helpful automaton Baymax (voiced by 30 Rock's Scott Adsit) the film owes the recent Robot & Frank a huge debt – especially when Baymax is called upon to transgress in the name of his client's health – and in its action-adventure/robot-buddy storyline it nods to Terminator 2. Unlike those, this is a family film and so the plus-sized 'bot is more obviously lovable and irresistibly huggable.
Baymax's simple, delightful character design means he's up there with the great Disney creations (he's expressionless but could hardly be more physically personable), and that he is defined by his concern for Hiro's wellbeing and his kindness means he questions what it is to be human, and fulfils the studio's obligation to provide a moral compass.
Big Hero 6's manageable runtime and need to unpack a sizable amount of story helps it avoid the set-piece fatigue of its Marvel counterparts. Although, as the visuals become increasingly bombastic, there's a creeping sense of familiarity with the preposterous scale of the action making for a sometimes crude contrast to what has come before. This undermines the gentle, effective dynamic, while the soundtrack is sadly just as crass.
Although undeniably fun, comic book movies have become not just a staple of the release calendar but a competition-ravaging behemoth. Admittedly, it's the threat of losing Baymax's companionship which provides the real tension here, and Big Hero 6 is novel in isolation – but to see a replication in animation of what's happened in live action (complete with Stan Lee cameo) is faintly troubling, especially when the film spurns an initially engaging and thoughtful formula to embrace all-out action. That Big Hero 6 works so much better on a limited scale isn't too surprising; it might be true of its perfectly portly sidekick, but bigger doesn't always mean better.
Overleaf: watch the trailer for Big Hero 6
Baymax's simple, delightful character design means he's up there with the great Disney creations
rating
Explore topics
Share this article