Blu-ray: The Chalk Garden |

reviews, news & interviews
Blu-ray: The Chalk Garden
Blu-ray: The Chalk Garden
Who wouldn't want Deborah Kerr as a nurturing governess?
Tennis, anyone?: Hayley Mills and Deborah Kerr in 'The Chalk Garden'
Enid Bagnold's 1955 English play The Chalk Garden, a Broadway hit before it opened in the West End, is usually described as a comedy because of Bagnold's acerbic dialogue and droll appreciation of intricate employer-servant dynamics.
If most of the wit was polished out of the 1964 version, directed by Ronald Neame and scored by Malcolm Arnold in a high-blown romantic style, that only served to emphasize the psychological complexity of the relationships between its three strong women characters.
No one could accuse Neame's film of modishness. An Anglo-American melodrama produced by Ross Hunter, it unfolds in an upper-middle-class England – specifically Beachy Head in East Sussex – hermetically sealed from contemporary society. The well-appointed house in which the elderly Mrs. St. Maugham (Edith Evans) lives with her compliant butler Maitland (John Milla) and her volatile16-year-old granddaughter Laurel (Hayley Mills) has a fine library but no TV. Laurel's screams are occasioned not by the Beatles but by her delight in setting light to the daily bonfire the indulgent Mrs. St. Maugham thinks will assuage the girl's pyromaniacal tendencies.
If Bagnold was striving for a timeless fairytale quality, it works. The Chalk Garden has a sequestered princess in Laurel, an evil stepmother in her grandmother, and a fairy godmother in Laurel's new governess Miss Madrigal (Deborah Kerr). Hired by Mrs. St. Maugham to monitor the calculatingly obnoxious near-delinquent – who has exposed the murky pasts of previous governesses and had them sacked – Miss Madrigal deduces immediately that Laurel's acting out is a craving for attention.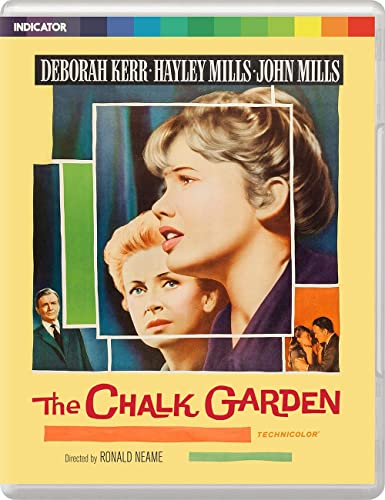 She realizes, too, that the disgust Laurel glibly expresses for her absentee mother (Elizabeth Sellars) having a sex life with her second husband smacks of the Victorian old lady's pernicious influence, which cruelly intensifies the girl's Elektra Complex.
Having survived destructive and self-destructive events, which impel her to rescue Laurel, Miss Madrigal makes a vulnerable target for Laurel's prying, but it's her investigation of the teenager's entrapment that triggers emotional shifts as it drives the heartfelt story. Her nurturing of Laurel accords with her nurturing of the chalk garden in which Mrs. St. Maugham, a failure in her relationships, has been unable to grow anything.
Though Maitland is emasculated by Mrs. St. Maugham's ownership of him, explained by his own tragic history, he lends moral support to Miss Madrigal, since it's clear he'll be unable to give her anything else. Kerr portrayed this enigma with formidable restraint, so she is less readable than her governess in The Innocents (1961). Why Miss Madrigal did what she did in her past, whether she is "a maid" (Laurel wants to know) – these unanswered questions happily ratchet up the ambiguity.
In an interview with Neame (1911-2010) that comprises one of this nicely packaged Blu-ray's audio tracks, the British film industry stalwart talks about his early experience working as an assistant cameraman on Alfred Hitchcock's Blackmail (1929), the country's first talkie. John Michael Haynes meanwhile adapted Bagnold's play having written four of Hitchcock's recent films, including Rear Window (1954). Unsurprisingly, The Chalk Garden has a layer of Hitchcockian suspense that's thickened by the proximity of the vertiginous Seven Sisters Cliffs, over which an angry, impulsive teenager – one played at full throttle by Mills, at the peak of her powers at 17 – might be inclined to push someone or jump from. The sunny coastline was rendered threatening by cinematographer Arthur Ibbetson, who had filmed her in Whistle Down the Wind (1961) and abetted Neame's discomfiting vision of Bagnold's genteel female enclave with furtive tracking shots and insinuating low-angle shots.
The disc's standout supplement is a superb scene-by-scene analysis of Arnold's score by author and lecturer David Huckvale, who demonstrates elements of it on piano and describes the prolific composer's alcohol-blighted career. Josephine Botting assesses Bagnold's life and work, also contributing an audio commentary with fellow film historian Lucy Bolton. The film's octogenarian assistant accountant Maurice Landsberger (who last worked on 2003's Girl With a Pearl Earring) genially reminisces about filming in Eastbourne, reconnecting with Kerr (whom he knew from 1960's The Grass Is Greener), people's fear of producer Hunter, and working alongside his wife, accounts secretary Maureen Sherman. And there's 70 seconds of John Mills's 8mm color home movie from a beach location that features Kerr but naturally stars daughter Hayley.