Blu-ray: Fuller at Fox |

reviews, news & interviews
Blu-ray: Fuller at Fox
Blu-ray: Fuller at Fox
Pulp movies with class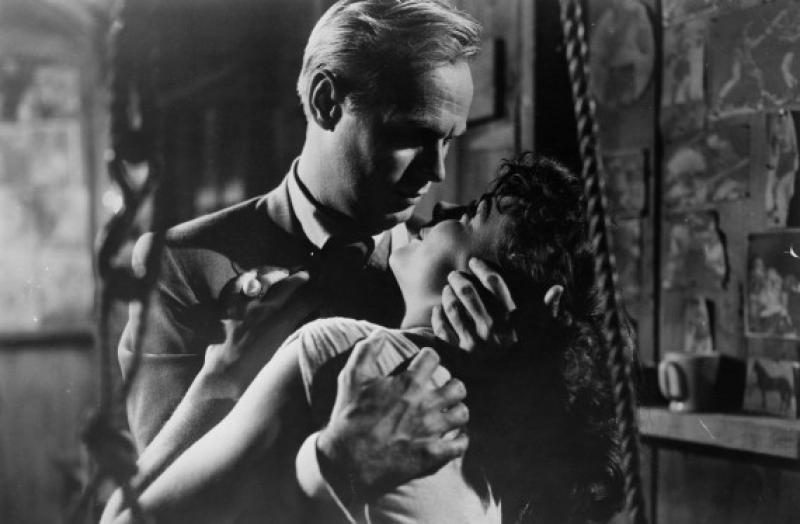 Richard Widmark and Jean Peters in 'PIckup on South Street'
This new Eureka! boxset of 4K and 2K restorations provides ample evidence as to why Samuel Fuller was venerated by such a wide range of film-makers, including Godard, Wenders, Scorsese and Tarantino.
Often characterised as a purveyor of pulp cinema, Fuller was much more than that: his command of filmic story-telling across a multitude of genres – western, film noir, war film and melodrama – was exceptional. He had a very special mastery of film language, a fine sense of when to go from wide to close shot, change the pace of editing unexpectedly, and move the camera at the service of narrative rather than as a gimmick made possible by technology.
Pickup on South Street (1953) is a treasure of a film noir, with a young Richard Widmark reprising the psychopathic persona he premiered in Henry Hathaway's The Kiss of Death (1947), complete with demented hyena laugh. This time around, with a script by Fuller himself, his character – a pickpocket who becomes unwittingly drawn into Cold War espionage – is more rounded, the nervous killer instinct tempered by buried sentiment and the suggestion of empathy. The film is stunning to look at, the acting superb, not least Thelma Ritter in a fascinatingly complex role as an ageing stool-pigeon, a character whose mixture of tough opportunism and vulnerability matched similar traits in Widmark's petty thief.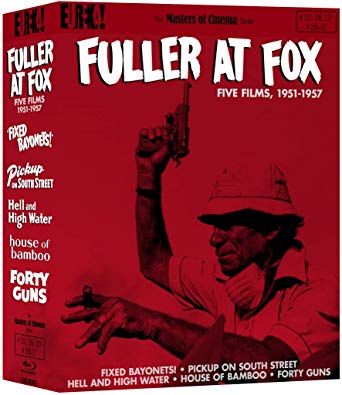 Widmark re-appears as a tough submarine commander in more predictable guise in the more formulaic Hell and High Water (1954), another Cold War mini-epic. The tropes of underwater drama, a very special sound and visual claustrophobia, are serviceably delivered, but this is not a great film. Fuller did it under duress to oblige producer Daryl F Zanuck, a fan who valued his skill as a writer as much as his often inspired-touch reliability as a director. The highpoint of the film is a very erotic encounter between Widmark as the sub commander and the French scientist, played by Bella Darvi: Fuller was always good at evoking sexual energy on screen, and this moment is no exception.
The women in Fuller's films are often thrown around rather brutally by the men – in the manner of an eroticism that is now considered misogynistic, and yet, they are more than victims: Candy (Jean Peters) in Pickup on South Street is a vamp and a survivor as well as the victim of male violence. In Fuller's pre-feminist universe, this is how the battle of the sexes is played out, and the play with clichés is part of what made him distinctive.
He played as well with genres, and the western in this collection Forty Guns (1957) isn't run-of-the-mill: Barbara Stanwyck (pictured below) plays the "woman with the whip", a dominatrix of sorts, a wealthy local rancher just outside Cochise, who runs a team of 40 killers, controls the local sheriff who lusts after her, and dabbles in local politics. Once again this is a film that looks great, never self-consciously but with use of light and framing to underscore relationships and the drama that unfolds within and around them. His Korean war movie Fixed Bayonets (1951) is a remarkably claustrophobic take on war, with a group of US infantrymen trapped on the side of an icy mountain, being slowly picked off by the Chinese "Reds". Shot entirely in the studio, by a director who favoured the authenticity of location shoots, the film evokes the hardship, suffering and terror of war as powerfully as any movie of its kind. Fuller handles the rapid shift from emotional support and banter to masculine conflict with great expertise.
The contrast between the studio constraints of Fixed Bayonets and the late film noir classic House of Bamboo (1955) could not be stronger, demonstrating Fuller's great versatility. The physical presence of so many aspects of Tokyo life, from bamboo-screened interiors to busy streets is very tangible, in a film that shows off the director's total mastery of action sequences and suspense to great advantage. Style here is driven by content, and the content is about the stories of often flawed characters. Unfolding drama, the surprises that arise out of hubris and vulnerability, intimacy and betrayal – Fuller handles these very well, bringing psychological and emotional depth to stories that could so easily fall into formula. The climax of the film, with the smooth and sophisticated gang leader, played to perfection by Robert Ryan, trapped on a revolving fairground attraction, is drawn out to almost excruciating length, until he is finally shot in the back by the military man (played by Robert Stack) who has fooled him all along into thinking he is a loyal member of his outlaw team.
The box set comes with a booklet of essays, a handful of interviews and documentaries. French critics – who worship Fuller as a consummate auteur who bucked the demands of Hollywood – speak with more weight than the subject matter really deserves. There is nothing in the bonuses of outstanding interest. The films stand on their own and will be savoured for their undoubted craft and as examples of this master's best work.
Fuller was always good at evoking sexual energy on screen
rating
Share this article