Blu-ray: Miami Blues |

reviews, news & interviews
Blu-ray: Miami Blues
Blu-ray: Miami Blues
Alec Baldwin balances goofiness and danger in a rollicking, eccentric Nineties noir
Partners in crime: Susie (Jennifer Jason Leigh) and Junior (Alec Baldwin)
Junior (Alec Baldwin) peers through his airplane window at fluffy clouds with childish wonder, then a wolfish grin of opportunity. He turns to practising the signature from his latest mark's stolen wallet, with Miami below for the taking.
These opening seconds set out the mix of outlandish absurdity, fragile dreams and danger in George Armitage's 1990 adaptation of Charles Willeford's 1984 novel Miami Blues. This balancing act rests on Baldwin's ambiguity in his first starring role as a goofy yet feral criminal. His piercing, Paul Newman-blue eyes light up a film-star handsome face, then dull into calculation or dumbness. He play-acts when alone, mimicking Pacino's Miami vice-lord Tony Montana, only his ruthless violence showing crime's not a game. Junior is "operating on two different frequencies", Baldwin explained of his performance, in a 2015 interview reused in this Radiance release.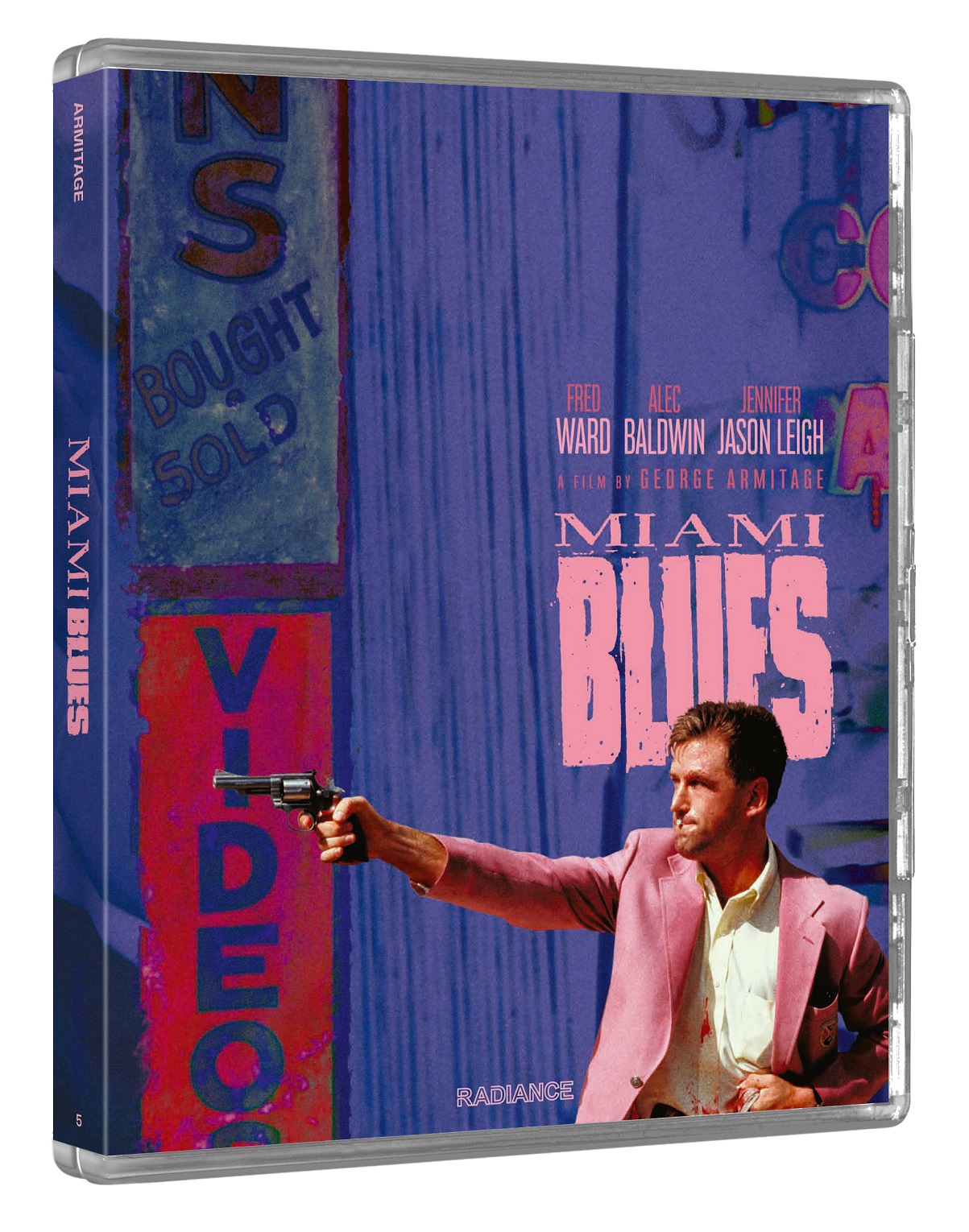 An unusually sweet assignation with student hooker Susie (Jennifer Jason Leigh) brings out both of their half-formed romantic dreams. When they set up a white-picket fence home in Miami's pastel-toned suburbs, Susie hesitantly touches it to be sure it's real. Detective Hoke Moseley (Fred Ward, pictured below, centre), a crumpled cop prone to removing ill-fitting false teeth, is meanwhile on Junior's trail, only for Junior to relieve him of his pistol, badge and teeth after a beating, inspiring a wild fake-cop crime spree. "Call it a day, sister," he intones cop-deep to a passing prostitute. "Aye-aye sir," she says, swinging a woozy salute.
Back home, innocent, yearning Susie bakes cakes. "Her dreams are small… it feels like love," Leigh considered in her 2015 Extras interview. Released alongside her far grimmer role in Last Exit to Brooklyn, this film was her breakthrough as a key Nineties actress, and she still loves Miami Blues. "For that period of time," she says, "I believed that he was Junior, and I was Susie."
Charles Willeford's novels shifted between blunt pulp fatalism, chilly nightmares and social critique of his outsider protagonists' netherworld scrambles. The vain art critic protagonist of The Burnt Orange Heresy (1971) is no less prone to desperate obsession than the would-be painter sinking into mutual alcoholic thrall with a woman in Pick-Up (1955), or the apparently deaf, mute ace on the titular, steamy Southern circuit of Cockfighter (1962). Miami Blues' lighter touch gave him belated success at the end of his life. Still, we're in the same bleak world when Baldwin's Junior tells Susie who he really is, eyes flashing yet shark-dead: "I don't want to have any babies. This world's a shithole. Do you think you can handle that?" "I do," she miserably vows.
Genre authority Maxim Jakubowski's video essay fills in Willeford's hardboiled background, hopping trains in the Depression, honoured for bravery in the Battle of the Bulge, studying art and working his way into a writer's life. David Jenkins does the same for George Armitage's similarly slow-burning trajectory, making "little 45rpm rock'n'roll movies" alongside his friend Jonathan Demme in Roger Corman's grindhouse academy, as he told critic Nick Pinkerton. Demme produced Miami Blues and lent his cinematographer Tak Fujimoto and editor Craig McKay. Its sunshine noir look is kin to the more vicious extremes of comedy and dangerous romance in Demme's Something Wild (1986), and Armitage shares a sense of bright, homely eccentricity, such as the synchronised swimmers in a restaurant pool. Bond/One Million Years BC girl Martine Beswick is the waitress and The Honeymoon Killers' Shirley Stoller a tough shop-owner, among numerous sparky female cameos.
Miami Blues is a happily playful film, lent dramatic suspense and depth by its couple's chimera dreams, Junior's unrepentant violence and Ward's battered, bad luck cop. It's a fine gateway to Willeford and a showcase for Baldwin's once vivid range, bridging his sullen stardom and Saturday Night Live reinvention, long before his current, awful beleaguerment.