Blu-ray: Silent Action |

reviews, news & interviews
Blu-ray: Silent Action
Blu-ray: Silent Action
Violent 1970s thriller from Italy, very much of its time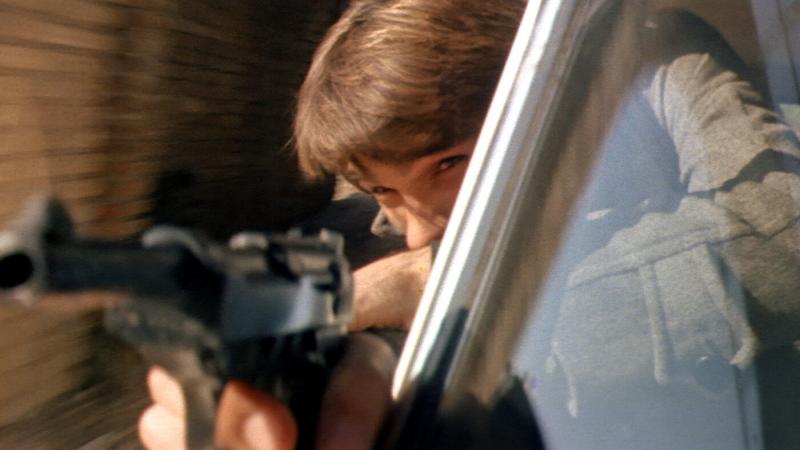 Dangerous driving: Luc Merenda in 'Silent Action'
Silent Action makes for a snappier title than the original La polizia accusa: il Servizio Segreto uccide, though the frenzied action in Sergio Martino's 1975 thriller is anything but silent.
The film opens with the grisly murders of three
Italian
army officials, the third and bloodiest showing us the unconscious victim placed on a railway line and decapitated by an oncoming train. On the case is Luc Merenda's improbably good-looking Inspector Solmi, all flowing locks and chiselled features. Solmi's smooth features are deceptive; he's a foul-mouthed maverick and good with his fists.
Sit through the first few reels of Silent Action and you could mistake it for parody. If playing a round of 70s Police Film Bingo, you'd tick most of the boxes. Wide lapels, heavy smoking and drinking, dangerous driving without seatbelts, casual sexism, a fondness for browns and beiges – all are here, and even the Rome setting is grubby and tired-looking. Solmi's investigation uncovers a serpentine conspiracy involving blackmail, covert surveillance and police corruption. Keeping up with what's going on becomes increasingly fraught, and, like Solmi, we're left wondering just who can be trusted. He's aided by on/off girlfriend Maria (Delia Boccardo), a shrewd journalist who later helps identify one of the killers.
The film makes much more sense seen in context. This is a prime example of the poliziottesco genre, crime thrillers set in Italy's "Years of Lead" against a backdrop of social unrest and political upheaval. Solmi's attempts to understand what's going on take him to a dangerously overcrowded prison run by an ineffectual governor, and bring him face to face with Martino regular Tomas Milian's shifty Captain Sperli (pictured below), head of a shady police department who clearly knows far more than he lets on. Mel Ferrer's DA is unconvinced by Solmi's digging, and things become noisier and more frenetic, Solmi trying in vain to stay one step ahead. By the close we're left wondering if anyone can be trusted. Martino's visual flair and quick editing style keep us entertained; multiple car chases and a deafening helicopter assault on a paramilitary camp high up in the mountains are thrilling, and there's a stylish montage sequence shortly before the close. The whole thing lasts just 93 minutes. Taken on its own terms, Silent Action stands up well, leaving one hungry to sample more poliziotteschi.
This release comes with compendious extras. A bonus CD containing Luciano Michelini's propulsive, piano-driven soundtrack is a treat, and there's an enjoyable interview with the composer. A sprightly Martino recalls Silent Action's production, praising Mel Ferrer's contribution and admitting that he liked to hire Hollywood actors "in the twilight of their careers" as their casting gave his films extra clout. Best of all is a chat with the now-retired Merenda, gleefully recalling the various stunts he performed in the film. We get an English-language dub as a curio, plus an enthusiastic commentary from film-maker and poliziotteschi buff Mike Malloy. Fractured Visions' restored 2K print is bright and sharp.