Blu-ray: Something in the Dirt |

reviews, news & interviews
Blu-ray: Something in the Dirt
Blu-ray: Something in the Dirt
Moorhead and Benson find cosmic conspiracies and fractured friendship in weird LA
Tuesday, 27 December 2022
Seeing things: John (Justin Benson) and Levi (Aaron Moorhead)
Aaron Moorhead and Justin Benson deal in the modern eerie and truly weird, placing relationships under supernatural pressure with unsettling empathy. Where genre-schooled peers such as Ti West and Adam Wingard splice post-slacker, naturalistic conversation with skin-flaying horror, Moorhead and Benson scare with cracks in reality, reflecting quietly broken protagonists.
Styled as Moorhead & Benson, Benson writes, Moorhead is cinematographer, and the pair co-direct, produce, edit and sometimes star. Their self-sufficient cult has led to Marvel TV work on Moon Knight and Loki, but their micro-budget, melancholy indie roots continue here.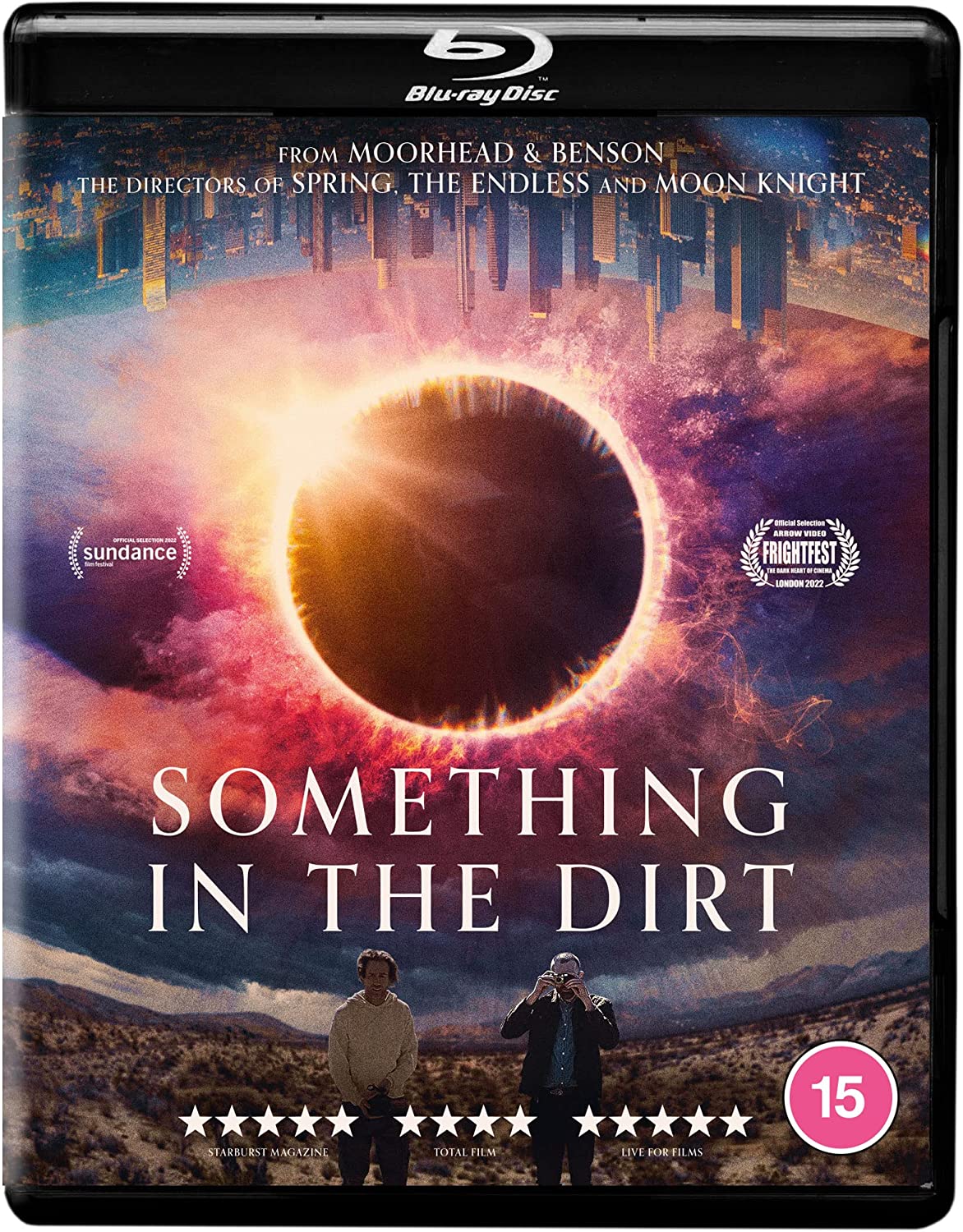 Something in the Dirt is set in the newly rented apartment of struggling skate-dude Levi (Moorhead) during LA's autumnal equinox, when "leaves turn brown, hills burn, and everything smells like bonfires all the time". Planes and helicopters swoop worryingly low, as if the world is collapsing just out of shot. A chance conversation with neighbour John (Benson) is also heavy with obscure portent, adding to the oppressive unease. John is a gay evangelical Christian (laptop password: "It's Judgement Day"); Levi a damaged, vulnerable ex-con, skating on a comically cursed life's thin ice. "The point is nothing ever quite clicked," he wretchedly confesses, feeling himself the victim of an "invisible force holding me back… terminal velocity my whole life".
When Levi finds a psychedelic lightshow in his closet and scrawled equations on his wall, the secret nature of reality seems within their grasp, with quartz its material core. Clues are gleaned in 20th century detritus: cassettes, Kodak cameras, and reel-to-reel tapes baking in the Mojave. The Geometry of Magnetism becomes their Necronomicon, gravity breaks, and John proclaims LA a "Pythagorean city" mapped with intricate intent, like Philip K Dick rewriting Chinatown.
The pair's freaky efforts to escape deadbeat status recall the siblings Moorhead and Benson played in The Endless (2018), who realise that a desert commune where grim immortality is briefly broken by suicide, and a Lovecraftian entity is "using space and time as a horsewhip", still beats their regular lives. As conspiratorial threads of meaning cobweb this new duo's minds, so does the prospect of parlaying the cosmic nitro-glycerine in their cupboard into Netflix fame and fortune. They prove equally unsuited as director wannabes and friends. When reality shakes with explosive white light, John laughs, greedy delight beating wonder. Levi almost cries, and becomes untethered.
The odd couples Moorhead and Benson play in their films, like Anthony Mackie and Jamie Dornan's paramedics in their Synchronic (2019), are oddly tender portraits of male bonds. The smashing of Something in the Dirt's provisional alliance, as John's arrogance cuts Levi down, truly unsettles.
This is a prismatic character piece, satirising its idiots' self-deception, and packing in edits, conspiracies, coincidences and genres. "Do I seem okay?" Levi asks, midway through. It's that quietly terrifying question which lingers.
Planes and helicopters swoop worryingly low, as if the world is collapsing just out of shot
rating
Explore topics
Share this article