X review - sex and the bloody American dream |

reviews, news & interviews
X review - sex and the bloody American dream
X review - sex and the bloody American dream
Desire and its waning fuel Ti West's witty, porn shoot-set horror
Texan terror: RJ (Owen Campbell), Bobby-Lynne (Brittany Snow), Maxine (Mia Goth), Jackson (Scott Mescudi) and Lorraine (Jenny Ortega)
The
Texas Chain Saw Massacre
/
Debbie Does Dallas
genre mash-up promised by the premise, pumping out head-spinning
sex
and gore, is in fact a muted exercise in craft, with memorable ideas on desire.
From the moment blonde Bobby-Lynne (Brittany Snow) steps out of the Bayou Burlesque club beneath a mural of an alligator snapping at a bikini bottom, and the camera pans to the industrial estates and belching refineries behind this particular American dream, West wittily depicts sex as small-town escape and work. "Hollywood here we come!" cries this veteran porn star, as she joins mellow co-star Jackson Hole (Scott Mescudi, aka star rapper Kid Cudi), coke-snorting porn wannabe Maxine Minx (Mia Goth), showman producer Wayne (Martin Henderson), director RJ (Owen Campbell) and his girlfriend/assistant Lorraine (Jenny Ortega) on a road-trip. They mean to shoot The Farmer's Daughters under the suspicious nose of shotgun-wielding, ancient farmer Howie and his equally decrepit, eerie wife Pearl.
X riffs on sex as a means to dreams, and age as its bitter end. "It's a gas…it's all disco…one day we're going to be too old for sex," Bobby-Lynne breezily proclaims of enjoyably shagging the agreeable Jackson for cash, and a kind of stardom (Snow and Mescudi are pictured below). "It's the power of beauty," moans Pearl, grotesquely withered but with the traceable ghost of the blazing allure that snared war hero Howie, near the century's start. In a dressing-table mirror triptych, she becomes Macbeth's three crones, and West's use of expanding and contracting split-screens, Breathless-style jump-cuts and hazy cross-fades trippily connect the viciously frustrated old and frisky young. Soon after mentioning Psycho's violent mid-film jolt, X then switches into a geriatric slasher film, replete with eye-skewering pitchforks, head-snapping reptiles and pulped faces. West is more intrigued by the frisson of the sexualised, dangerous elderly, as blood-stained Pearl creeps into bed with Maxine. Goth plays both.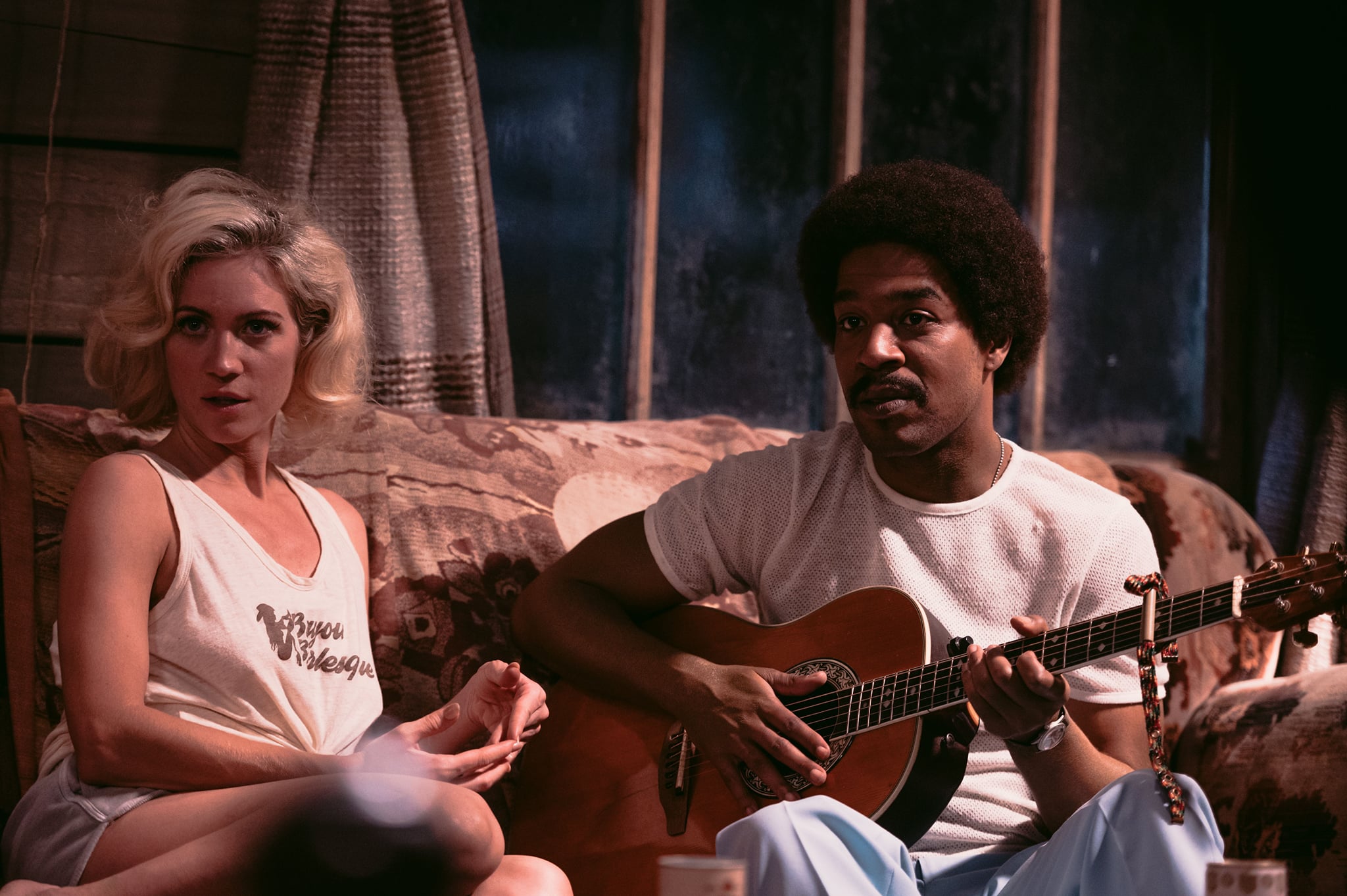 The Chain Saw Massacre klaxons as nubile innocents in a van stray onto dangerous old-timers' land, plus a nod to the victim-munching pet gator of Tobe Hooper's follow-up Eaten Alive, honours what West calls the "revolutionary" spirit of truly indie Seventies cinema pioneers, hacking out potent filmographies in a less constrained landscape. "It is possible to make a good dirty movie," RJ proclaims. West partly means X as a low-budget, resourceful film about such low-budget, resourceful filmmaking. An overhead extreme long-shot of a giant gator smoothly gaining ground on skinny-dipping Maxine, crosscut with close-ups of her blithe strokes to shore, is a set-piece example of explicit craft.
The Seventies has become a safe place for cheerful, arty sex, with Paul Thomas Anderson's Boogie Nights and Inherent Vice both shot in the golden hues which the era's film stock granted porn and Playboy as much as Altman. The Farmer's Daughters is similarly enhanced, as is thirtysomething Snow's resemblance to Marilyn in her last, nude photo-shoots. Like Anderson's Licorice Pizza, whose age-gap controversy is trampled by Alana Haim and Cooper Hoffman's vigorously empowered performances, West also refutes #MeToo's supposed Berlin Wall between the sexual present and past. RJ attempts hippie male double-standards on his girlfriend Lorraine doing porn, but she ignores him, because everyone wants the hot action – or at least its simulation – steaming up in that Texan cabin.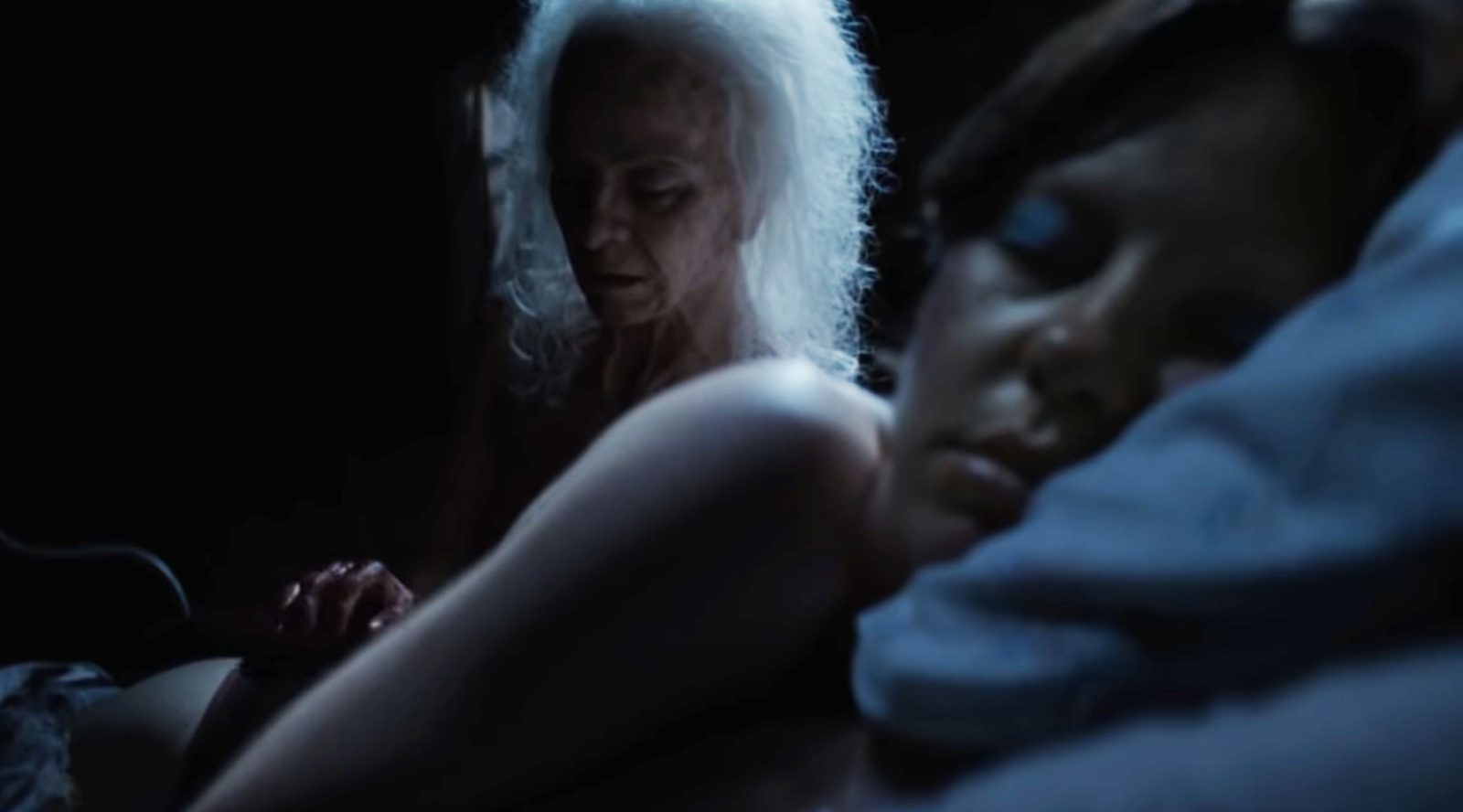 Our current confusion between equally rampant prudery and pornification, and cinema's unlikely siding with the former, also translates in West's 1979 into competing, secretly linked American dreams of porn stars escaping drudgery for a homemade Hollywood, and the black-and-white Texan TVs tuned into a brimstone preacher's stark claims of salvation.
The director began in the meandering mumblecore movement, as did Adam Wingard, whose You're Next (2011) shares a snappy, knowing wit saved from parody by attention to character. West's detour from horror into the little seen John Travolta/Ethan Hawke Western In A Valley Of Violence (2016) also shows his faith in fairly straight genre exercises, undercut by the absurdity of their violent denouements.
Roger Corman would fail X as an exploitation film, with its bare minimum of tits, ass and swinging dicks. Like the titular, hoodoo certificate, it's about the desire for such things, and its loss; what it brings, and what it costs. For all its lackadaisical, uncontemporary pace, and lack of most great horror's gruelling intensity, X remains a satisfying, keenly thoughtful ride.