Inherent Vice |

reviews, news & interviews
Inherent Vice
Inherent Vice
Paul Thomas Anderson films unfilmable Thomas Pynchon, in a stoner noir
Wednesday, 28 January 2015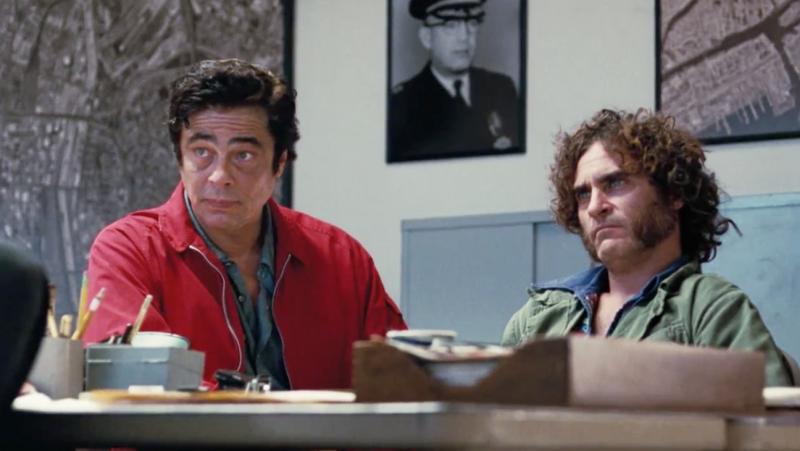 Sauncho Smilax (Benicio Del Toro) and "Doc" Sportillo (Joaquin Phoenix) grapple with the law's finer points
Thomas Pynchon and PT Anderson: too good to be true? News that the director of There Will Be Blood and The Master was adapting America's greatest and most hiply profound living novelist certainly sounded like a heavenly equation.
Better yet, Anderson had chosen Pynchon's most consistently funny and approachable novel,
Inherent Vice
, in which the author had effectively passed around a convivial and especially mind-blowing joint to his fans, as a reward for braving the heaving banquet of his preceding, testing masterpiece,
Against the Day
. With Anderson also coming off his own furthest-out film,
The Master
, this all promised to be the best time you could have with your brain on.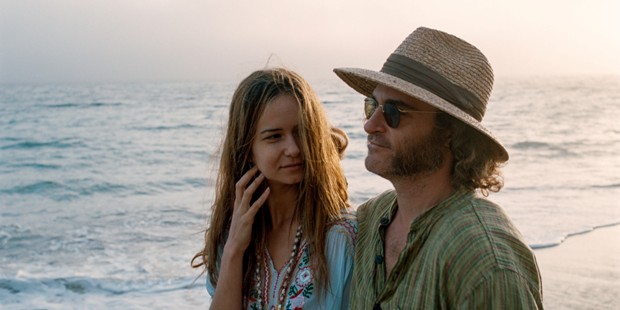 We're in a beachside LA hippie neighbourhood in something like 1970: a time and place Pynchon lived, and Anderson fondly dreams here, filling it with lightly clothed, lithe Californian girls, half-crazy guys, stoner non sequiturs, and the feeling of a utopia starting to blacken and curdle. "Doc" Sportillo (Joaquin Phoenix) works as a private eye, but is most concerned with the mysterious disappearance of his sometime girlfriend Shasta (Katherine Waterston, pictured above right with Phoenix). She appears to have fallen victim to a nebulous organisation named the Golden Fang, maybe a ship recently returned from a half-century in the Bermuda Triangle, or maybe just a cabal of randy dentists. And then again, maybe the name suggests something vampiric working its way into the American bloodstream, a callous, exploitative strain ready to rot the American Hippie Dream.
Anderson lured an all-star cast to what those stars remember as a creatively chaotic set. "Bigfoot" Bjornson (Josh Brolin, pictured below with Phoenix) is "Doc"'s nemesis, a mightily conflicted, bulldozer detective in an LAPD of hippie-bashing fascists. Sauncho Smilax (Benicio Del Toro) is Sportillo's lawyer (who only knows marine law, sadly for the "Doc") and Deputy DA Penny Kimball (Reese Witherspoon) is his occasional lover from across the straight divide. Owen Wilson's presumed-dead, double-agent saxophonist, Eric Roberts' disappeared, doped property developer, neo-Nazis, and communes, sanatoriums and free-loving penthouses of the super-rich swirl through the plot, one which neither tries nor needs to make total sense. LA noir rarely does, not since Chandler's The Big Sleep, which both its author and adaptation's director Howard Hawks gave up trying to straighten out.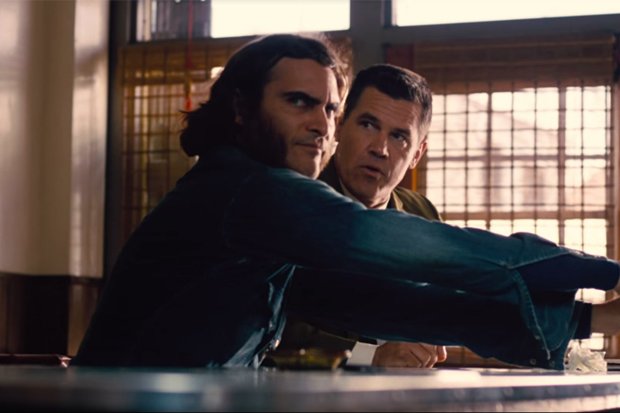 Anderson has claimed he wanted to make a stoner comedy, maybe disingenuously naming Cheech and Chong and Gilbert Shelton's Fabulous Furry Freak Brothers comics as touchstones. Another admitted inspiration, Robert Altman's Chandler adaptation The Long Goodbye, made and set a little later in the Seventies, is a better fit. Like that film's Philip Marlowe, played by Elliott Gould, "Doc" eventually realises violence is needed to cut through a darkening world. Inherent Vice is mostly funny in a subterranean way, observing absurdity instead of raising startled laughs, as Pynchon's slow-burn sentences do. The violence and sex (the latter in a twistingly erotic nude soliloquy from Waterston) are jarringly real, and making Pynchon concrete, even in Anderson's deliberately foggy conception, mislays much of his spell.
What Anderson does catch is Pynchon's heroic idealism. Inherent Vice stands in a line with Hunter S. Thompson's 1976 updating of The Great Gatsby's end, when he wrote of San Francisco's counter-culture that "with the right kind of eyes you can almost see the high-water mark – that place where the wave finally rolled back". This is a Californian mystery that often takes place at night, describing the sunset of its fragile hippie heroes. Its Oscar and US box-office under-performance, like that of Terry Gilliam's Fear and Loathing in Las Vegas in the Nineties, suggests a nation now uncomfortable with positive pictures of that drug-fuelled time. It also suggests Anderson's film isn't resonant enough, only stitched together by gossamer threads of mood and Jonny Greenwood's mesmeric score. Its attempts at lightness aren't its director or star's natural mode, which can also make it stilted. At its best, though, it's a generous, humble work: a soft hymn to a lost world.
This Californian mystery often takes place at night, describing the sunset of its fragile hippie heroes
rating
Explore topics
Share this article