Blu-ray: The Strange Door |

reviews, news & interviews
Blu-ray: The Strange Door
Blu-ray: The Strange Door
Charles Laughton is a spectacularly fruity villain in this swashbuckling Gothic romp
Bad uncle: Charles Laughton and Sally Forrest in 'The Strange Door'
Under the umbrella Maniacal Mayhem, 1951's The Strange Door has been released on Blu-ray by Eureka Classics with two scarier Boris Karloff movies, The Invisible Ray (1936) and Black Friday (1940). It features one of Karloff's least maniacal turns – as an abused, dungeon-dwelling servant loyal to his sadistic master's imprisoned brother (Paul Cavanagh) and beautiful niece (Sally Forrest).
The Strange Door, though, is all about Charles Laughton, whose lip-smacking portrayal of the villain, Sire Alain de Maletroit, is one of his fruitiest. Few directors could rein in Laughton when he'd got the bit between his teeth, and Joseph Pevney, a former actor turned Universal workhorse making his fourth film of the year, evidently didn't try. Laughton smirks, leers, and guffaws fatly on autopilot as the Sire builds up to squashing his victims in one of those constricting mechanical torture chambers borrowed from Edgar Allan Poe's The Pit and the Pendulum. It is easy to dismiss Laughton as florid, a ham, but he was technically brilliant, and his mad lord here is relishable throughout.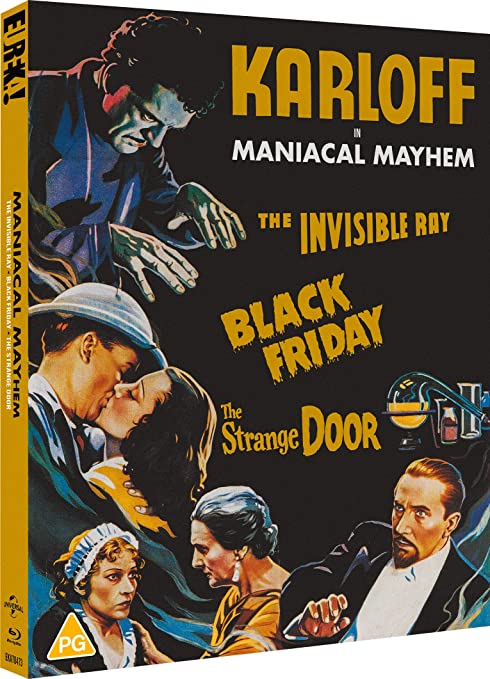 An attempt by the studio to revive its horror cycle (which soon succumbed to sci-fi), The Strange Door was a partial remake of the Poe-derived The Raven (1935), starring Karloff and Lugosi (as does The Invisible Ray). The main source of the film, set in the late 18th century, was Robert Louis Stevenson's The Sire de Maletroit's Door (1878), a 30-page story about a brash 21-year-old cavalier, Denis de Beaulieiu, who, in 1429, during a lull in the Hundred Years War, is trapped by the Sire in his mansion house and given two hours to decide if he will marry the old man's niece Blanche on pain of death. Though she's betrothed to another soldier, the two overcome issues of pride and honour and fall in love.
Though Stevenson's story mimics Poe's incantatory Gothic style to great effect, it is not a tale of terror but a dreamlike psychological fable, probably autobiographical, in which the young man confronts and overcomes his sexual anxieties.
The movie's Denis, played by Essex-born actor-novelist Richard Stapley (stagename Richard Wyler), starts out as a tavern Lothario who grabs and kisses every pretty woman he meets on sight. Ensnared by the Sire and learning of Blanche's anguish, he reveals himself to be a sympathetic aristo prepared to sacrifice himself for her. The Sire sizes up Denis's suitabiity as a husband for Blanche when, with the lad off-camera, he glances at the level of his crotch – the closeted Laughton audaciously smuggling in a reference to his queerness.
Padded out with a Stevensonian family revenge plot, The Secret Door is ludicrous fun: a swashbuckling romance full of hackneyed Gothic tropes and imagery and much fiendish cackling that only belatedly becomes a horror film.
Karloff's Voltan imbues it with genuine nastiness when he casually strangles a couple of the Sire's heavies, and the Sire's fate is worth waiting for. That Pevney sustains tension until the end says a lot for his efficiency; he would go to direct Debbie Reynolds in Tammy and the Bachelor (1957) and became a prolific TV director. If he couldn't restrain Laughton's flamboyance, the actor imposed discipline on himself when directing his 1955 masterpiece The Night of the Hunter.