Camino Skies review - NZ documentary brings no surprises |

reviews, news & interviews
Camino Skies review - NZ documentary brings no surprises
Camino Skies review - NZ documentary brings no surprises
Plodding along a well-worn path: the Camino de Santiago and six Antipodean pilgrims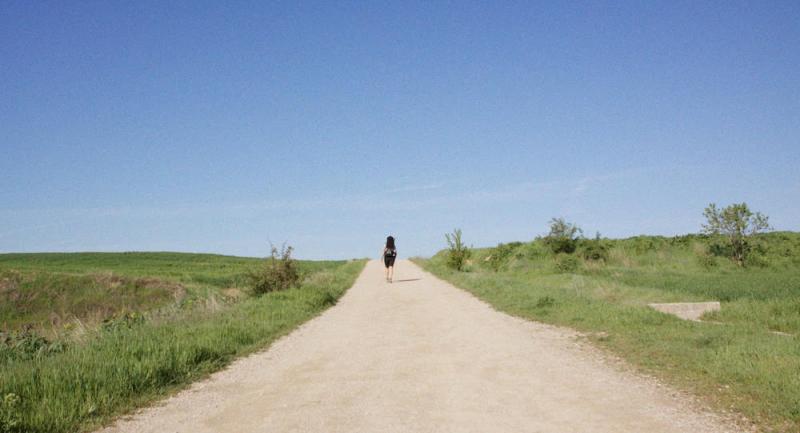 Extended exercise: Julie Zarifeh on the pilgrims' path
A documentary about six middle-aged Antipodeans, four women and two men, walking the 500 mile pilgrims' path through France and Spain to the cathedral of Santiago de Compostela sounds uplifting, inspiring, even fun. Just the ticket, perhaps, when one's travel horizons are limited. But this soft-focus film fails to dig deeply enough into the lives and motivations of strangers thrown together with nothing much in common apart from grief, and sometimes not even that.
Other film-makers have tackled the Camino de Santiago: Luis Bunuel's surreal The Milky Way in 1969, Emilio Estevez's The Way, starring Martin Sheen, in 2010, and a revealing, idiosyncratic 2013 American documentary, Walking the Camino: Six Ways to Santiago.
Directors Noel Smyth and Fergus Grady, who walked the camino alongside the others for 42 days, don't get beneath the skin of these six searchers and they don't convey vividly enough how hard the journey must be. And because the scenery isn't always particularly spectacular, their subjects' interior landscapes should be investigated even more closely. A few characters stand out: Julie, 54, whose husband died of cancer and whose 27-year-old son Sam was killed in a rafting accident in New Zealand two weeks later. "I can't believe it, so why would anyone else?" she says. "You wonder when it's going to stop." She's remarkably stoical and understated.
And Mark, whose stepdaughter died of cystic fibrosis, is bracingly laconic. He is walking, along with his imposing beer belly, with his stepfather Terry, 69, who's done the camino before; the last time, he arranged a mass for his two granddaughters (one was also critically ill with pneumonia at the time) along the way. In the most religious moment of the film, he and Mark visit the beautfully simple church where it was held.
"Have I told you about the cold I've had for the last 14 days?" asks Terry. Um, no. But perhaps that's his ploy to get Sue, 70, (pictured above) to stop talking about her severe degenerative arthritis and scoliosis, which are often agonising enough to reduce her to tears and mean that she sometimes has to stop walking and get a bus or a cab - and this is her third attempt at the camino. She's separated after 32 years of marriage, and although her ex, who's with a new partner, is still her best mate, she's obviously not over him and wishes he were walking with her. In order to encourage herself to move on, she leaves her wedding ring under a cross along the path.
"They're not necessarily people you would seek out per se," admits Julie. She bonds with live-wire Cheryl, whose dad died recently. "If it wasn't for Black Sabbath, I would never have made it," she says, taking off her headphones after a difficult climb and knocking back a gin. She and Julie get their hair done and go out dancing in one of the film's livelier scenes.
But the nitty-gritty of shared lodgings – we need more footage of hostel dormitories, meals and conversations - and the tensions between some of the walkers are glossed over, though occasionally we catch a glimpse. "Don't call me sweetie," snaps Mark at the intensely irritating, tactless Claude, who specialises in homilies such as, "Every struggle will make you stronger" and "Try to let go". She even has the nerve to talk about empty-nest syndrome to Julie. But there are no revelations here (you long for Louis Theroux). Instead there are pleasant vistas - and some wonderful aerial views - accompanied by intrusive, anodyne music and too many shots of Sue bandaging her feet.
Camino Skies is released on Curzon Home Cinema from Friday
The tensions between some of the walkers are glossed over, though occasionally we catch a glimpse
rating
Explore topics
Share this article